What It's Like To Be An Immigration Lawyer In The Trump Era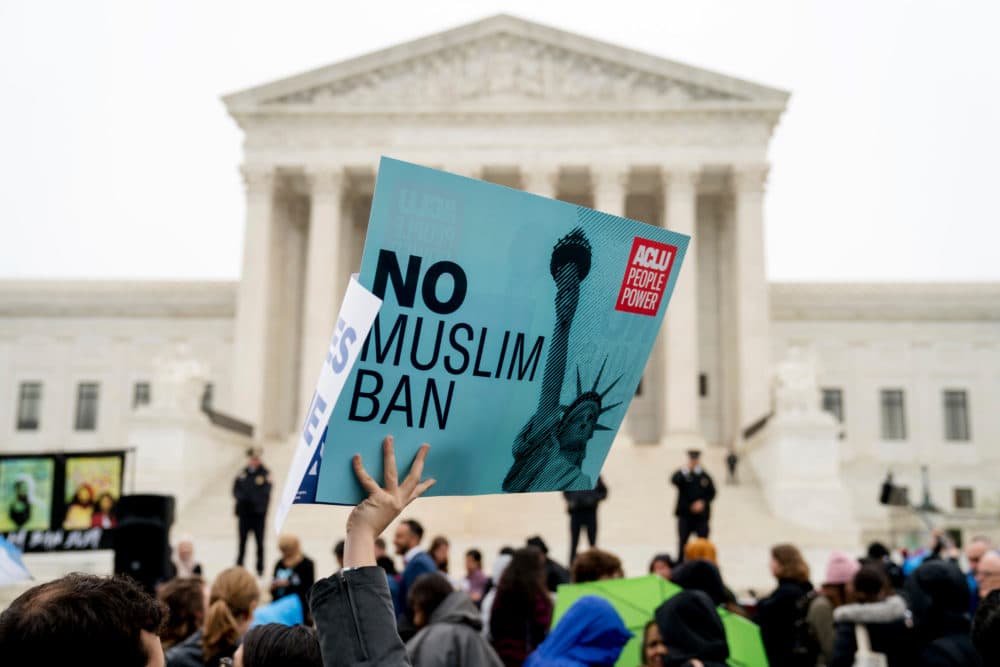 This article is more than 4 years old.
I was at my favorite restaurant on Cape Cod, eating dinner alone at the sushi bar when the young chef, who was torching the sheets of seaweed he held in his bare hand, asked me — an immigration lawyer — a painful question.
"Has anything about your job really changed under Trump?"
After a few swirls of my tea, I responded: "Yes, it has."
The chef and I had been talking about an upcoming green card interview that I was particularly nervous about. He was puzzled. He knows I am no newcomer to my job — I've been practicing law for almost two decades. I've represented immigrants in countless high-stakes hearings. Judges and opposing counsel respect me. I am thorough, tough and confident.
Or am I?
That's the problem, I explained. A lawyer's comfort in a courtroom, or even in a consultation, comes from knowing what to expect, including the potential surprises. But with the Trump administration throwing ninja stars in all directions, lawyers are left guessing what innovative grounds for denials or deportation the government will come up with.
All this uncertainty made a green card interview appear disproportionately scary.

An immigration lawyer's new reality became apparent very early on in the Trump administration. On January 27, 2017, within one week of his inauguration, President Trump issued his first "Muslim Ban" — an executive order that forbade the entry of persons from seven Muslim-majority nations into the United States. Energetic protests at the airports and teams of lawyers rushing into federal courts made the nightly news.
Hidden from sight, however, was the unglamorous game of immigration policy dodge ball that has since become the norm.
Take, for example, the fluctuating advice I gave to a client whose mother was scheduled to travel here from a "banned" country only a few days after Trump issued his order. At first, we had no choice but to accept that Air France stopped her from boarding her flight. Then, when a federal judge in Boston enjoined the ban for an emergency one-week period, I advised that she could travel, legally, after all. The catch was that she needed to travel on Lufthansa -- the only airline following the judge's order. Shortly after she had purchased her new ticket, another federal judge denied a motion to extend the injunction past its one-week Sunday deadline.
Confused? I know. My client's mom just squeaked into Logan Airport.
From the legal turmoil of that very brief period, my colleagues and I quickly recognized several lessons that have become embedded truths in the Trump era.
Hand-wringing wastes time and money and helps no one.
First, our advice has a short shelf life, and the viability of any of our cases could change overnight. The caveat we always applied to our counsel — "under current policy" — has morphed into long and serious conversations. The instability means that we must slavishly follow developments.
At the same time, however, we learned that we cannot fall victim to the onslaught of news. It would be easy to spend entire workdays poring over the latest stream of proposed regulations, policy guidelines, limitations on immigration judge independence or plans to increase detention levels. But we need to get our work done and done well, especially with the Trump administration's increasing demands for extra application evidence and spiraling denial rates.
We also recognized that suing the government in federal court would become an indispensable tool of practicing immigration law. On the heels of the lawsuits over Trump's travel bans (a version of the ban was ultimately upheld by the Supreme Court), came group actions challenging the administration's policy of separating families at the border, its termination of Deferred Action for Childhood Arrivals (DACA) and its termination of temporary protected status for many nationalities. Immigration attorneys also have brought lawsuits on behalf of single clients or their families, vastly increasing the time and money expended on individual cases.
Lastly, we learned that we must manage our emotions. Hand-wringing wastes time and money and helps no one. This challenge, for me, is possibly the most difficult to meet. When one of my colleagues committed suicide this past spring, many of us wondered whether the Trump administration's wrenching immigration crackdown somehow contributed.
The fluke disappearance of my client file seemed like a metaphor for the entire state of immigration law practice: everything was going up in flames.
And this brings me back to the green card interview. The week after my conversation with the chef, I drove into Boston for the big day. As I was about to turn onto the highway, I heard a chorus of horns honk behind me, and saw through the rearview mirror, that my trunk had flown open. After pulling over on the shoulder, I discovered that my briefcase had fallen out, with my client's file zipped inside it.
Another motorist said that a third driver had scooped up the briefcase and continued down the road. My stress twisted into panic and, soon enough, tears squeezed through my eyelashes. The fluke disappearance of my client file seemed like a metaphor for the entire state of immigration law practice: everything was going up in flames.
Already battle-hardened, I controlled my emotions. The next morning, my client received a greencard approval on the spot. Later that same day, the police called to say that the driver had dropped off my briefcase — and it turned out that the missing file was in it, intact.
I had done my work well, and those around me had, in the end, done the right thing.
Not all of our cases end so hopefully. But each day my colleagues and I rediscover our resolve, notwithstanding the Trump administration's attacks on our clients, our morals, and our tactics -- or perhaps partly because of them.