Trump's Violent Rhetoric Has Never Been A Deal Breaker For Republican Leaders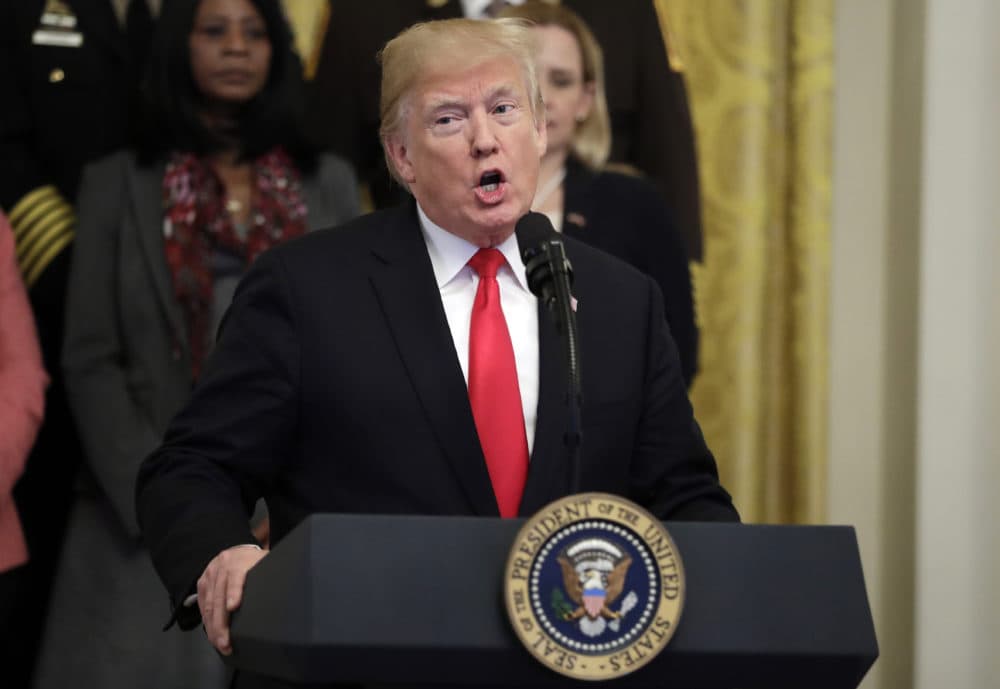 This article is more than 2 years old.
Things are escalating.
Over the past few days, authorities have intercepted improvised explosive devices mailed to billionaire philanthropist George Soros, the Clintons, the Obamas and CNN's New York office. Others, including former Attorney General Eric Holder and Democratic Congresswoman Maxine Waters, have also received suspicious packages.
What binds these targets together? They are Donald Trump's favorite rhetorical punching bags. And what's happening before our eyes right now is the scenario that many have dreaded.
Someone is actually trying to murder the people who Trump regularly rants and raves against at his rallies. Meanwhile, Trump allies are already claiming that these episodes of domestic terrorism are "false-flag attacks" organized by Democrats, intended to hurt the Republican Party just before the party midterms.
Trump himself made a statement, at the White House, in which he insisted, " … acts or threats of political violence of any kind have no place in the United States of America."
If Trump's words, specifically these words — "of any kind" — sound familiar to you, it's because they are. He said something eerily similar after neo-Nazis and white supremacists maimed peaceful protesters and killed Heather Heyer in Charlottesville, Virginia, last year.
It's also deeply hypocritical, given Trump's record of encouraging violence against protesters and journalists at his rallies.
From the time when Trump said he'd pay the legal fees for anyone willing to "knock the crap" out of demonstrators, to his more recent celebration of the occasion when Republican Congressman Greg Gianforte body-slammed a reporter who had asked him a question about health care, Trump revels in political violence.
For someone like him to decry violence in U.S. politics stretches the limits of even the darkest comedy. But as the scope of this week's attempted bombings grows and as Trump's most ardent supporters embrace the absurd to deflect culpability, I'm not content to put this all of this on Trump, because that's way too easy. The leadership of the Republican Party is also responsible.
Since nominating Trump as the leader of their party in 2016, the GOP has adopted a strategy of using Trump as a bulldozer to achieve their goals on cutting taxes and putting conservative judges on the Supreme Court. This was never as queasy a transaction for the Republicans as some have made it out to be, as Trump and the GOP see relatively eye-to-eye on most right-wing orthodoxy. Sure, some Republicans, including Sen. Jeff Flake and Sen. Ben Sasse, occasionally engage in pearl-clutching over Trump's bellicose nature, but ultimately, they fall in line and vote however Mitch McConnell, Paul Ryan and Trump himself expect them to.
The president's well-documented habit of using his bully pulpit to paint targets on the backs of people whom he considers enemies — with zero regard for the consequences — has never been a deal breaker for the Republican Party leadership.
But what the GOP cannot possibly control as long as they continue to enable Trump's most violent tendencies is the collateral damage that could very well claim the lives of rival politicians, journalists and anyone else whom Trump decides to spotlight.
... only one of the two political parties is propping up a president who encourages violence against his opponents and praises dictators.
This has happened not only to public figures like Soros, but also ordinary private citizens unlucky enough to end up in Trump's Twitter feed. Just ask Lauren Batchelder, a college student who told then-presidential candidate Donald Trump at a political forum in New Hampshire that she didn't think he was "a friend to women." Trump responded on Twitter by dismissing Batchelder as "an arrogant young woman" and within hours, Batchelder had received rape threats.
As president, Trump pulled a similar move after the Red Hen, a restaurant in Virginia, declined to serve Sarah Huckabee Sanders as an act of political protest. Trump took Twitter and called the restaurant "filthy" which led to more than 20 restaurants with the name "Red Hen" being hit with death threats and bad online reviews. One business was even assailed with raw eggs.
Today, in the wake of these attempted bombing attacks against Trump's adversaries, the Republican Party leadership ought to be held accountable for putting the lives of Americans in real danger for political expediency.
This admonishment is long overdue. It should have happened years ago, in 2016 when Trump encouraged rally attendees to beat up protesters to the degree they would have to be "carried out on a stretcher." That should have been the "red line" moment for any responsible political party. It wasn't.
Enough of the ivory tower lamentation about the decline of civility in political discourse and how both sides need to "start talking to each other again." The "both sides are extreme" line is a dangerous false equivalency. The Democrats have their problems (which I and many others have written about), but only one of the two political parties is propping up a president who encourages violence against his opponents and praises dictators.
Every week that the GOP leadership continues to enable Trump's behavior should yield vociferous, blunt criticism from the media, Democratic and independent politicians and the general public. Sooner or later, this president is going to get someone killed — that much is painfully obvious by now — and yet, the Republican Party still stands behind him.
Call them out, and better yet, vote them out.