What Do We Tell Our Jewish Children About The Pittsburgh Shootings?
No parent wants to shatter his or her child's innocence. No parent wants to make children afraid of going to their house of worship.
This week, many Jewish parents, myself included, had to face a difficult choice. Just how much should we tell our children about the Tree Life Congregation shootings in Pittsburgh?
The victims killed inside the Pittsburgh synagogue were 11 adult Jews attending Saturday morning Shabbat services, including a baby naming. They were in a place as much a sanctuary and community for Jews as a church would be for Christians or a mosque for Muslims.
The 46-year-old man accused of killing them had armed himself with an assault rifle and handguns and expressed his desire to kill Jews. It was the deadliest attack on Jews in America in history, according to Robert Trestan, the regional director of the Anti-Defamation League in New England.
"It could happen anywhere anytime, but it's rare," I said, but added, "You do not need to be afraid."
We should not hide the reality from our Jewish children, says Trestan, whose organization provides resources for parents and educators.
"Parents should be encouraged to speak to their kids," he told me in an interview. "It requires an honest and open discussion that there are people in this world that do horrible things."
On Sunday, the morning after, a police officer stood just inside the front door at Temple Isaiah of Lexington while my son Simon was at religious school. There were temple board members nearby as well acting as extra sets of eyes.
Simon knew why the police officer was there. I told him a little bit, then let him listen to an NPR story with me after the shootings. I fielded his questions, feeling a pang knowing my own husband was attending Shabbat services that same morning.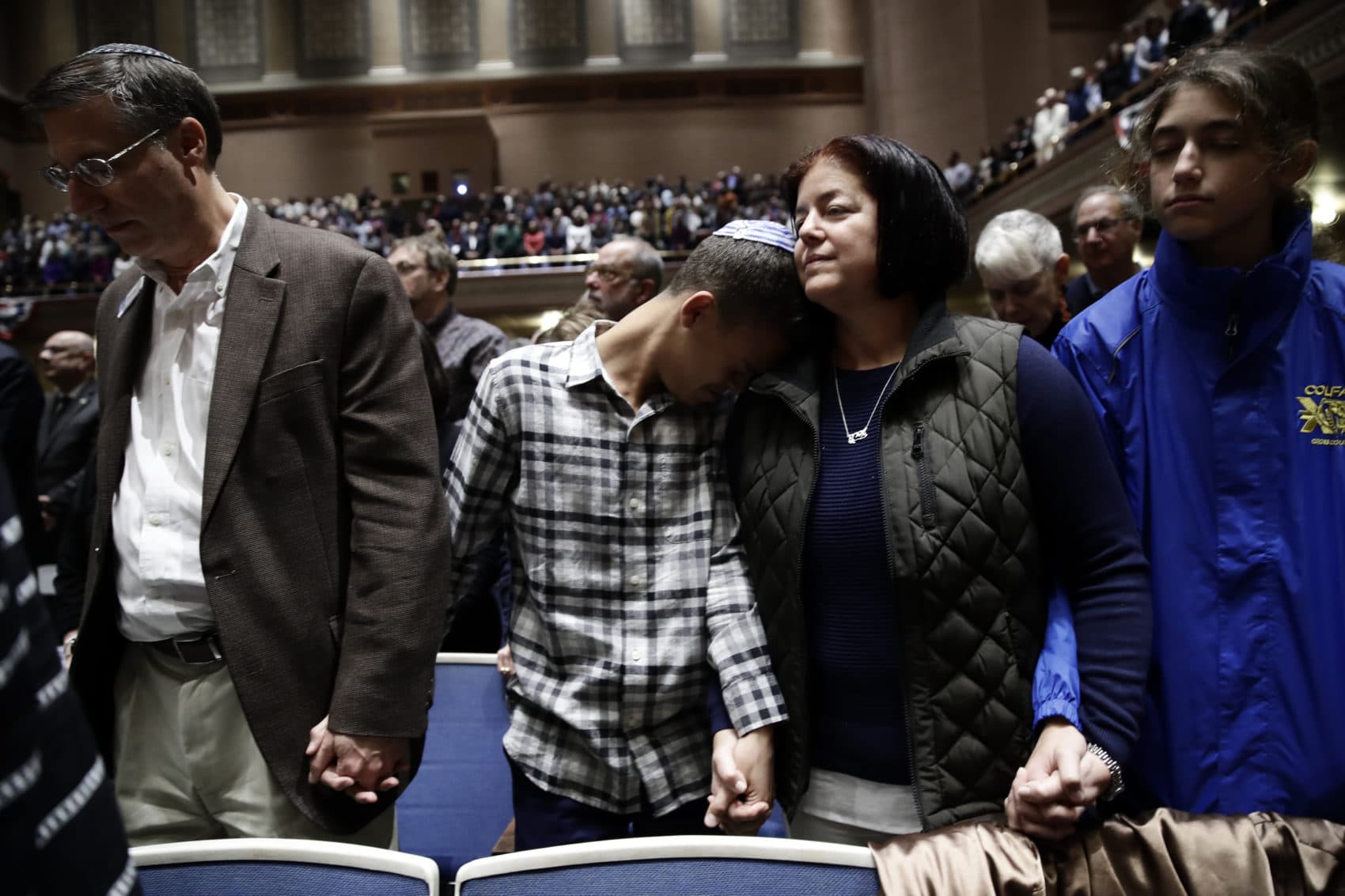 As a family, we had talked about anti-Semitism before. My husband is the child of a Holocaust survivor, and we told Simon about it when we thought the time was right shortly before Donald Trump was elected. Simon had heard us talk a lot about our angst over the then candidate's proposed Muslim ban. We wanted our son to see the ways Trump's rhetoric was not dissimilar to the way Hitler began maligning Jews before the Holocaust.
"It wouldn't happen here, Mom," Simon said to me of the Pittsburgh attack. "Lexington has a lot of different people of different religions. It's accepting."
But Lexington, a suburb of Boston, is not immune to anti-Semitism.
In 2017, according to ADL New England data, Massachusetts had 177 anti-Semitic incidents, including harassment, vandalism, school incidents and threats against Jewish institutions. It was a 42 percent increase compared to 2016, and Lexington was one of the towns with an incident in 2017 when a swastika and the message "Hitler was not wrong" was discovered at the high school.
"It could happen anywhere anytime, but it's rare," I said, but added, "You do not need to be afraid."
Was I doing the right thing, offering a mix of reality with comforting words?
Yes, it is appropriate to both expose kids to the reality that anti-Semitism exists, and at the same time reassure them, says Shira Deener, director of the Jewish Education program at Facing History & Ourselves. She works with Jewish houses of worship and Jewish day schools on Facing History programs, which provide education on the Holocaust and other forms of bigotry and anti-Semitism to private and public schools.
"If you don't bring it up, the danger of that is normalizing the event," Deener told me.
Sure, for the youngest children, it may make little sense to bring up the shootings. But for elementary school-aged children, it should be critical to talk about it and take cues from them on how much to say.
"If you don't bring it up, the danger of that is normalizing the event," Deener told me.
We can tell our children the facts, focus on making them feel safe, and encourage them to remember the people who died — a very Jewish thing to do, Deener says.
We can also show them the power of solidarity and community as my family will do this Friday when we go to Shabbat services at our temple. We may, as our rabbi and rabbis across the world are encouraging, invite non-Jewish friends to join us.
There will be a pall at the service, I'm sure, but there will also be determination, like what Rabbi Howard Jaffe expressed in his recent email to our congregation:
"Let us show ourselves and those who would hope that we would be cowed by this act of violence and murder that we are even more committed to living our Jewish lives."
This is a message that should be okay for any Jewish child to hear.