What Motivates Polar Explorers?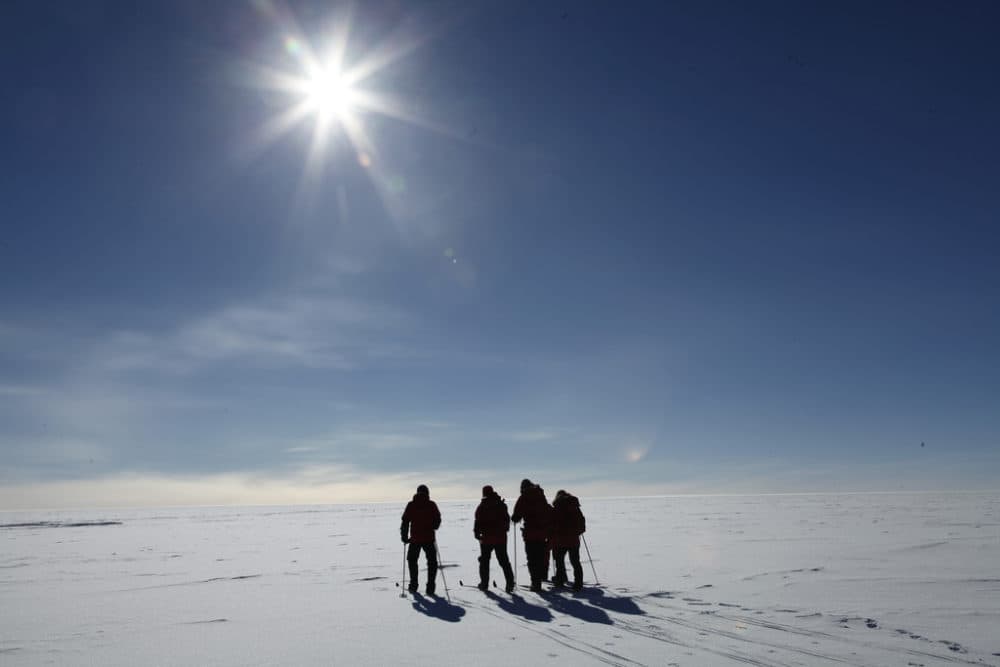 This article is more than 4 years old.
It's spring in the Antarctic and a race is on between Colin O'Brady, the 33-year-old American endurance athlete and social media superstar, and Louis Rudd, a 49-year-old British Army captain. Both are vying to be the first to complete a solo, wholly unsupported 921-mile journey across the earth's highest, coldest, driest continent.
They face challenges that would daunt ordinary mortals: traversing nine to 13 miles per day on skis, sometimes at elevations as high as 10,000 feet, pulling roughly 300 pounds of supplies on sleds behind them, enduring temperatures as low as -70 Fahrenheit and winds that gust upwards of 100 mph.
Thanks to Instagram and YouTube, I've been following their exploits with the same fascinated awe that I had for polar explorers as a child. On cold, snowy nights in Montreal and Michigan, I'd bundle up and pad silently out the door, and in the cold, cocooning silence shovel the walk, imagining that I was digging out from my igloo. I was calm, alert only to what lay outside of myself — the muffled thump of accumulated snow falling off a branch, the groan of wood shifting under the weight of it. And for just a few moments, I could conceive of what might motivate someone to push themselves to such extremes, and in such an alien environment.
So I confess that my romantic notions of polar exploration are disrupted when I hear what's on Rudd's and O'Brady's iPod playlists. I'm disconcerted by the product placements that infuse O'Brady's dispatches:
Optimizing my sleep and recovery has been a huge key to my successful preparation! I'll be missing my @sleepnumber bed when I am lying on the frozen ground in my tent the next couple of months, that's for sure.
But far be it for me to judge. The physical and mental stamina of these men is extraordinary, and I'm not about to begrudge them the comfort of human voices in their ears as they endure white-outs and push through exhaustion, animated only by their own warm breath.
What drives O'Brady and Rudd, eking out the miles in solitude day after endless day? Are they motivated by the same ambitions that galvanized their predecessors in the early 20th century, the legendary explorers like Robert Edwin Peary, Ernest Shackleton, Robert Falcon Scott and Roald Amundsen?
In a recent New Yorker article, Kathryn Schultz argues that for the English in that golden age of polar exploration, these expeditions provided a means to expand the reach of the empire and reassert Britain's status. Scott declared as his objective: "To reach the South Pole, and to secure for the British Empire the honour of this achievement."
Today's adventurers are not trying to expand the borders of the empire, but rather the limits of the self.
In this post-colonial era, that kind of goal is inverted. Today's adventurers are not trying to expand the borders of the empire, but rather the limits of the self.
In 2015, just over a century after Scott's death, Henry Worsley, the first man to attempt a solo, unaided crossing of Antarctica, copied a quotation from Norwegian polar explorer Fridtjof Nansen into his journal that may have explained his own rationale for making his (ultimately fatal) attempt:
A victory of human mind and human strength over the dominion and powers of Nature; a deed that lifts us above the great monotony of daily life; a view over shining plains, with lofty mountains against the cold blue sky, and lands covered by ice-sheets of inconceivable extent … the triumph of the living over the stiffened realm of death.
The language that Worsley, a British Army officer, chose was no longer about honor or country. But it was still infused with the theme of combat and victory.
Louis Rudd — who accompanied Worsley on his last successful expedition in 2012 — is having none of that. "I'm not there to conquer Antarctica," he says in a video promoting his expedition. "I hate that term. Do not be so arrogant as to say that you can go down and conquer Antarctica."
Colin O'Brady, his opponent and TedX talker, is a generation younger than Rudd, and fully crystallizes the doctrine of self-actualization that has replaced that of conquest.
Eighteen months after being badly burned in a fire and told he might never walk normally again, O'Brady completed and won his first triathlon. Then he took on mountaineering, becoming the world record-holding champion of The Explorers Grand Slam, which involved summiting the tallest peaks on each of the seven continents — including Mt. Everest — and skiing 60 nautical miles both to the North and South Poles, all over the course of 139 days.
"I've been preparing my mind, my body, my spirit for something they say is impossible, to show you that nothing is impossible," he says in "The Impossible First," the flashily branded video announcing his expedition. "This project is for anyone who's been told their dreams are impossible."
I hate that kind of windy talk, finding it inadvertently cruel to those whose dreams are highly unlikely to materialize. But then I'm not a goal-driven person. I have no itemized bucket list, and am unmoved by O'Brady's exhortation that, "Achievement is not for the select few. Achievement is simply for those who never quit … Achievement is for those who can overcome the greatest obstacle of all: their mind." I just don't get that sort of abstract positivity, that drive to persevere seemingly independent of a specific passion.
I'm more touched by Rudd's naked, emotional hunger to be awed. "I absolutely love Antarctica," he says. "The sheer vastness blows me away every time … that sense of total isolation, it's a reward of total beauty, untouched by mankind."
So yes, I'm rooting for the older guy, the one whose purpose is more private and whose brand is more modest.
But I'm admiring and envious of them both as I study their video dispatches.
Viewing the Antarctic through their eyes — seeing nothing but blue-saturated sky, jagged mountains, and towering, meringue white drifts, hearing nothing but wind, crunching snow and jagged breath — I can begin to sense what propels them to slide one frigid foot after the other.
Perhaps as mere specks in that glorious, indifferent landscape, they feel the liberation borne of insignificance.