Mitt Romney Was For Donald Trump Before He Was Against Him
This article is more than 4 years old.
Mitt Romney makes sense as the leader of a Republican insurgency against the president only if you think reining in Donald Trump requires a politician as reliably inconsistent as the nation's prevaricator-in-chief himself.
This week Romney heralded his own arrival on Capitol Hill as the new senator for Utah with a column in The Washington Post decrying the moral failings of a president whose endorsement he embraced only 10 months ago.
Proclaiming that Trump "has not risen to the mantle of the office," the former governor of Massachusetts and the 2012 Republican presidential nominee vowed to be an independent voice in the Senate. "I will act as I would with any president, in or out of my party: I will support policies that I believe are in the best interest of the country and my state, and oppose those that are not."
It is anyone's guess which policies those might be. Romney has been on both sides of so many issues in his career that inconsistency is his most dependable political trait.
He believed in a woman's right to abortion until he had to campaign outside of Massachusetts. He believed in universal access to health care until a Democratic president borrowed the blueprint Romney pioneered in Massachusetts. He believed in a ban on assault weapons when he signed legislation renewing it in Massachusetts; he changed his mind when, as a presidential candidate, he was courting the endorsement of the National Rifle Association. He opposed the bailout of the auto industry until he was campaigning in Michigan and applauded it.
This week's op-ed reeks of the same sort of political opportunism. Before he is even sworn in on Thursday as the junior senator from Utah, Romney ensured that he would be the central focus of national cable TV chatter. Look who's back! Could he mount a primary challenge to the incumbent in 2020?
It is not the first time Romney has taken on Trump. In a scathing critique of the frontrunner in 2016, he warned the GOP that nominating the New York real estate developer — a man he called a "fraud" and a "phony" would destroy the party.
That speech, at the University of Utah, rightly called out Trump for "the bullying, the greed, the showing off, the misogyny, the absurd third-grade theatrics," a litany of moral failings that left the devout Mormon incredulous that Trump could be seriously considered as the GOP's standard-bearer. "This is an individual who mocked a disabled reporter, who attributed a reporter's questions to her menstrual cycle, who mocked a brilliant rival who happened to be a woman due to her appearance, who bragged about his marital affairs, and who laces his public speeches with vulgarity."
Romney has been on both sides of so many issues in his career that inconsistency is his most dependable political trait.
"Dishonesty is Trump's hallmark: He claimed that he had spoken clearly and boldly against going into Iraq. Wrong, he spoke in favor of invading Iraq. He said he saw thousands of Muslims in New Jersey celebrating 9/11. Wrong, he saw no such thing. He imagined it. His is not the temperament of a stable, thoughtful leader. His imagination must not be married to real power."
Why, then, had Romney accepted Trump's help in his own presidential bid in 2012, reporters wanted to know. "If Trump had said 4 years ago the things he says today about the KKK, Muslims, Mexicans, disabled, I would NOT have accepted his endorsement," Romney tweeted in reply, as if Trump's racism was not fully on display in his persistent demands that President Obama prove he was born in the United States.
But for what Romney did later, his takedown of Trump in that University of Utah speech might be remembered as a courageous call to arms by an elder statesman on behalf of civil discourse and seasoned political leadership. But no sooner had Trump won the presidency than Romney was dining on frogs' legs and chocolate cake with the "fraud" and "phony" in Manhattan, auditioning to be Trump's secretary of state.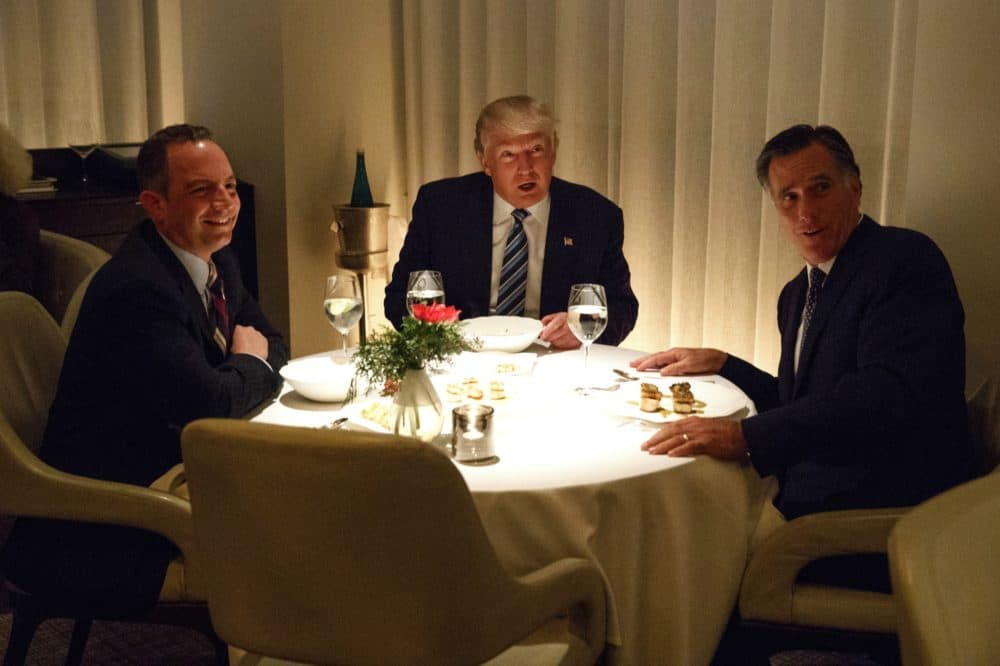 "What I've seen through these discussions I've had with President-elect Trump, as well as what we've seen in his speech the night of his victory, as well as the people he's selected as part of his transition, all of those things combined give me increasing hope that President-elect Trump is the very man who can lead us to that better future," he said then.
How soon before Mitt Romney is standing beside Republican Senator Lindsey Graham of South Carolina, Trump's onetime-critic-turned-fanboy, before a bank of microphones on the White House driveway extolling the president's virtues? If the past is prologue, you can count on it.