Get Your Kid A Flu Shot. There's No Excuse Not To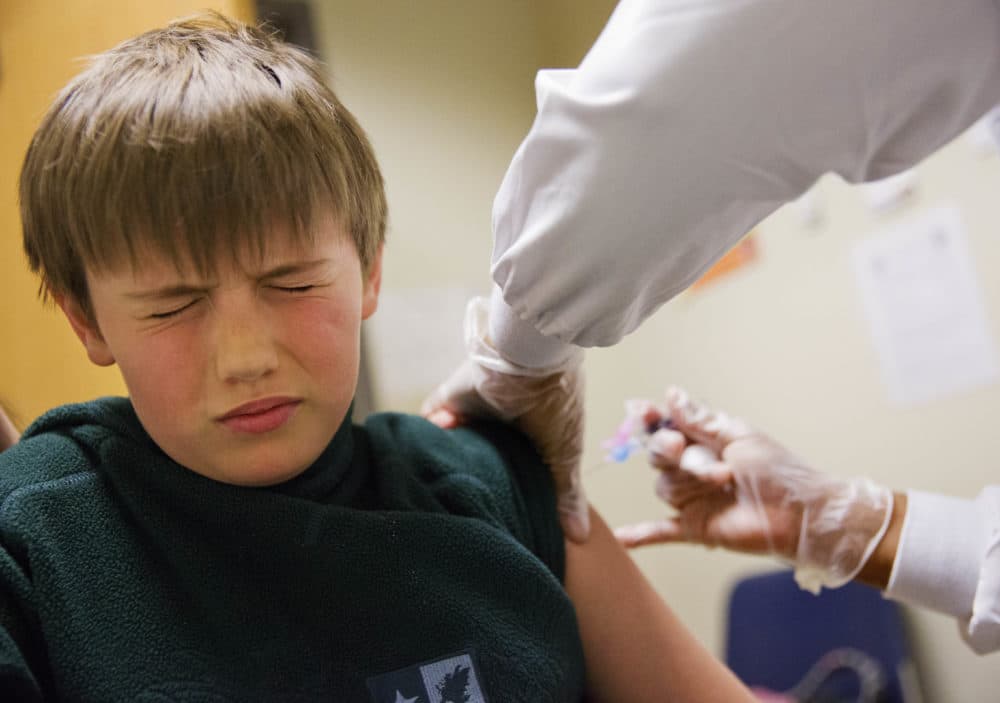 This article is more than 4 years old.
"Widespread" flu, the red-zone level according to the federal Centers for Disease Control, now afflicts a half-dozen states, Massachusetts among them. The good news is that this year's vaccine is expected to be effective against the most dominant strain. (Phew. My family was laid low last winter.)
The bad news is that there's no cure for ignorance, which, when it comes to flu, apparently has stranded more than half of U.S. parents on that psychiatric ward known as the anti-vaccine movement.
Last fall, Florida's Orlando Health Arnold Palmer Hospital for Children released a national survey in which more than half of parents with children under the age of 18 said the flu shot can give their kids the illness.
It can't.
With the flu season peak due later this month or early next, these people literally are risking children's lives -- their own kids and others.
It takes about two weeks after a shot for the body to reach peak immunity, during which time a person can contract the flu, possibly misleading folks into believing that the shot caused it.
"The parts of the virus that are used in the vaccine are completely dead, so you cannot get the flu from the flu shot," a Palmer Hospital pediatrician said. Obviously, that doesn't sway the misinformed majority, nor the smaller but appreciable one-third of parents who said that they don't believe vaccines protect against influenza.
With the flu season peak due later this month or early next, these people literally are risking children's lives — their own kids and others. Perhaps they'll point to the last influenza season as confirming their superstition. 2017-18 was the deadliest season in decades, killing 80,000 Americans, including 180 children. Among flu outbreaks, that pediatric death toll was exceeded only during the 2009 swine flu.
The reality is that most of those dead children were unvaccinated.
As for the adults, unlike the anticipated effectiveness of this year's vaccine, last year's was less potent against that season's dominant strain of flu, which mutates faster than others and can outrace vaccine designers' targeting efforts. Scientists say we need more research into whether our process of making vaccines is outdated. Neither of these factors justifies letting your kids go unvaccinated. In seasons without a virulent strain like last year, a shot can reduce your chances of flu by 50 to 70 percent.
A year ago, the anti-vaxxers appeared to be on the ropes. In New Jersey, lawmakers seemed ready to ignore diversionary whines about religious rights to tighten rules against religious exemptions when vaccinating students for various ailments.
Sadly, the bill stalled, even though it would satisfy the solid science confirming the safety of vaccines, while meeting faith concerns (hardly any religion is anti-vax), and common sense. (Not only are unvaccinated students at risk, they threaten "community immunity": the need to prevent contagion among classmates who, for reasons like allergies or immune-system defects, can't be vaccinated against certain diseases.)
... a shot can reduce your chances of flu by 50 to 70 percent.
But the Palmer Hospital survey raises the ominous possibility that unwarranted parental fears could keep kids out of flu clinics as the sickness is rampaging in some states. It would be one thing if the jury were out on vaccination. It isn't. Or if there hadn't been high-profile education campaigns to wake anti-vaxxers from their coma. Yet we've had those, too.
This is a problem that crosses national borders. European governments, for example, have used mandates and education against less-than-optimal vaccination rates.
Stripped of scientific rationales against vaccines, the anti-vaxxers dance to a tune of mistrust of experts generally, a populist meme. "Question authority" is a hardy American tradition; when an establishment preaches about life-or-death matters, show me the proof is a healthy response.
On flu vaccines, that standard has been met.
An earlier version of this story mistakenly reported that New Jersey had enacted tighter restrictions on religion exemptions from vaccination. We regret the error.