As The Shutdown Drags On, Trump Sputters, Rants And Mangles All Logic
This article is more than 4 years old.
Back in 1946, George Orwell wrote a seminal essay entitled "Politics and the English Language," in which he argued that politicians use vague and meaningless language precisely because they intend to hide the truth rather than express it.
It's hard not to think of Orwell these days, given that the president of the United States seems largely consumed by hiding the truth in gusts of rhetoric that are increasingly, almost comically, incoherent.
The past few days have offered an especially radical case study.
The president has argued that there is a national security crisis on our southern border, which only building a wall will solve, at a cost of $5.7 billion in taxpayer dollars, and that he never promised Mexico would pay for the wall, though Mexico is going to pay for the wall, indirectly, and that he has every right to proudly shut down the government (even though it's not his fault that he proudly shut down the government) and to declare a national emergency and swipe the funds from disaster relief victims if Congress won't give him his wall, which, by the way, is an invention older than the wheel.
Got that?
Also, the buck stops with everybody.
While Trump sputters and rants and mangles all manner of logic and cliché, unpaid federal employees have resorted to food pantries, our national parks are closed and airports are shutting down terminals.
Senate Republicans could solve all this by passing the same bills they passed two weeks ago, funding the government. But that would mean publicly defying a president that many of them privately mock, which is apparently scarier than screwing over their constituents.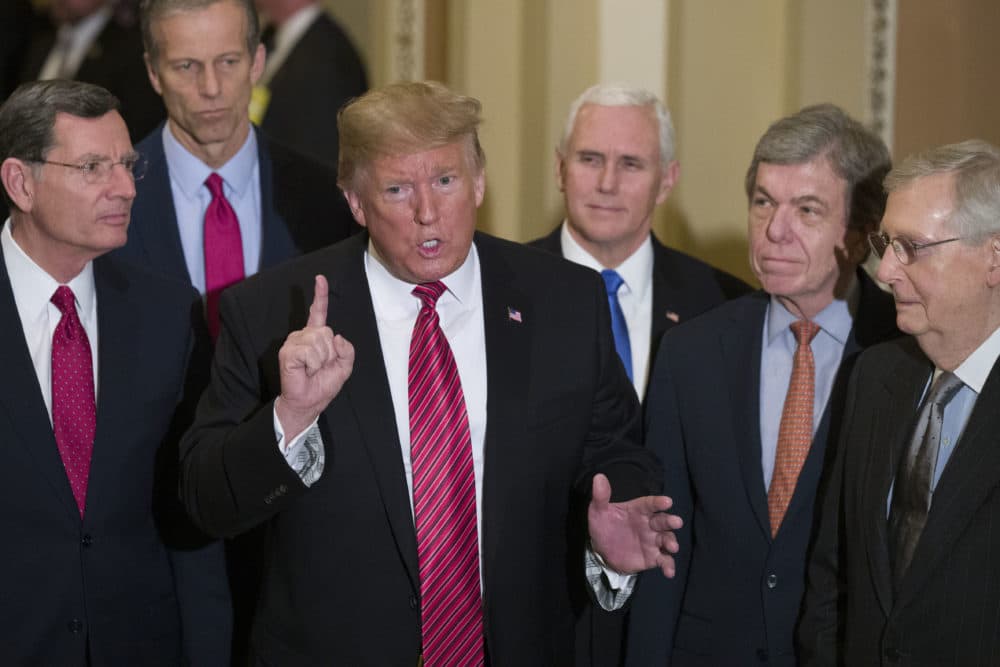 If all that sounds dysfunctional, just wait for the breaking news, which is that the FBI launched an investigation of Trump in 2017 to determine if he (as a reminder: the president of the United States) was actually a Russian asset.
A day later, we learned that Trump has worked very hard to make sure there is no official record of his five publicly known conversations with Russia leader Vladimir Putin — the man who helped elect him — including seizing notes from his own interpreter, which doesn't seem fishy at all.
A lesser politician might lay low, given this news landscape.
Trump headed for his designated his safe space: the warm embrace of Fox News enablers whom he has elevated from d-list demagogues to trusted advisers.
The president spent Thursday night with Sean Hannity. Offered the chance to hold forth without any unpleasant journalistic vetting, Trump clarified that the basis of his decision to declare a national emergency is actually his inability to negotiate and that he's thinking about the 2020 presidential race more than any Americans who might be suffering.
He followed this up by phoning into Jeanine Pirro's show on Saturday. Pirro asked him point blank whether he was a Russian asset, which set him off on an epic ramble that, curiously, did not include the word no.
He lies habitually. He taunts enemies. He brags. He pities himself. He does everything but speak coherently about his actions and intentions.
He also whined to Pirro that he hadn't "left the White House in months," apparently forgetting that he had traveled to Texas two days earlier for photo ops. It probably bears mentioning (though not by Trump) that he is the laziest president in history.
Even when he's offered a chance to explain his actions, Trump appears incapable of understanding even the most basic matters of policy. He lies habitually. He taunts enemies. He brags. He pities himself. He does everything but speak coherently about his actions and intentions.
This is why I've recommended that responsible media outlets band together and pledge not to cover his rallies and tweets, only the actions taken by his administration.
Orwell could scarcely have foreseen a political actor who disfigures the English language so grievously. "The great enemy of clear language is insincerity. When there is a gap between one's real and one's declared aims," Orwell observed, the speaker winds up behaving "like a cuttlefish spurting out ink."
That's the current leader of the free world: President Cuttlefish.