What Good Is Republicans' Rebuke Of Steve King If They Remain Silent On Trump?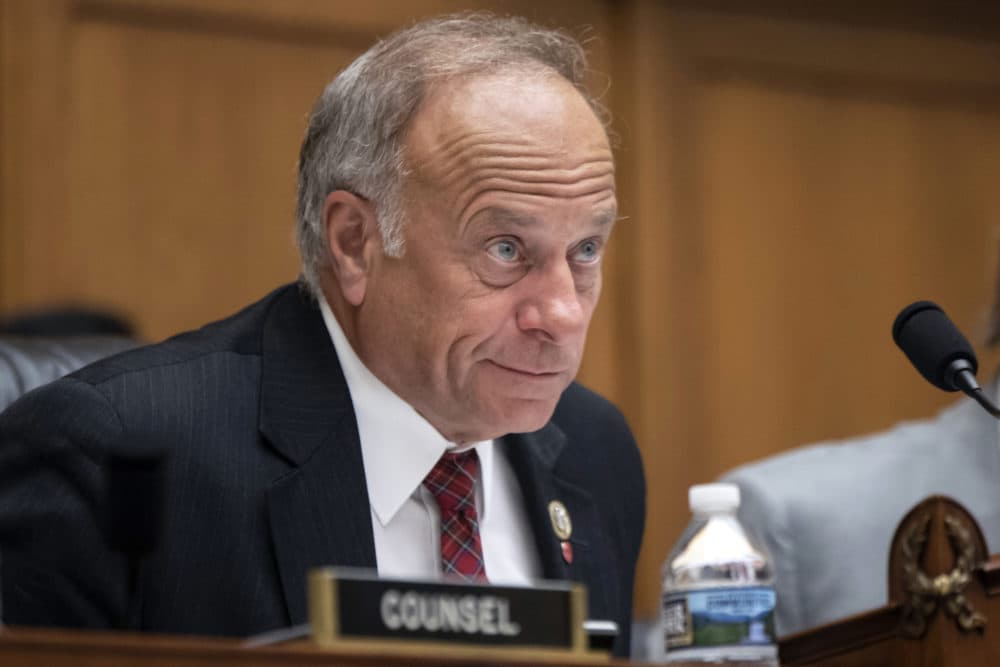 This article is more than 4 years old.
In a famous scene from the classic 1942 WWII film "Casablanca," a symbolic war breaks out in "Rick's Café Americain" between the loathsome Nazi officer, Colonel Strasser, and the nightclub's anti-Nazi patrons. To quell the revolt, Strasser orders police captain Louis Renault, a corrupt officer of the collaborationist Vichy government, to shut the club down. Renault, who has long looked the other way at the illegal activities going on at "Rick's" in exchange for a steady diet of bribes, finds a pretext to do their bidding and placate the interlopers, without jeopardizing his future cash flow.
"I'm shocked," Renault says with faux outrage and an invisible wink to the hero, Rick Blaine, "absolutely shocked, to discover that there is gambling in this establishment."
Earlier this week, House Republican leadership stripped Iowa Congressman Steve King of his committee seats, and the next day, every Republican voting joined Democrats to condemn King in a resolution of disapproval. His fellow party members were shocked, absolutely shocked, to discover that King was a vocal, unrepentant racist.

The immediate catalyst for this action was King's complaint in a New York Times interview: "White nationalist, white supremacist, Western civilization — how did that language become offensive?"
King defended his comments (which he claimed the Times had "mischaracterized"), arguing that he is merely a defender of Western Civilization and a proud nationalist, not a white supremacist. But this was only the most recent in a string of bigoted and incendiary comments and beliefs that have spouted from King like sewage from a broken pipe.
In the summer of 2018, King visited Islamophobic Dutch nationalist Geert Wilders, subsequently tweeting that "Wilders understands that culture and demographics are our destiny. We can't restore our civilization with someone else's babies." He's subsequently (and routinely) tweeted the white supremacist slogan that "Diversity is not our strength" and quoted the Hungarian president saying, "Mixing cultures will not lead to a higher quality of life, but to a lower one."
King has met with members of a far-right Austrian party with historical Nazi ties and the Huffington Post has documented the handful of Twitter accounts he follows that belong to "unabashed white supremacists." In 2013 King said of the Dreamers: "Some of them are valedictorians, and their parents brought them in. But for everyone who's a valedictorian, there's another 100 out there that weigh 130 pounds and they've got calves the size of cantaloupes because they're hauling 75 pounds of marijuana across the desert." In arguing for electric fencing along the southern border, he's compared immigrants to livestock.
[Republicans] were shocked, absolutely shocked, to discover that King was a vocal, unrepentant racist.
And the list goes on. King kept a Confederate flag on his desk until 2016, endorsed a white nationalist candidate for mayor of Toronto, suggested at the Republican National Convention that "white people had made more contributions to civilization than other groups," and referred to Mexican immigrants as "dirt."
It's hard to question King's infatuation with neo-Nazis, racists and right-wing demagogues, as his political history is long and well-documented.
No, the real questions are why some of his Republican colleagues have tolerated King — now in his ninth term — for so long, why suddenly now they are changing their stance, and why they continue to tolerate the equally repellant tweets and stances from President Trump.
"Leader McCarthy's decision to remove me from committees is a political decision that ignores the truth," King declared in a recent statement.
He got it half right. Nobody in Congress (other than King) needs King's voters, so taking the moral high ground by condemning him is a low-risk, high-gain political move. And after suffering their worst electoral defeat in 40 years last November, House Republicans understand that they need to inch their way back from the far-right precipice if they are to even retain their current seats in the next election.
In contrast, while Trump's base is relatively small for a sitting president, it is national, well-funded and unambivalent. Cross the president and he'll mock you, demean you and actively work for your opponent. So while a handful of Republicans (such as Steve Stivers from Ohio) have shown some courage in taking King on before now, those who have — or are just now condemning him — are displaying slimy dexterity in justifying their silence on Trump.
Republicans' selective and convenient silence on Trump is based on more than political courage or the lack thereof.
House Minority Leader Kevin McCarthy says he has no standing to rebuke the president since Trump isn't a member of the House Republican Conference. His colleague, Tom Cole from Oklahoma, argues that it would be "inappropriate" to discipline Trump since "he's in a different branch than we are."
Republicans' selective and convenient silence on Trump is based on more than political courage or the lack thereof. They've been skittish for decades.
As political scientists Sam Rosenfeld and Daniel Shlozman explain in a recent Times essay, "Postwar American conservatism was forged in battles over extremists." Leading Republican intellectuals like William F. Buckley, while condemning Joseph McCarthy, extolled the virtues of McCarthyism. In 1964, the Republican party establishment refused to endorse a platform plank condemning extremism in general and the rabid John Birth Society in particular.
By the 1970s, the conservative movement had veered away from traditional Republican issues, like small government and taxes, in favor of courting George Wallace supporters and white evangelical voters. They were busy whipping up support on the basis of far more socially divisive issues like integration, abortion and gay rights.
That era marked, to once again quote "Casablanca," "the beginning of a beautiful friendship" between Republican politicians and the radicals in their base who, like Louis Renault, they seek to placate without jeopardizing their cash flow.
For all of his adept evasions, at the end of "Casablanca," Renault won our affection by turning against his fascist boss. If Republicans hope to earn our admiration, they'll have to do the same.