Disgusted By The College Cheating Scandal? Free Public College Is One Remedy
If Bernie Sanders needs a pitchwoman for tuition-free public universities, he just found the best in Felicity Huffman.
I'm not referring to her acting abilities. The former "Desperate Housewives" star was a little too desperate to get her daughter into an elite university, prosecutors say, forking over $15,000 to a consultant who made a business out of arranging bribes and committing fraud. All this was revealed in a college admissions bribery sting last week that netted 50 thespians, hedge fund managers and others with bank accounts exceeding their social worth.
The investigation drew commentators' attention to the legal legs-up available to the privileged, from pricey test prep to preferences for children of alumni (I benefited from that one) and donors. The system's not as rigged as some dyspeptic critics believe, however. Darrell M. West, a longtime teacher at Brown University and the author of "Divided Politics, Divided Nation: Hyperconflict in the Trump Era," says unmerited admittees were the exception, not the rule. Still, thanks to Huffman, Lori Loughlin and the rest, we're now talking about Sanders's signature issue of inequality.
The question is how do we help those who don't have their own TV show — or tens of thousands of dollars of disposable income — to scale academia's ivied walls? The Vermonter's idea to charge zero tuition at public colleges and universities is an excellent place to start. (Other candidates, notably Elizabeth Warren, endorse some variant of that idea.)
The question is how do we help those who don't have their own TV show -- or tens of thousands of dollars of disposable income -- to scale academia's ivied walls?
How about rerouting the roughly $70 billion Uncle Sam spends on "scattershot" college aid — both directly, such as Pell and work study grants, and indirectly, through tax breaks like the American Opportunity Tax Credit — to the states? The federal government would require states to use that money to cover public tuition costs for the needy. Students from families above a certain income threshold would be charged a few thousand dollars (far less than they pay today) to help defray poor students' living expenses. (This may diminish the appeal of public universities to wealthy students – but that's a good thing, since space is limited.) We would also have to require public universities to demonstrate robust programs for helping students to graduate, since affordability is not the only force behind dropout rates. Such retention is possible; the Ivy League is famously harder to get into than to flunk out of.
Using existing federal spending to make tuition free for disadvantaged students, while charging a reduced-from-current-level tuition to the affluent, is fiscally responsible. Public universities would still need the subsidies they now get from the states. But in a bureaucracy-simplifying stroke, repurposing federal student aid would cost the taxpayers little or no additional money. We'd fulfill Sanders's dream.
Free tuition would fulfill not just Sanders's dream, but Abraham Lincoln's. One ugly, unremarked irony is that some schools named in federal prosecutors' affidavit were created to educate the needy, not the rich-and-greedy. The lawsuit charging eight universities with negligence in falling for the bribery scheme includes UCLA and the University of Texas — public schools and outgrowths of the 1862 Land Grant College Act, signed by Lincoln to bring higher education to working-class Americans.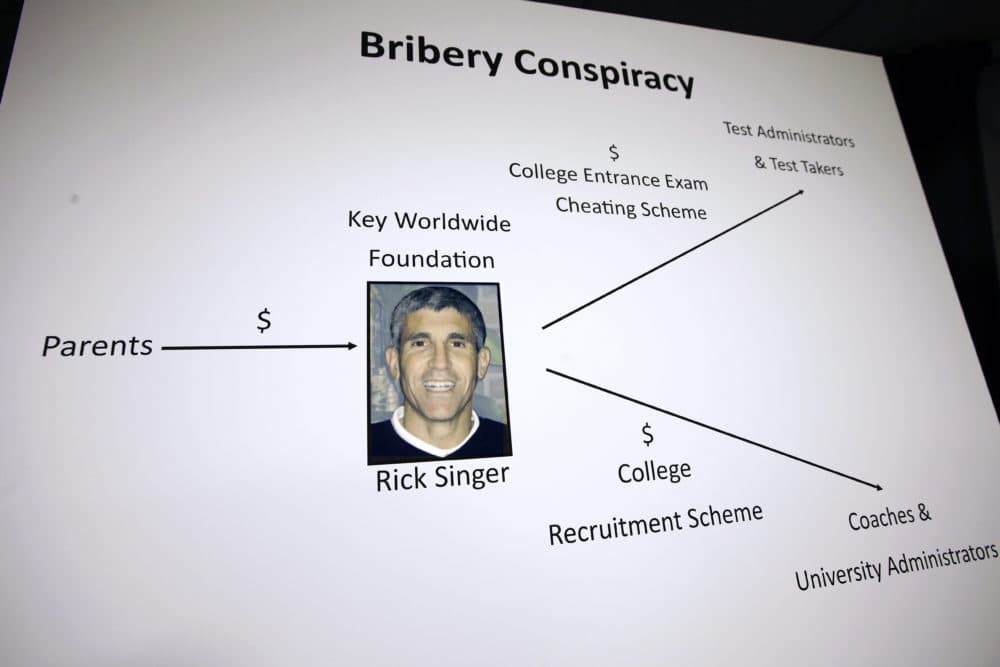 The land grants were never conceived as playpens for the likes of the ultra-rich. In 1862, Vermont Congressman Justin Morrill, while advocating for the legislation that would give states federal land for sale in support of public colleges declared,
"This bill proposes to establish at least one college in every State upon a sure and perpetual foundation, accessible to all, but especially to the sons of toil …"
Morrill's language was gendered, his schools were less so. Some admitted women in a rare nod to equal rights. But his real concern was economic — for the working-class kids from families laboring as farmers and mechanics.
Morrill was the son of a blacksmith who'd lost out on going to college because his family couldn't afford it. He lived in an era when our predominantly private higher education system catered to the wealthiest fraction of the population, training students for white-collar work in the law, ministry, medicine and academia.
The land grants were never conceived as playpens for the likes of the ultra-rich.
The Land Grant College Act didn't scant a classical education, but it said "the principal object" of land grant colleges would be instruction "related to agriculture and the mechanic arts … to promote the liberal and practical education of the industrial classes in the several pursuits and professions in life." That came to include agronomy, stenography, textiles, forestry and mechanical drawing, among other things.
Once Congress passed the legislation, Lincoln, the child of poverty for whom college had been as unthinkable as a cellphone, gave his signature without hesitation.
On average, American college graduates earn almost $1.4 million more over their lifetimes than those with high school diplomas alone. Free tuition as a path to that premium has been road-tested. Australia created a system where higher education is free to students, but requires graduates to repay their loans based on income. The policy has increased college attendance eight-fold. Chicago has also seen heartening graduation rates since making community college tuition-free four years ago.
It's true that graduates of selective colleges out-earn peers at other schools, so free tuition at UMass Boston won't put you in the same income league as Harvard. But an Ivy League degree isn't necessary for a prosperous life, and anyone who swallows the myth that only elite schools rocket you to success is dumb enough to try to bribe their way into one.
Using existing federal aid for free public tuition would strip financial support from students at private universities. Maybe the latter could solicit replacement contributions, legally, from the 50 arrestees? They seem eager to donate.