Alone, Late At Night, With Notre Dame
How many people have been alone with Notre Dame? I used to stand outside the cathedral, by myself, late at night. I'd come to study philosophy at the Sorbonne during the spring semester of my junior year of college. But mostly, I'd come to spend five months in Paris.
I lived with a host mother who seemed to resent my presence in her apartment. I never thought of asking to switch families, partly because I hadn't yet developed the muscle to tell people what I needed, but really, because of the address. I lived just a few blocks from Notre Dame.
I often stayed out late into the night and walked home alone. I have a terrible sense of direction, but if I found the Seine, I could follow it to the apartment. I almost always detoured to Notre Dame.
An average of 36,000 people visits Notre Dame each day. People mill constantly in the courtyard in front of the cathedral. On weekend days when I didn't have anything planned, I sometimes made a sandwich, packed a book and sat on the bleachers in the courtyard, facing the church. Tourists bustled around me. They'd planned this day for months, or years.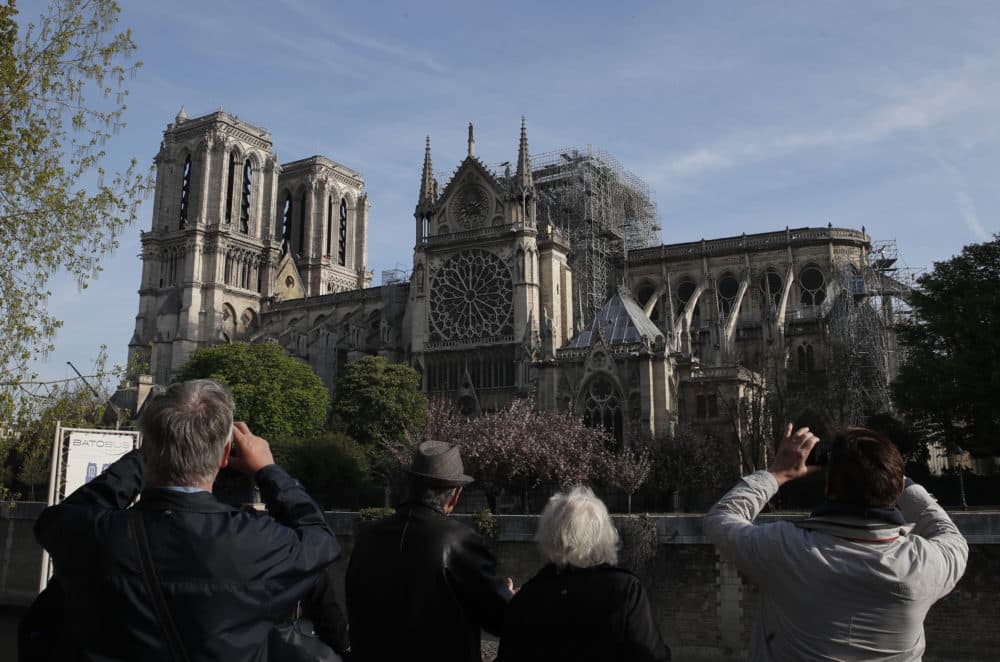 My first weeks in Paris, I ducked out of people's family photos. But you can spend your time ducking, and there will still be other people in the back of the shots. I stopped trying to escape the cameras. Fragments of me must reside on a lot of mantels and computer backgrounds: a leg, an arm, a retreating back.
At night, though, in the late hours when most people aren't conscious -- the moments from 1 a.m. to 2, or 2 to 3 — no one thinks to visit a cathedral. Sometimes I found other people. I never recognized them from previous visits. Occasionally, most often on rainy nights, I stood alone in front of one of the world's most visited tourist sites, a cathedral started in the 12th and finished in the 13th century, where Napoleon Bonaparte was crowned. In those moments, the city belonged to me.
Paris days ran long. I'd chosen to study there because of the city's foreignness, and I loved it, but it rebuffed me. The city was too sharp and too shiny to hold. I learned to put on a blank face, in the subway and on the streets. People talked to me, or even yelled. I practiced ignoring them, got good at it.
Notre Dame gave me pockets of quiet comfort. In those little stretches of the late night, it was a piece of the city I could feel close to. I loved the permanence of it. New England, where I'd grown up, has a long and storied past, but Paris's history makes Boston look like a kid trying to act grown-up — like me. Spending time at Notre Dame made me feel part of a bigger unfolding of events, a larger timescale, somewhere between the day-to-day rush of study abroad and the longer sweep of geology — the timeline of human history.
While Notre Dame was under construction, Kublai Khan succeeded Genghis Khan's rule of the Mongol Empire. Marco Polo was just starting his travels. The Ottoman Empire didn't even exist yet. Notre Dame has stood since that era. Not many man-made structures have. I assumed that a bridge to a past that distant would stand far into the future.
On Monday, Notre Dame burned. The cathedral still stands, the courtyard's still there, but the spire collapsed into the cathedral's stone belly. Parisians have rallied already, and President Macron has pledged to rebuild, but it'll never be quite the same. It's still there, but no longer there. It won't ever look the way it did in those months, in my photos.
I knew that the trendy places wouldn't last forever — the owner of the café/cake shop I studied in most afternoons told me that everyone he knew left Paris after a few years. But Notre Dame would last. Reading the headlines about the fire felt like seeing that something awful happened to an old friend I'm no longer in touch with.
In the courtyard outside the cathedral is a seal that someone told me to twirl over, for luck that you'll someday return to Paris. She might've made it up, but I liked the idea of promising myself that I'd be back.
One night, alone in the rain, I spun on the seal. I felt silly, but also glamorous, a kid making a promise to her adult self. I'd come back to Paris someday. I'd slip out and walk to Notre Dame, late at night, alone.