Teaching My Daughter To Ride Her Bike — But Not In Boston
This article is more than 4 years old.
My younger daughter mastered her bicycle just before her ninth birthday this April. I taught her to ride on two wheels last summer, but she hadn't figured out how to turn corners before she stopped for the cold weather. Now, seeing her executing tight circles and figure-eights, I proudly remember that first afternoon when she pedaled upright on the sidewalk, head held high in her pink and purple helmet.
The grin that spread across her face made me flash back to myself at the same age, riding a clunky red bike, leaning on training wheels and struggling to balance. When children learn to walk, they are too young to remember. But when children learn to bicycle, they savor that day for a long time. For me, the squeak of training wheels suddenly disappeared and I found myself gliding as if friction had been banished. Flushed with a new freedom, I felt like racing the wind.
Years later, living in California during college, I would hop on my 10‑speed in the evening and ride around Burbank. My usual route led past an amphitheater into the foothills and I had to pump hard in low gear to reach the top. My reward for all that sweat was coasting back the way I came, down the long, winding road as cool evening air buffeted my face, the sparkling grid of the San Fernando Valley spread before me.
By teaching my daughter to ride a bicycle, I gave her choices she won't understand for a while. Right now, her hand-me-down Schwinn is fun. Later, she can use the bike for exercise and recreation, as an alternative to the car and a way to contribute to a sustainable environment.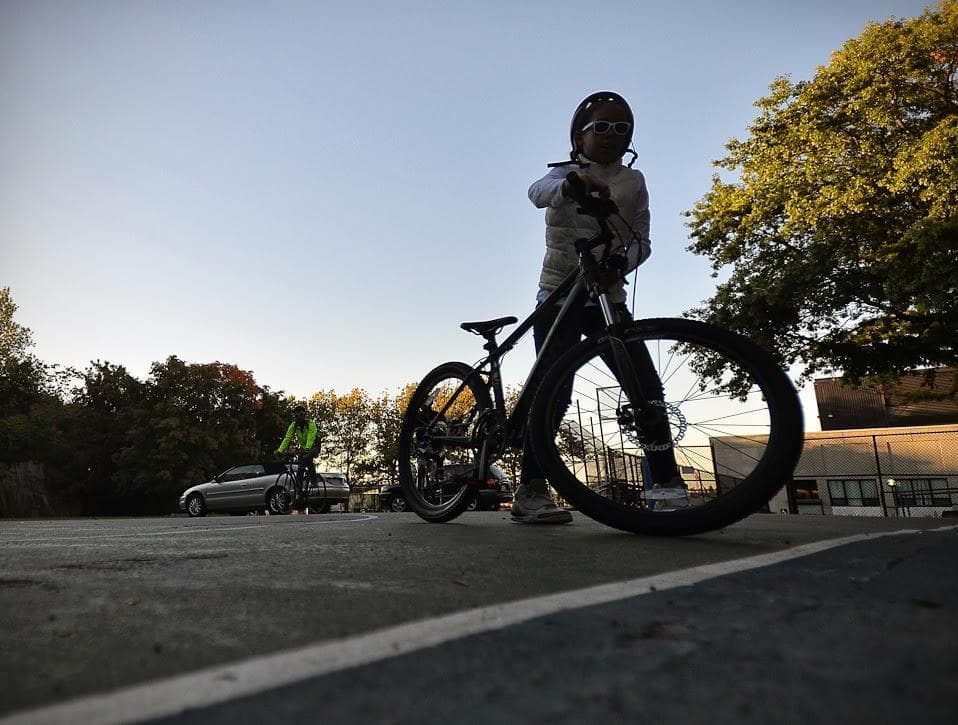 Boston, with its compact central core and public transportation, has been described as the most European of American cities. Because of our car culture, however, I find Boston bike-tolerant but hardly bike-friendly. In contrast, Copenhagen and Amsterdam consistently top the list of places amenable to cyclists. Some European cities give bikes the right-of-way and continue to improve and extend their network of bike routes.
Despite our love of the automobile, there is movement here to emulate places like Copenhagen. As part of the Boston Bikes Initiative, the city developed one of the nation's first regional bike-sharing programs, and established Hubway in 2011. Rebranded Bluebikes in 2018 after Blue Cross became a sponsor, more than 1,800 bicycles are docked throughout Boston, Brookline, Cambridge and Somerville. Using an online app and a credit card, anyone can unlock a Bluebike from a station, ride around town, then return it to any other station.
While Boston has a considerable network of bike lanes, I wouldn't want my daughter, or even her older sister, riding in them next to big SUVs, speeding vans and cars running red lights. If the streets aren't safe for a 9-year-old, they aren't safe for anyone, a point that hit home this February when a truck ran into a teacher bicycling by my daughter's school in Brookline. He suffered broken ribs and a fractured pelvis, and required surgery and a prolonged hospital stay.
The teacher was lucky. Paula Sharaga was not. She was bicycling in Fenway — also this February — when a cement truck hit her; she died from her injuries shortly afterward.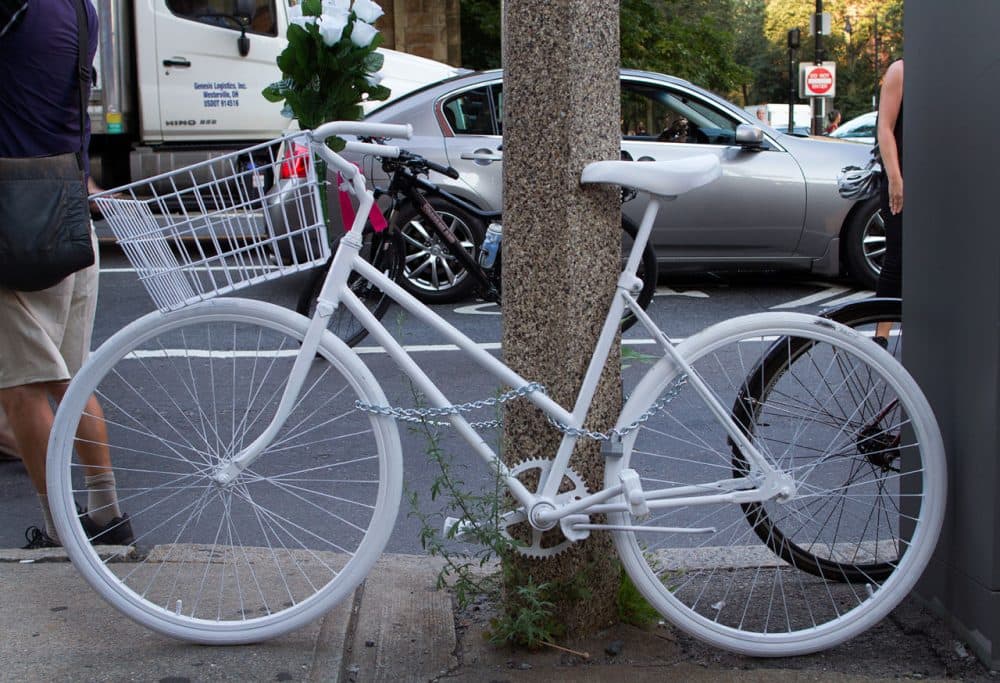 Since 2003, ghost bikes, painted white and placed near accident sites, have appeared around the world to memorialize cyclists killed on the streets. Ghost bike ceremonies were held for Sharaga and Meng Jin, who died after he was hit by a dump truck near the Museum of Science, but many others receive little acknowledgement.
Fortunately, Boston is taking measures to increase safety as it develops its bicycle network. One month after Anita Kurmann was killed at the intersection of Massachusetts Avenue and Beacon Street in a crash with a flatbed truck, the city installed Flexi Cones to separate automobiles from cyclists at that dangerous intersection. Planned improvements include buffered bike lines to provide more space for cyclists, separated bike lanes using curbs or flex posts and sidewalk-level bike lanes.
These changes, such as the creation of parking-protected bike lanes last year on Beacon Street in Back Bay, are appearing incrementally. Driving through that neighborhood, I was startled and a little disoriented when I first saw on-street parking had moved away from the curb, making room for a bike lane and reducing traffic from three to two lanes. This is a baby step toward a more European sensibility — but one in the right direction.
On safe, clear roads, with wheels barely touching ground and spinning too fast to see, a cyclist comes close to flight without wings. One summer during an all‑night ride with a bicycle club, I dashed 30 miles from Copley Square to Charlestown, Castle Island and back. At 3 a.m., our pack of 200 bikes whipped around the curve of a deserted street like a flock of birds, coasting effortlessly as if we were soaring. Someday I hope my daughters, too, can bicycle and experience the same unfettered joy I had then — of momentum propelling me in silence but for the whirr of sprockets in the darkness.