Mass. Should Follow California's Example On Lead Paint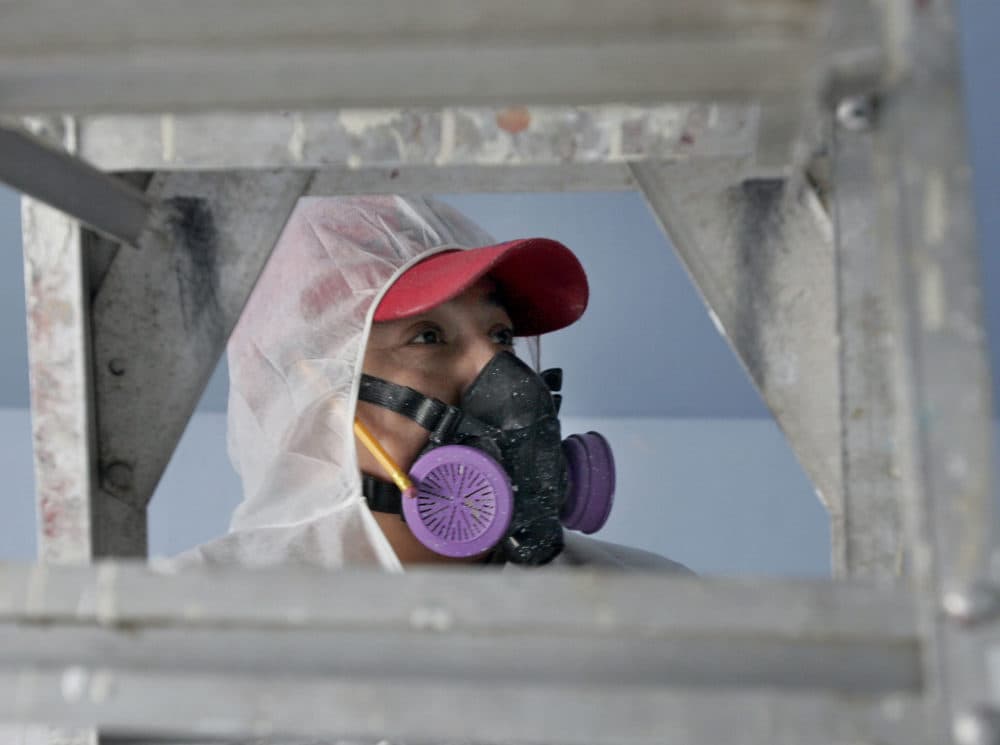 This article is more than 1 year old.
Lead paint, the longest-lasting childhood health hazard in United States history, poisons generation after generation. As a state, we must do more to prevent these tragedies from occurring — and to hold the perpetrators accountable.
The victims of lead poisoning in Massachusetts are primarily children of color and immigrants living in low-income neighborhoods, where the housing stock tends to be older and dilapidated. About 71% of all Massachusetts housing was built before 1978, the year when lead-based paint was banned for residential use. Only about 10% of that housing has been even partially deleaded, despite our 1971 Lead Law mandating removal or covering of lead hazards in homes built before 1978 where a child under 6 resides. The state budget for childhood lead poisoning prevention has been cut, reducing the capacity to do broad testing, inspection and enforcement.
Massachusetts can do better than this. California has shown us the way. Ten cities and counties in California sued lead manufacturers for the environmental disaster that they caused by promoting residential use of lead paint. In 2017, a California state court found that three companies — Sherwin-Williams, NL (National Lead) Industries and ConAgra Grocery Products — had spent decades marketing their product to consumers, despite full knowledge of lead paint's devastating effect on children. These three defendants were ordered to pay for the removal of lead hazards from the walls, windows and soil of pre-1950 homes in the ten jurisdictions that brought suit. The companies appealed this ruling all the way to the U.S. Supreme Court, but they lost and must now pay $409 million into an abatement fund.
Massachusetts can do better than this. California has shown us the way.
The most recent data from the Massachusetts Department of Public Health indicates that 2,955 children had blood lead levels above the federal threshold of concern in 2017, and 556 had levels that required urgent medical attention. These numbers — troubling enough — undoubtedly undercount the true nature of the problem, since over one-quarter of young children in Massachusetts have not been screened for lead exposure. Lead accumulates in the body, quietly causing children a lifetime of learning difficulties and aggressive behavior. In adults, occupational lead exposure causes hypertension, decreased fertility and nervous system disorders.
Boston, Springfield, New Bedford, Brockton, Worcester and Lynn have the highest concentration of children with blood lead levels requiring immediate intervention. Under Massachusetts law, a property owner is — without question — liable for the poisoning of a young tenant, but monetary compensation comes slowly, only through court action, one landlord at a time. In the meantime, children continue to suffer irreversible brain damage. Ultimately, taxpayers bear the cost of long years of special education, medical care and public assistance.
During a recent routine pediatric visit, a 3-year-old child of immigrant parents living in Everett was diagnosed with a blood lead level of 63 — 12 times the federal level of concern. Alarmed by this exceedingly dangerous level of lead, the girl's pediatricians ordered her hospitalized for five days, where she had to undergo painful chelation therapy to remove some of the toxic lead from her young body. But such measures can only do so much. The lasting effects of the elevated lead levels were already clear, as the child began suffering speech delays and aggressive impulsivity.
It is time to hold the lead companies accountable for the harm that they have caused ...
Appallingly, the landlord still did nothing to remove the lead from the family's home. Ten months after the state inspectors had reported that there were numerous lead hazards in the child's rented apartment,  the flaking paint was still on the walls and the floors were still covered with lead dust. The uninsured owner simply ignored the deleading order until Lawyers for Civil Rights threatened to sue. No state inspector notified the four other families living in the same building where the common areas, both inside and out, were contaminated with lead.
In California, the trial court is expected to appoint a receiver soon, who will begin disbursing money for a broad range of needed lead abatement and remediation work. We should take similar action in Massachusetts. Our Attorney General, Maura Healey, is particularly well-situated to act, just as she is doing to address the opioid epidemic. It is time to hold the lead companies accountable for the harm that they have caused and continue to cause to our families.
Ivan Espinoza-Madrigal is the executive director of Lawyers for Civil Rights. Laura Maslow-Armand is the Health Disparities Project director of Lawyers for Civil Rights. Dr. Fiona Danaher is a pediatrician at Massachusetts General Hospital.