Our Neighbors Are More Than The People Next Door
Play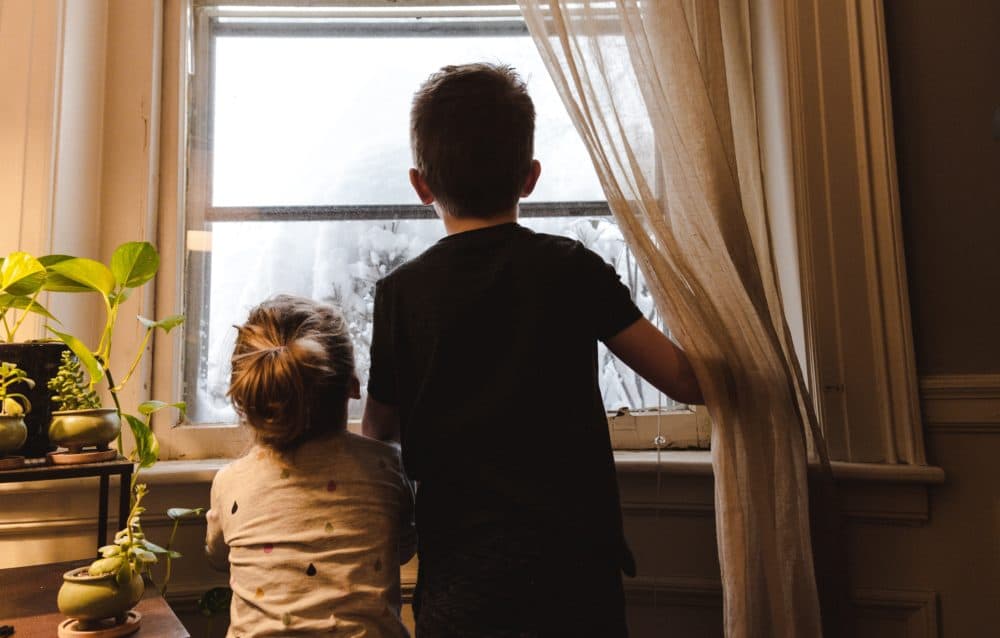 This article is more than 3 years old.
It wasn't until my neighbors were away that I realized how much they've become a part of my life. Not that I really know them. In fact, during the eight or so years since they moved in next door, we've spoken only a handful of times.
If we cross paths outside, we'll exchange a friendly hello or a "Wow, that was some storm." Once, when I was desperate for a cat sitter, after my regular person and two backups weren't available, they kindly obliged. Another time, I popped in on their yard sale and acquired a sturdy leather footstool for $5. But that's about it. And that's fine. They have their lives, I have mine.
My neighbors are a 30-something couple who own a gray wood-frame single-family home on our densely settled street. I live alone on the top floor of a modest two-family house next door; a driveway and chain-link fence separate us.
As I rinse and prepare food, scrub pots and pans, load and unload the dishwasher, I gaze out my kitchen window. It's a time to daydream, enjoy the birds and squirrels or assess the weather. I can also see into my neighbors' family room. Their curtains are often open, so I've become unwittingly privy to their daily doings — the husband slouched on the sofa watching TV; the wife sorting laundry; guests playing cards or eating holiday meals at their long wooden table; decorating, then undecorating, their Christmas tree.
It was my neighbors' absence that made me appreciate how much I take their presence for granted.
Some time ago, I noticed the husband slowly walking back and forth, cradling an infant. A few years later, I was surprised to see another newborn nestled on his chest. I could see him circle his hand gently over the baby's back. I hadn't even known the wife was pregnant.
It's like I have a window into the rhythms of a family. I notice when they're up especially early or late. It's not that I keep track. It's more like a vague awareness — of activity, of life.
Last summer, I saw the wife plucking pears from their backyard tree with one of those long-handled fruit pickers, as both children dashed around, depositing their treasures into a large red basket.
In the midst of a neighborhood power outage last winter, the sight of their flickering candles felt comforting as I ate my cold dinner by flashlight, huddled in my microfiber blanket.
I feel especially connected to them during sports playoffs. And, as anyone from Boston knows, that can mean a lot of late nights, and, on occasion, late-late nights.
I missed the sense of community, connection, belonging.
During the World Series last year, their lights were on too, as those interminable Sox-Dodgers battles dragged on into the comatose East Coast hours. And it's not just the Red Sox in this town — we're nearly guaranteed the cycle these days — baseball, football, basketball and, most recently, Bruins hockey.
For championship games, I pace, scream, leap, cheer, stomp, hold my breath, all the while cursing the time difference, cursing sports, cursing myself for caring, cursing about what will inevitably be another bleary-eyed morning.
Yet as long as I see my neighbors' lights on and the husband's silhouette on the couch, I'm relieved, knowing I'm not the only maniac suffering, or celebrating, alone in their pajamas.
Then, last January, they were gone for a week, including the Sunday when the Patriots played the Chiefs for the AFC title. Remember? The game with the heart-stopping final quarter? The 39 seconds? The tie? The overtime win? That game.
It was my neighbors' absence that made me appreciate how much I take their presence for granted. It was weird not to see their lights glowing that night.
I missed our one-sided bond. I missed the sense of community, connection, belonging. I especially missed that quiet moment after the game when I finally turn off the TV and head to bed and I see my neighbor do the same. Lights out, room by room, until both of our houses are dark.
This segment aired on August 19, 2019.