Grandma, Summer Nights And The Red Sox On The Radio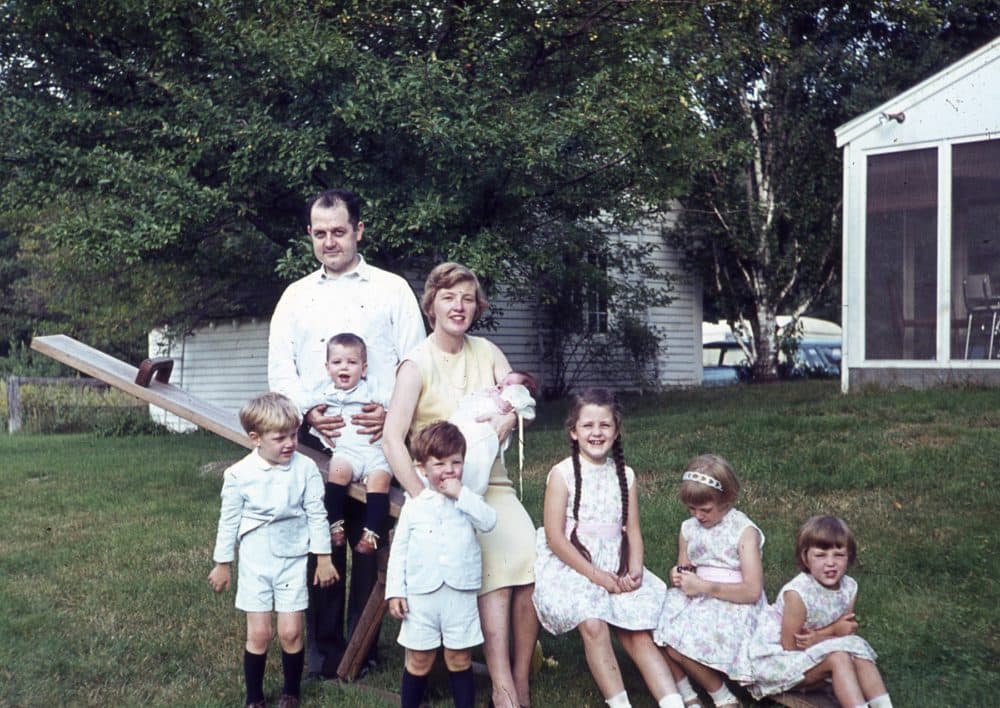 This article is more than 3 years old.
My mom likes to say Grandma June was like "a young RBG [Ruth Bader Ginsberg] in medicine, but with five more kids and the Red Sox game on."
She reminds me how my grandma was one of only four women in Harvard Medical School's class of 1954, when admitting women was deemed "an experiment." How every night she'd come home from working as an internist at Wellesley College, and turn the Sox game on.
Only, she rarely watched the Sox. It was always on the radio and always reliable — easy entertainment regardless of how well the Sox were playing. It was my grandma's nightly audio book; a way to be told a story, after she'd told one to her kids. She grew up in Framingham, during the Ted Williams and Johnny Pesky years, and raised her family in Hopkinton when Carl "Yaz" Yastrzemski and Carlton "Pudge" Fisk were on the roster.

Had I been born a girl, my parents say, I would have also been named June, my grandma's nickname. It so happened that June was also the brand of baseball she most enjoyed: competitive but with more of a relaxed, summer ambiance. Instead, my parents chose as my name one of her most visible traits: her will. My full name is 'Will' not William.
When doctors detected her stage 4 cancer, she brought her transistor radio to Dana Farber along — with its antenna and scratchy sound, Joe Castiglione and Jerry Trupiano providing the play-by-play. The radio broadcast was a companion when she was alone and sick, and a conversation-starter for anybody who kept her company, like on her 61st birthday, June 22 1992, when her seven kids huddled around. The Sox lost 4-2 in Detroit that day. It was an unremarkable game in an unremarkable year in an unremarkable decade of Boston baseball.
When doctors detected her stage 4 cancer, she brought her transistor radio to Dana Farber along ...
I imagine she softy grimaced when Danny Darwin let in two in the 11th inning. I imagine she pumped her fist when Tony Pena hit an RBI single. I imagine she still held tension in her neck and shoulders from the disappointments of '75, '78 and '86. And yet, I imagine that tuning into the action on a summer night was somehow enough. At her core, she was Miss Rumphius meets Moneyball: the paradox of grace and fanaticism.
I imagine these things because I wasn't ever at Dana Farber with her, or old enough to remember if I had been there. She died when I was about to turn 2, while our family was living in upstate New York. We moved to Boston in 1997, when I was 6 — just old enough to get swept up in Boston baseball, as Pedro arrived and the Sox transformed into frisky playoff contenders.

Every morning, I'd bring the Boston Globe sports section to school to dissect the box scores with my classmates. I dressed up as Nomar Garciaparra for four straight Halloweens. And every night before I went to sleep, I'd turn on my bedside radio to 850 AM and listen along, imitating the players' batting stances in front of my mirror as their names were called. Nomar and his happy feet and fidgety hands. Trot Nixon and all that sticky pine tar on his helmet.
I listened quietly enough that I wouldn't wake up my sisters next door, but loudly enough that I could still hear the commentary from Joe Castiglione and Jerry Trupiano. The same Joe and Jerry who called the games when my grandma listened at Dana Farber.
In her 63 years, she never saw — or heard — a Red Sox World Series win. In November 2004, my mom and I brought a pennant to her grave in Natick. Seeing "WORLD SERIES CHAMPION BOSTON RED SOX," in any context, was surreal. Seeing it next to GERTRUDE "JUNE" MURRAY felt even more so.
I'm 28 now. The radio is still on. It's a guest that never really leaves, nor overstays its welcome. It's unobtrusive chatter. It's a soft hum for people who get overwhelmed with TV noise, who prefer solitude but still want to hear Mookie's at-bats.
It's how I listened as a young fan and how I listen now as an older one — and I'm realizing it's how I connect with my namesake, June, from April to October.