The Value Of Fringe Candidates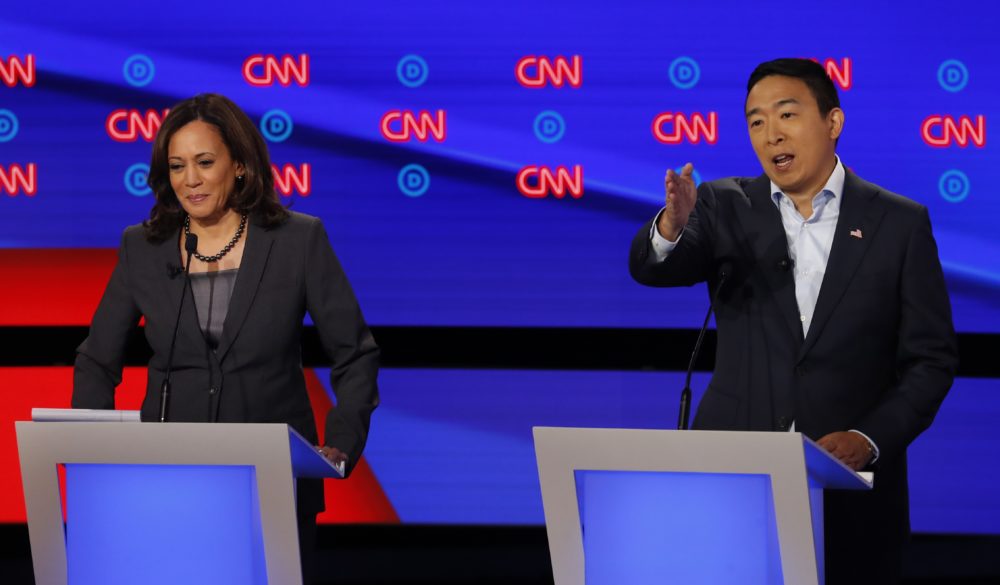 This article is more than 3 years old.
It's going to be a shame when the fringe candidates are gone.
I don't mean all of the fringe candidates. There were many longshots, after all, in this two-day, 20-candidate grind of a debate: governors and senators and U.S. representatives with enough charisma to win federal elections but not quite enough to succeed in the national arena. They spent two nights on the outer edges of the stage, trying to will breakout moments into existence. They deserve points for service, and for the effort.
But the unsung heroes of both debates were the long shots new to politics completely, unschooled in the cautious contours of campaign rhetoric. They were full of crazy ideas that were just this-side-of-sane enough to get people talking — and a few sane ideas that are spoken so infrequently in politics that they only sound crazy. So as we await the inevitable shrinking of the field, let's raise a glass to Andrew Yang, Marianne Williamson, and that rarest of campaign artifacts: the unvarnished truth.
Williamson, a New Age guru and author with the speaking cadence of Jane Fonda in a 1960s B-movie, and was the most Googled candidate from Tuesday night's debate, when she broke up the progressives-versus-moderates fight with interjections about reparations, a conceptual critique of the health care system and a killer line about the Flint water crisis.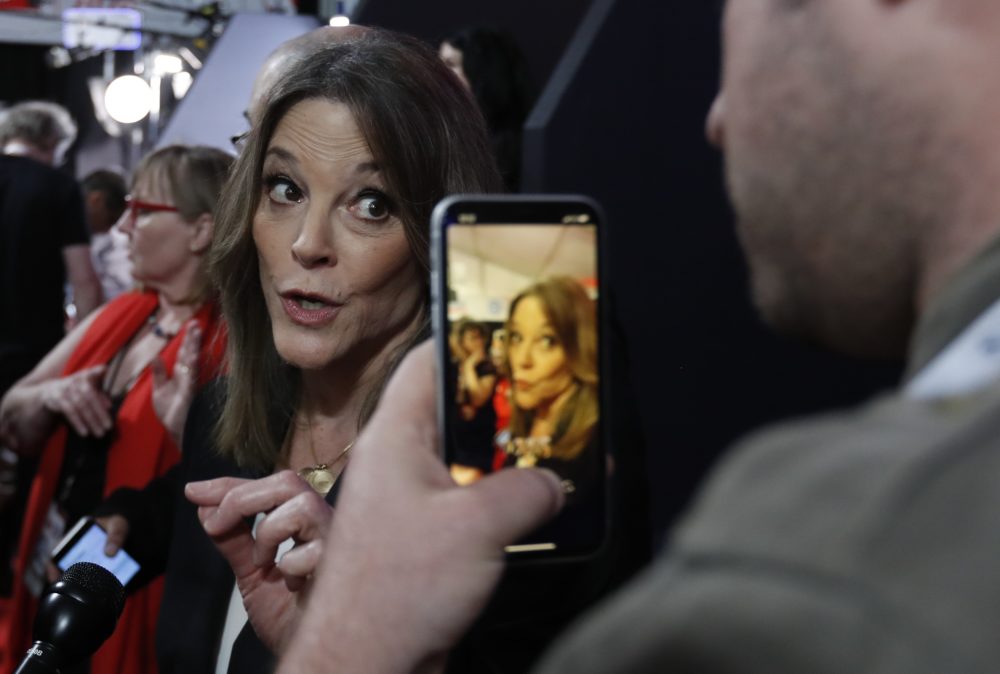 Yang, an entrepreneur with a normcore haircut and a mysterious aversion to neckties, was a geeky charmer from the first moments of Wednesday's debate, when he declared that "the opposite of Donald Trump is an Asian man who likes math." Throughout the debate, he lobbed reality checks: He noted that candidate climate plans will only go so far since the U.S. only produces 15 percent of global emissions. He pointed out that machines and AI are a far bigger threat to American jobs than immigration. And he won love on Twitter for noting that sexual harassment holds women back from success.
Yang's solution to that last problem is his solution to pretty much everything: a "universal basic income" or $1,000 per month for every citizen over 18. He'd pay for it, yes, with a new tax. It's not an unheard-of idea, if a political non-starter. And the fact that no moderator or candidate engaged Yang on the concept, even once, seemed to make him feel free to bring it up again and again.
It takes a certain level of fearlessness to stand so alone — a quality that usually only turns up in fiction. In the 1998 movie "Bulworth," Warren Beatty played a senator who, thinking he was soon going to die, ran for president with no fear of reprisal and no reason not to call things exactly as they were. Yang and Williamson give off a "Bulworth" vibe, and also a particular kind of savvy, as they use an improbable platform to call attention to pet ideas.
Imagine a debate where more did the same — how weird and fascinating that would be. Then think about the mostly-predictable show we actually got on Wednesday. Joe Biden, panned for acting old the last time around, fought back but flubbed his effort to give voters the number for his campaign's text alerts. Kamala Harris attacked Biden, and was attacked in turn, by Tulsi Gabbard. Cory Booker chastised Democrats for critiquing each other, then critiqued Biden for being Biden. Kirsten Gillibrand leaned hard into the suburban-white-woman identity, announced her plans to explain white privilege to Red State women and "Clorox the White House" upon arrival.
It's hard to see how any of that truly helps the Democrats next year, and that's where Yang and Williamson's truth saying felt the most apt. Yang complained about the attention pundits have paid to his lack of a tie, griped about having to wear makeup, and compared the process, rightly, to reality TV.
... the unsung heroes of both debates were the long shots new to politics completely, unschooled in the cautious contours of campaign rhetoric.
Williamson served up an even more cogent critique, saying Democrats were foolish to think that detailed policy debates would work against a force as toxic and fact-challenged as Donald Trump.
"If you think any of this wonkiness is going to deal with this dark psychic force of the collectivized hatred that this president is bringing up in this country," she said near the end of Tuesday's debate, "then I'm afraid that the Democrats are going to see some very dark days."
For the most part, she was right. What's going to beat Trump is not any particular set of 17-point plans. It's a combination of vision and charisma, the ability to sell a broad idea of where the country is and where it needs to go. Four years ago, an unschooled, unqualified, unapologetic candidate — speaking an emotional truth that spoke to certain crowds — rode that philosophy straight to the White House.