Calculating My Copay In The Midst Of A Health Emergency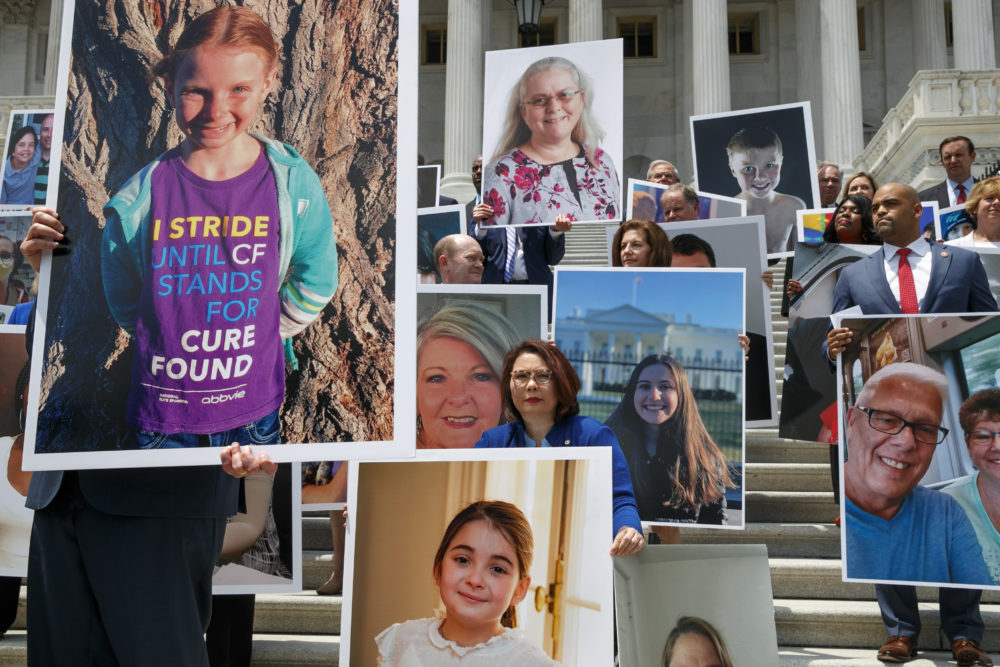 This article is more than 3 years old.
On July 9, the same day a federal appeals court in New Orleans took up a case challenging the constitutionality of the Affordable Care Act, my primary care doctor sent me to the emergency room. She feared my appendix had ruptured and that I would need surgery.
I am a teacher at a private school. My husband is currently unemployed. We are fortunate that my employer pays the majority of our health insurance premium and the first half of our deductible. But unfortunately, with ever-increasing co-payments and deductibles, we've had to change insurance providers several times in the past decade to keep the premium reasonable. Sitting there in the ER, I knew that if my doctor's suspicion of appendicitis was confirmed, I was looking at bills in the thousands of dollars, despite my insurance coverage.
According to a Kaiser Family Foundation study, 2018 was the seventh straight year of rising premiums for family healthcare plans. Citing the Kaiser study, Insurance Journal reports: "[s]ince 2008, average family premiums have increased 55%, twice as fast as workers' earnings (26%) and three times as fast as inflation (17%)."
At the ER, the CT scan confirmed not only that I had acute appendicitis, but also that my appendix had perforated, meaning it had burst and sent its contents into my abdominal cavity, a situation that is life-threatening without prompt treatment.

Appendicitis is a freak thing that happens to people. There are no factors that put some people at higher risk than others, no lifestyle choices that increase one's likelihood of falling ill. In other words, it's exactly the sort of thing we have insurance for.
My case was considered "urgent," but I didn't have surgery for nearly 24 hours after my diagnosis. By the time the whole ordeal was over, I had spent two nights in the hospital, one of them on a gurney in a hallway in the ER because there were no rooms available. Two weeks later, we got the charge: the hospital billed my insurance for just over $36,000 for my care.
Of course, the hospital has to accept what my insurance agrees to pay, so that initial bill is misleading. After "health plan discounts" of about $24,400, I will pay about $4,000 in deductible and copayments, and my insurance will cover about $7,600. In other words, the hospital will only get about 32% of what it says my hospitalization cost.
... Hospitals know insurance companies will always pay less than they are billed, so hospitals always ask for more ...
My insurance company provided all of this information in my plan portal with color-coded graphs to show me how much money they had saved me. I was supposed to look at their charts and say, "Hooray for health plan discounts!" But when I looked at the numbers, as grateful as I was not to be on the hook for $36,000, my only thought was where is the sense in this system?
Dr. David Belk, creator of the website truecostofhealthcare.org, explains that hospitals and insurance companies are playing a game in which hospitals know insurance companies will always pay less than they are billed, so hospitals always ask for more — sometimes as much as 10 times more — than they expect to be paid. People without insurance are obviously in trouble in this system, because they get the same bill as people with insurance but without "health plan discounts."
That said, for people with insurance, this system appears to work out. If I only have to pay 10% of what the hospital billed, isn't that a win?
Well, insurance isn't free. The premium for my two-person plan is over $1,200 per month, nearly $15,000 per year, with a $3,000 deductible per person and high co-payments for things like ER visits ($300) and surgeries ($1,000 for in-patient, $500 for out-patient) that kick in after the deductible has been met, but before the out-of-pocket maximum has been reached.
The insurance company may look like a hero that saved me thousands of dollars, but only because of a system in which hospital bills do not reflect actual hospital costs — a system in which both patients and doctors are captive to insurance companies.

According to one study in 2018, 40% of U.S. adults don't have enough savings to cover a $400 emergency. Think of all the people who, despite having insurance, would have forgone my trip to the ER because they couldn't afford to pay the deductible or the copay. I could afford to say, "This is probably nothing, but I'd better see my doctor just in case." For people who can't, appendicitis, a common and treatable condition, could develop rapidly into a deadly one.
While we wait to see what the appeals court will decide about the constitutionality of the Affordable Care Act, the Democratic candidates all seem to agree that health care reform is needed. Most of the conversation so far has been about Medicare for All, with the candidates divided on the extent to which expanding Medicare is a viable solution. Will we eliminate private insurance in favor of a single-payer system?
I want them to talk about how they plan to bring down costs. How will they end the system in which hospital billing is like a Craigslist negotiation? A system in which hospitals ask high, and you take what you can get. And if private insurance is going to continue to play a central role in our health care system — and most people seem to think it will — how should it be regulated to ensure patients can access the care that they need?
Universal coverage isn't enough. People also need to be able to afford the health care they need.