Republicans Don't Have To Be Trump Sycophants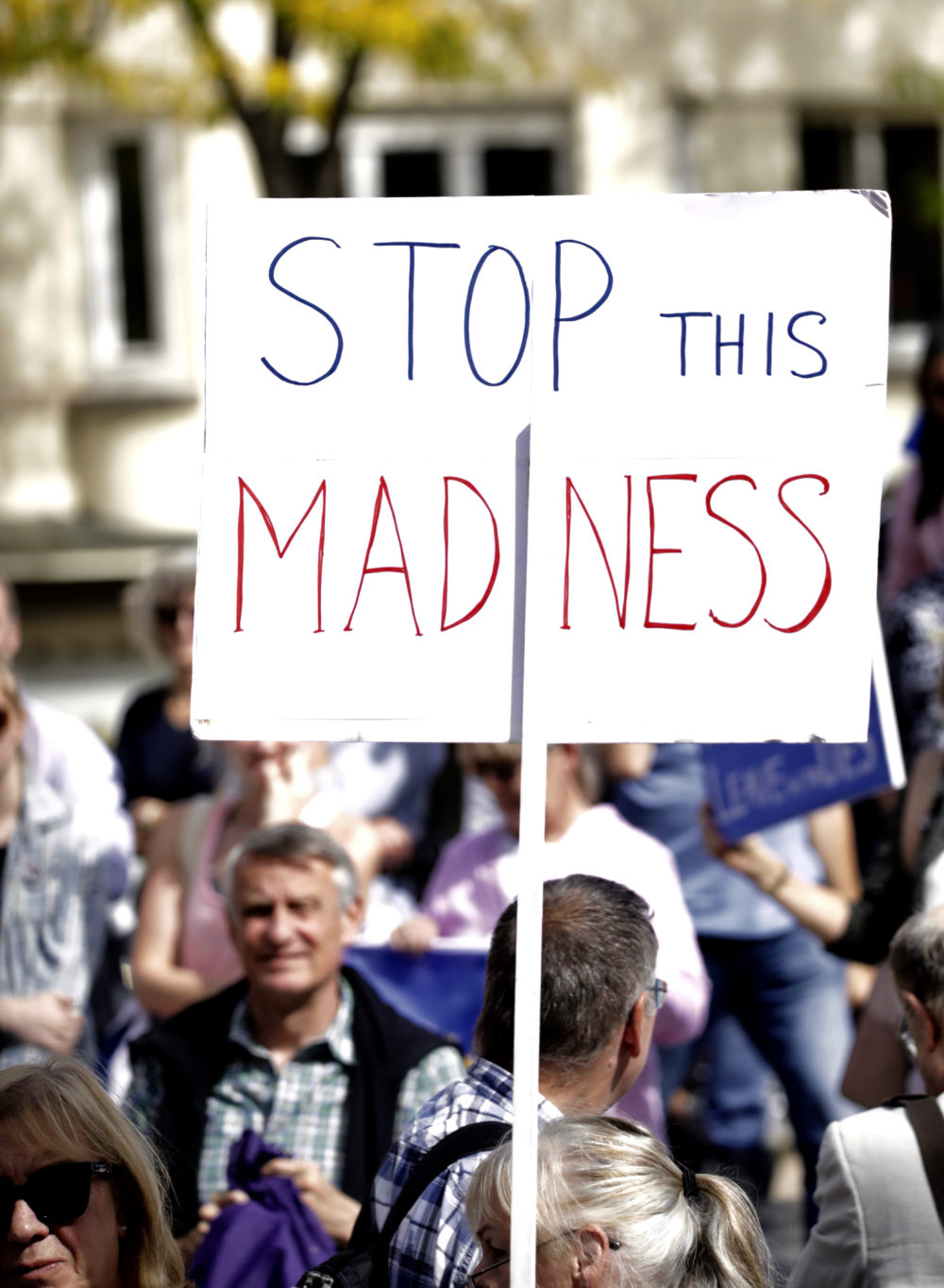 This article is more than 3 years old.
The story we tell about the 1776 revolution is one in which the Americans' love of democracy triumphs over the British colonizers' obeisance to tyranny.
Those roles are now reversed. What we've seen in the United States since King Donald placed a virtual crown on his own scary head is a level of groveling and voluntary subjugation to the whims of one of the most inept would-be tyrants since, well, since King George III.
Meanwhile, back in the old country, England, the vigorous debate and courageous party "disloyalty" demonstrated by the Tories in response to the nihilism of Boris Johnson is an inspiring demonstration of political integrity that would put GOP senators to shame … if only they were capable of it.
Let's compare and contrast.
Trump's reign began with a nauseating round of "Hail to the Chief" at his first full cabinet meeting, where Mike Pence set the tone. "The greatest privilege of my life is to serve as vice president to the president who's keeping his word to the American people," he said, before passing the treacly baton to his short-lived chief of staff, Reince Preibus and others who followed suit.

Alas, this was not an anomaly. For at least the first year of his tenure, Vox reported that White House staff assembled positive clips about the president to present to Trump twice a day — not a briefing so much as a fawning.
But more startling than his cabinet and advisors' sycophancy is the complete capitulation to their master's voice on the part of the GOP members of Congress. Leading this charge are Lindsay Graham and Mitch McConnell.
In 2014, Graham was a member of the Senate "Gang of Eight" which drafted a bipartisan immigration reform bill that included a path to citizenship for all undocumented people currently in the United States. (Though it passed in the Senate with overwhelming bipartisan support, it was defeated by Republican-led House.) But by October 2018, he was supporting Trump's radical proposal to revoke birthright citizenship. And though Graham has previously described Trump's border wall "stupid" and "illegal," he is now advocating for it and supported Trump's invoking of emergency powers to build one, despite the fact that Congress has denied him the funds to do so.
A staggering number of Republicans fear Donald Trump more than the people they are supposed to represent.
But it's Mitch McConnell's recent justification for refusing to bring even the most modest House-passed gun control legislation — such as a bill calling for background checks and supported by 90% of Americans — that is most telling.
"I said several weeks ago that if the president took a position on a bill so that we knew we would actually be making a law and not just having serial votes, I'd be happy to put it on the floor," McConnell recently explained. Decode this statement and what he's actually saying is that he and his GOP colleagues don't want to put their master in an uncomfortable position of vetoing their legislation, nor do they want to risk bringing Trump's wrath upon themselves by overriding a veto. They would rather abdicate their responsibilities to their constituents if that's what it takes to appease their boss.
British Prime Minister Boris Johnson — Trump's twin (at least in hair color and clownishness) — has not been so lucky.
After falsely assuring the British electorate that the UK wouldn't exit the European Union without a deal, Johnson is doing his utmost to ensure that this is precisely what will happen. Over the objections of many in his own Conservative Party, he suspended Parliament and stripped Conservative Party membership from 21 members of Parliament who defied his wishes by voting in favor of a bill prohibiting a No-Deal Brexit. In so doing, the prime minister effectively stripped them of their ability to run as Conservatives in the next election.
But his actions have not had the desired effect. Other Tories — including some key members of his cabinet, one of them his own brother — have resigned from the Conservative Party in protest, some of them joining other parties, rather than simply submit.
"I cannot stand by as good, loyal moderate Conservatives are expelled," declared Amber Rudd, Work and Pensions Secretary and Tory MP.
Sam Gyimah, the former education minister, explained his willingness to be axed from the Conservative Party by saying, "I've enjoyed being a Conservative member of Parliament but voting to stop a no-deal was the right thing to do."
But perhaps the most eloquent statement came from Anna Soubry, one of three Conservative MPs who quit the party shortly before Johnson's purge. "Too many of our now former colleagues fear their associations more than they fear their electorate, the people they've been voted to represent … It's a form of tyranny," she said.
And there you have it — a staggering number of Republicans fear Donald Trump more than the people they are supposed to represent.
That's what accounts for Lindsay Graham's flip-flop as he now licks the golf shoes of the man he previously described as "a kook," "not fit to be president," and "a xenophobic, race-baiting, religious bigot."
"Too many of our now former colleagues fear their associations more than they fear their electorate, the people they've been voted to represent … It's a form of tyranny."

-- Anna Soubry
It's what explains Mitch McConnell's suppression of gun control legislation and his silence as Trump diverts funds allocated to build schools for military families in McConnell's home state of Kentucky so that he can illegally build the border wall he claimed Mexico would pay for.
It illuminates why, over the objections of Trump's three challengers for the presidential nomination, the Republican leadership in South Carolina, Arizona, Nevada and Kansas have canceled their primaries and caucuses, practically ensuring that Trump will get all of the delegates in those states.
If Boris Johnson succeeds in his undemocratic shenanigans, it won't be because the members of his own party abandoned what they knew to be right for what they felt to be expedient. But if (and hopefully when) the GOP loses the presidency and maybe even the Senate majority in 2020, they will have only their own cowardice to blame.