If You Must Think Of Lynching, Think Of This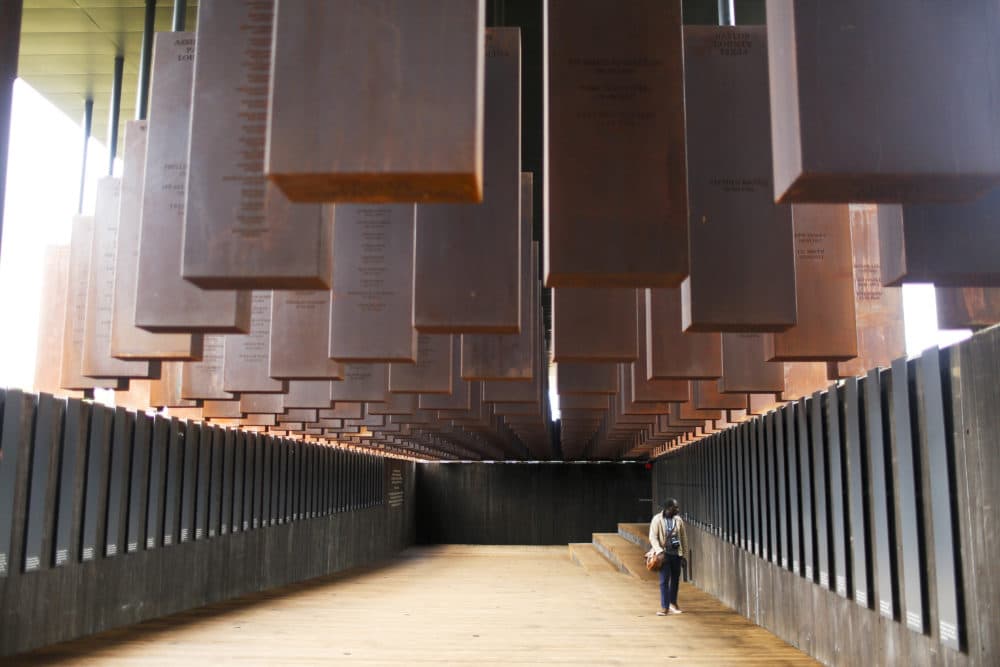 This article is more than 3 years old.
If you must think of lynching, think of Ida B. Wells, fearless crusader for justice. Think of her publishing "Southern Horrors: Lynch Law in All Its Phases" in 1892. That pamphlet, followed by "A Red Record" in 1895, challenged the pernicious lies and stereotypes white citizens used to justify the ritual murder of their African-American neighbors.
Think of Mary Turner in 1918. A mob tore her apart, along with the 8-month-old fetus she was carrying, in Lowndes County, Georgia.
If you must think of lynching, think of James Weldon Johnson, polymath, activist, and diplomat, who echoed Wells's language when he dubbed the bloodstained middle months of 1919 "The Red Summer." Think of him stalking the halls of Capitol Hill from 1919 to 1922, doggedly pursuing a federal anti-lynching bill.

Think of Walter White, using his pale skin and deceptively European features to investigate 41 lynchings for the NAACP. Think of him in Lowndes County, on the trail of Mary Turner's killers. Think of him luring a shopkeeper to spill the details. "Little by little he revealed the whole story," White wrote in The American Mercury. "When he told of the manner in which the pregnant woman had been killed he chuckled and slapped his thigh and declared it to be 'the best show, Mister, I ever did see. You ought to have heard the wench howl when we strung her up.'"
Think of White identifying the co-conspirators, among them "prosperous farmers, businessmen, bankers, newspaper reporters and editors, and several law enforcement officers."
If you must think of lynching, think of Claude McKay, Harlem Renaissance genius. Think of him writing  "The Lynching," an immortal 1922 poem in which white children, circling the charred remains of a ritually murdered black man, "danced round the dreadful thing in fiendish glee."

Think of Richard Wright in 1935. Think of him writing "Between the World and Me," a poem in which a hapless traveler stumbles onto the ruins of a lynching and finds himself reliving it.
And then they had me, stripped me, battering my teeth 
into my throat till I swallowed my own blood. 
My voice was drowned in the roar of their voices, and my 
black wet body slipped and rolled in their hands as 
they bound me to the sapling.
If you must think of lynching, think of Mae Murray Dorsey and her husband George, murdered alongside their friends Roger and Dorothy Malcom in Georgia in 1946. Think of James Byrd Jr., tied to a truck and dragged to death in 1998.

Think of the more than 4,000 others, known and unknown, beaten, shot, hanged and burned.
If you must think of lynching, think of the U.S. Senate in 2005. Think of its members apologizing for Congress' refusal to make lynching a federal crime, despite 200 proposals and the lobbying of James Weldon Johnson and so many others through the years. Think of the eight senators who declined to support the measure: Lamar Alexander, Thad Cochran, John Cornyn, Mike Enzi, Judd Gregg, Trent Lott, John Sununu, and Craig Thomas.
Think of Senators Cory Booker and Kamala Harris introducing the Justice for Victims of Lynching Act in 2018. The bill described lynching as "the ultimate expression of racism in the United States" following Reconstruction.
This is the history that should come to mind when "lynching" is invoked.
If instead, you conceive of a petulant president and bickering partisans, think again.