If You Liked The Birthers, You'll Love Impeachment Opponents
Our top diplomat in Ukraine, William Taylor, told the nation Wednesday what he'd testified to behind closed doors: He understood Donald Trump led a "hold" on military aide to Ukraine to extort Ukrainian investigation into Joe Biden's son (part of a debunked conspiracy theory, by the way). This unprecedented demand, abetted by an "irregular" channel of Trump officials, was "contrary to the goals of longstanding U.S. policy" and "folly." Taylor was corroborated by Deputy Secretary of State George Kent.
Some believe that seeing and hearing the patriotic ramrod Taylor, an Army vet with Republican ties, will move the needle of opinion against Trump more than media reports of private testimony ever could.
I fall into another, more cynical camp, believing that those who support the president's culture war, and who haven't been persuaded by the damning reports to date of his behavior, are impervious to persuasion.
Why would we expect otherwise? The cultural right, like all ideologues who make up their minds first and then contort reality to fit their worldview, doesn't budge in the face of evidence and reason. We saw the MO in a recent blot on history for which Trump was a cheerleader, the birther movement.
Questions about Barack Obama's American nativity, rooted purely in racism against the first black president, were the ultimate case of whack-a-mole. Knock down one conspiracy theory, and another, equally nonsensical one popped up to replace it. Trump diehards' brief against impeachment follows the same formula: Offer spurious defense. When that proves false, dream up more excuses. Rinse, lather, repeat.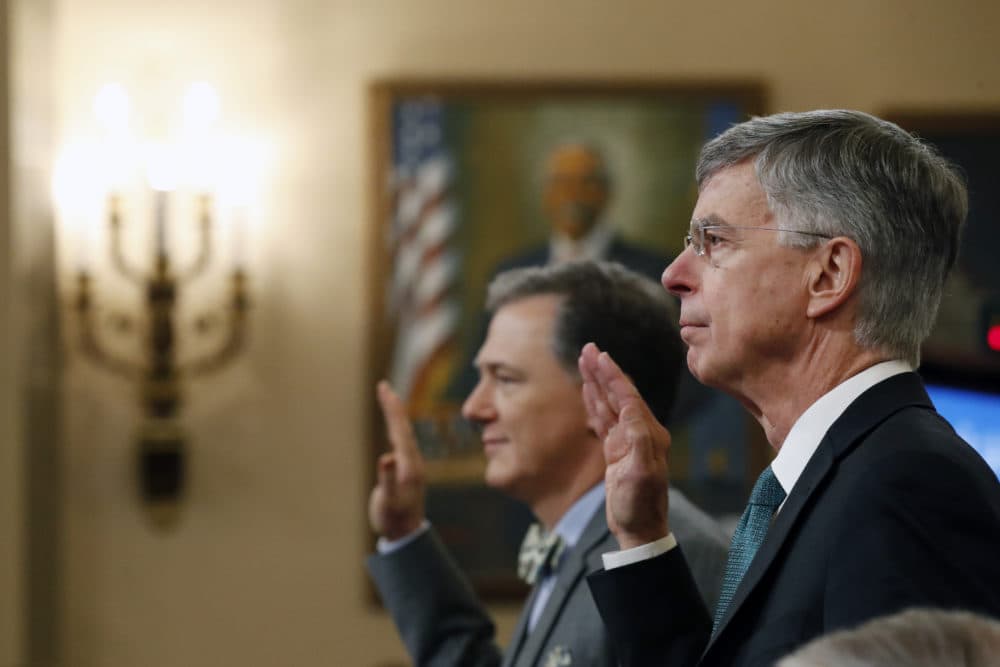 Consider the similarities between these two cults.
Right-wing bloggers first questioned Obama's birthplace when he ran for the White House in 2008. He responded by releasing his short-form birth certificate. But there would be no rest for weary fact-checkers. In 2009, they ran to ground a false birther claim that Obama had visited Pakistan in 1981, and therefore had to be a foreign citizen, since Americans supposedly were banned from visiting that country back then. (They weren't.)
Sleuths also debunked a claim that the Associated Press had found Obama attended college on a scholarship for foreign students. In 2010, a viral email asked why, if Obama was a lifelong American, no one could remember attending Columbia University with him. This surely surprised Obama's college roommate, who'd written about their time together, and the university registrar, as Columbia College had boasted about its first alumnus in the Oval Office. By 2011, Obama found it necessary to release his long-form birth certificate.
The next year, as he sought re-election, an online hate video his real, "original birth certificate" had been "sealed." Again, fact-checkers cried foul, pointing out that the state of Hawaii had authenticated Obama's previous certificate releases.
Still, after all this, a 2015 poll found one-fifth of Americans certain of or suspecting Obama's foreign birth. One of them may have been Donald Trump, who didn't publicly renounce birtherism until September 2016.
Today, he is the beneficiary of a similar immunity to reason that has his cult pooh-poohing impeachment talk.
First, Trump insisted there was "no quid pro quo" staking military aide to Ukraine on an investigation of the Bidens. His denial melted in the sunlight of testimony from Taylor, decorated war veteran Lt. Col. Alexander Vindman, and others. Their inconvenient accounts drove presidential defenders to a frenzied search for a new excuse, any excuse.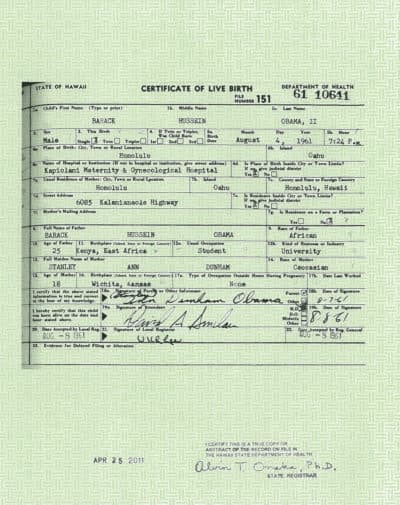 The Wall Street Journal argued that if Trump planned a quid pro quo, he was "too inept to execute it." (Lawyers pointed out that intent is what matters, not stupidity in following up.) Wait, exclaimed others, quid pro quo isn't an impeachable offense at all! (Then why did our stable genius so strenuously deny it, and why did acting Chief of Staff Mick Mulvaney walk back his version of that defense?) Still others concede the behavior was wrong but are trying to finger presidential flunkies as the real masterminds behind the Ukraine machinations.
True snakes have slithered into slander, suggesting Vindman is a rabidly anti-Trump traitor loyal to Ukraine rather than to the nation for which he was wounded in war. Meanwhile, at Wednesday's hearing, congressional Republicans sputtered about getting testimony from the whistleblower who first revealed the quid pro quo (which is unnecessary, since his second-hand testimony has been corroborated by first-hand witnesses, and which might jeopardize the whistleblower's legally protected anonymity).
There's surely partisan tribalism afoot here; GOP politicians don't want to admit their guy in the Oval Office is a thug. But among rank-and-file Republicans, the tolerance for presidential corruption, journalist Peter Beinart insightfully argues, owes to the fact that they care more about what they believe is the corruption of America's "traditional racial and sexual norms," by forces like immigration.
The resilience of the anti-impeachment zombie would be infuriating but for the comforting memory of the birthers' fate.
Consider this recent window on the Trumpeter mindset: During the 2016 campaign, the Trump campaign held a fundraiser, putatively to support veterans' causes. Those causes got about half the money raised, but the rest was spent on Trump's race rather than his now-defunct foundation that was supposed to receive the money, according to last week's court ruling ordering the president to pay damages. Any American who still supports such a proven charlatan must really dislike immigrants and people of color, the primal prejudice they share with Trump and for which they applaud him.
Public impeachment hearings won't evaporate those bonds of bigotry, the reputability of his accusers notwithstanding.
The resilience of the anti-impeachment zombie would be infuriating but for the comforting memory of the birthers' fate. Their hate-filled, facts-free blather became so toxic that even Trump, seeking the highest office in the land, felt compelled to disavow it. I'm not suggesting that the Republican Senate will convict Trump if the House impeaches him. But as the president's incompetence and institutional resistance to him take their toll (we still don't have that dopey border wall), history will fill "anti-impeacher" next to "birther" in the folder of loony garbage.