Elizabeth Warren's Cement Boots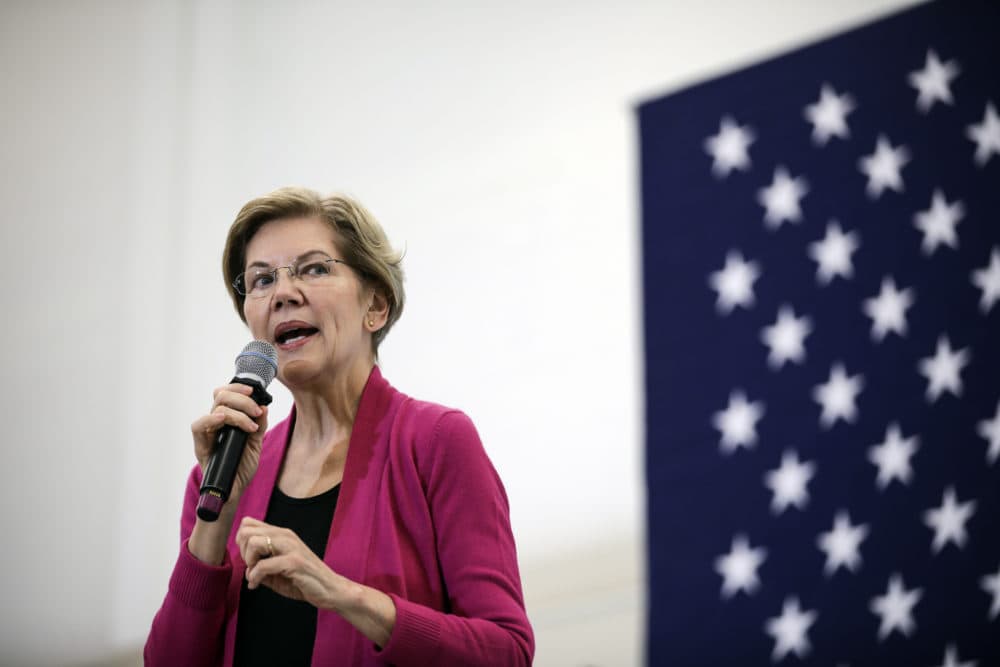 I am a big fan of Elizabeth Warren's, and have been for a long time. I am grateful to have her as my senator, and her decision to run for the presidency initially exhilarated me so much that I signed up to donate every month. I believe in her, and I believe she might be our best hope against having our democracy swallowed whole by plutocrats and semi-fascists.
But now I'm worried. While I support the idea of "Medicare for All," I am afraid that her $20.5 trillion plan is akin to pouring herself a pair of cement boots. I fear she burdened her campaign under more weight than even her extraordinary energy and good will can swim to shore.
Maybe it's my bad. Maybe I lack the courage to stay steady. It's certainly possible. There's so much riding on the 2020 election that my usual nerves are on steroids.
But it feels to me that she may have misread the nation. That the plan may be too far from many people's ideas about medical care; too aspirational. And at a crucial moment in the primaries, I fear she's wasting credibility capital on something difficult to quickly sell. It brings to mind something Freud said about Leonardo da Vinci: "He was like a man who awoke too early in the darkness, while others were all still asleep …"
Plus, she's already taking on so many vested interests, and I'm not sure how many Goliath-stunning stones she'll be able to fit in her sling.
I am afraid that her $20.5 trillion plan is akin to pouring herself a pair of cement boots.
The loudest naysayers of "Medicare for All" are likely those who profit from the current medical "care" system, and they have a lot of power to destroy what threatens them. Many among us also don't seem to think beyond the country's current jumble of over-privatized, profit-loving, billionaire-admiring notions. And too many doctors I've spoken to feel threatened by her proposal, so alienated, that several threatened to vote for President Trump. Shame on them if they deliver on the threat; still, I can't bear to ponder it.
Radically improving American health care is rightly an urgent Democratic priority, but I fear Warren's proposal creates a target on her back. Why not begin in ways that don't give opponents such fodder. I remember hearing long ago that Warren succeeded in creating the Consumer Financial Protection Bureau because she was so good at listening to those who disagreed with her, even as she kept her eyes on achieving better consumer protection.
Warren's "Medicare for All" financing faces a larger problem then vested interests. We have an attitude problem. The country has spent the past three years hearing from a president who claims that decency is only for the weak, that nothing matters but self-interest. Many Americans feel otherwise, but anyone who wants to be a healing voice of change has first to restate the legitimacy of our nation's higher callings — including the value of caring for strangers, as well as for kin or tribe. While Warren does this well, the conversation hasn't moved far enough yet to fathom absorbing the cost of "Medicare for All."
... voters need more time to contemplate and decide whether generous ideas will harm them.
Like Warren, I want my country to aspire to be a place where all children are treated as our own, and where we take our greatest pride from looking out for each other. But that ideal is out of fashion.
If new leaders can help the country shift perspectives, help us feel anew the possibility of what Toni Morrison described as a future where the bar of "humane expectation" is raised, we might be able to implement the plan. But in a cultural moment when selfishness is so particularly privileged and sanctified, voters need more time to contemplate and decide whether generous ideas will harm them.
Why couldn't Warren address the nation now and say, "I realize Medicare for All doesn't yet make sense to many of you. I hear you. I will continue to work so America can have it in the future. But for now, let's focus together on the best next steps to expand and improve the Affordable Care Act — and include in it an expanded Medicare plan for any who wishes to sign up."
Warren has demonstrated many times her attuned wish to listen and change course. I'd wager that reminding us anew of that capacity — together with her straightforwardness, her intelligence and her integrity — would allow her to win the nomination and give Trump the drubbing he more than deserves.