Why Are We Letting Trump Decide Who Gets To Eat And Who Goes Hungry?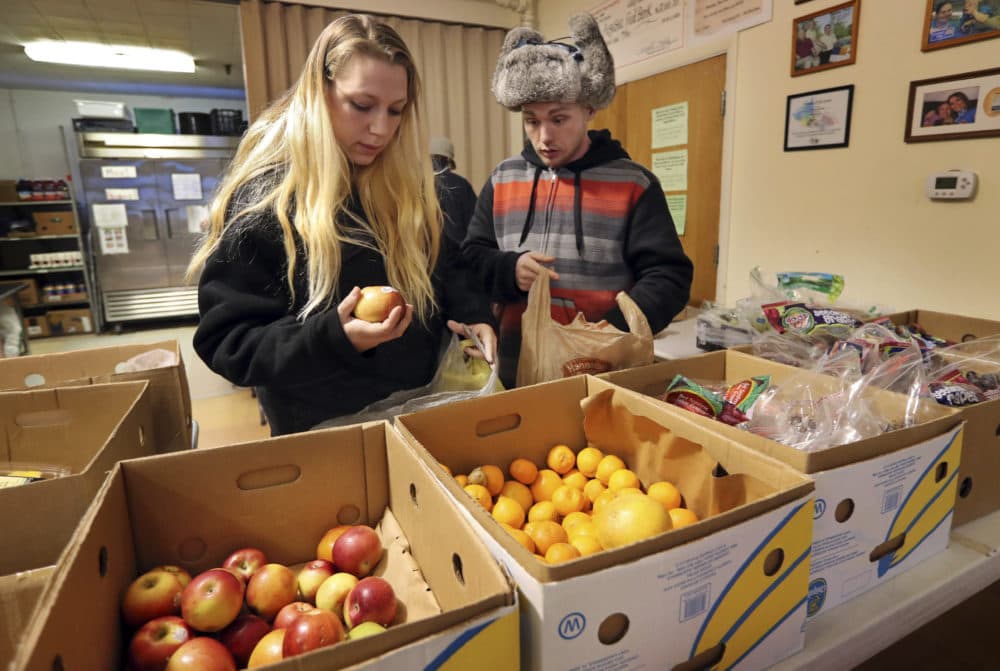 This article is more than 3 years old.
Human beings need food. It's a basic necessity we all require. So why are we fighting about who gets it and under what circumstances?
The Trump administration's latest attack on the poor came this week in the form of a finalized rule that will impose stricter work requirements for the Supplemental Nutrition Assistance Program (SNAP). Some 700,000 people nationally will now lose SNAP assistance, often referred to as food stamps. This move will hurt them. Simply put, these people will go hungry.
Most people on SNAP are working, and simply not making enough money to put food on the table. In Massachusetts, you'd need to work 80 hours a week at minimum wage just to afford a two-bedroom apartment anywhere in our state. People are working, and still hungry. For many of those not working, there are justifiable reasons. Who are they?
In Massachusetts 35,000 adults stand to lose SNAP benefits. They are veterans, people who are homeless, recent high school graduates, former foster care youth, individuals with undiagnosed mental illness, individuals re-entering the workforce after incarceration and, indeed, any unmarried and able-bodied adult who wants nothing more than to work, but cannot.
Think of the worker in Nantucket without viable job opportunities in the off-season. Those in rural areas, like Orange, who have to travel to work in nearby cities like Springfield, but end up with a car problem they can't afford to fix and no public transportation to get them to work. There are those who must care for a sick or elderly family member, and any other number of reasons that make finding and sustaining a job difficult.
People are working, and still hungry. For many of those not working, there are justifiable reasons.
The group that the administration has chosen to attack — able-bodied adults without children — has become an easy target.
A man in Randolph, Massachusetts recently reached out to Project Bread. He was worried about having enough to eat. He had just been released from the hospital after being injured in an accident and was facing a recovery period of several months. His short-term disability had run out.
Normal expenses, like rent and utilities, combined with unexpected medical bills, left nothing for food. While he had been relying on extended family to buy him groceries when they could, this was not a sustainable, long-term solution. We determined that he was eligible for SNAP and helped him fill out an application for assistance. Because he was without income, he qualified for the maximum amount of $194 a month in food benefits. Now he doesn't haven't to worry about affording the food he needs while his body recovers.
The rule will take SNAP away from him. And he is but one of thousands of people Project Bread helps every year.
One simple — and I would say best way — to support those searching for employment, is to ensure they have enough to eat.
We respond to similar stories day after day. Last year we received more than 20,000 calls from people without enough to eat, eager for our help. The 35,000 people in Massachusetts being cut from SNAP will still be hungry. Why are we now cutting off the most reliable source of food for them? The charity system simply cannot fill the void.
SNAP is the first line of defense against hunger for the majority of the low-income people who call our FoodSource Hotline. According to the Center on Budget Policies and Priorities, SNAP kept an average of 141,000 Massachusetts residents out of poverty between 2009 and 2012. Nationwide, SNAP is one of the most effective government programs around. For every one meal provided by a food bank, SNAP provides 12.
The Trump administration's attempt to tighten work requirements for SNAP eligibility will only exacerbate hunger and poverty.
In fiscal year 2018, 92% of the program spending went directly to households with incomes at or below the poverty line who used it to purchase food. This means that not only is SNAP effective at getting food to the people who need it, it also helps free up money for other necessities like rent or utilities, improve public health by protecting against nutritional deficiencies, and function as a safety net for the elderly.
The Trump administration's attempt to tighten work requirements for SNAP eligibility will only exacerbate hunger and poverty. It's counterproductive and it's also cruel.
If this rule is not successfully challenged by Congress or through the courts, as of April 1, 2020, more than 35,000 Massachusetts residents will stop receiving SNAP benefits. Terminating SNAP will do nothing but unnecessarily limit their access to food. They will go hungry.