There's No Such Thing As Ideological Purity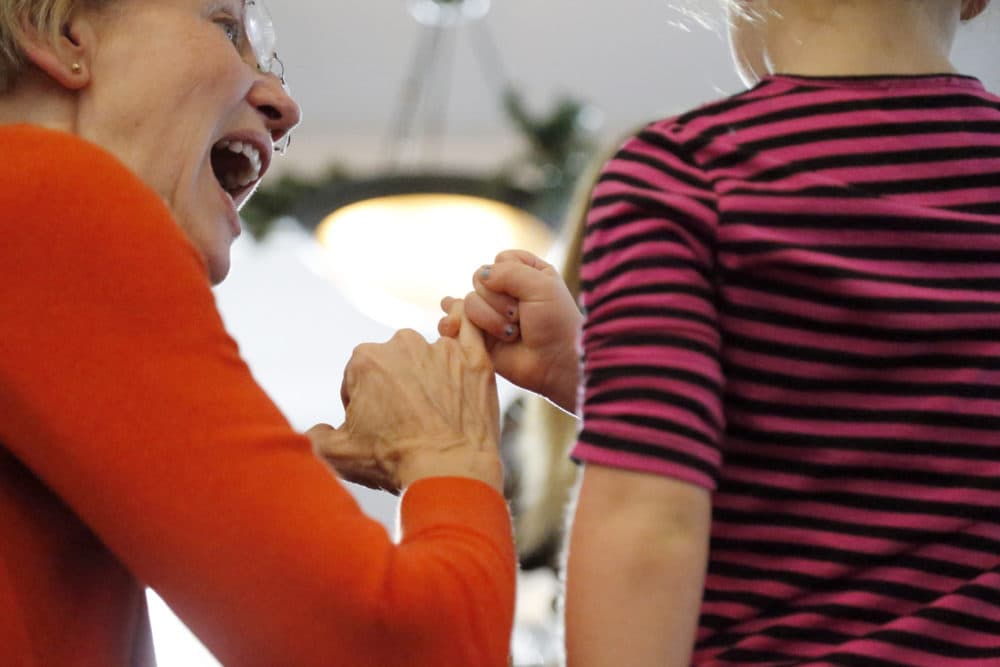 This article is more than 3 years old.
The headline for Guardian columnist Nathan Robinson's op-ed was both clear and alienating: "Progressives, trust your gut: Elizabeth Warren is not one of us."
As a self-described progressive, I confess that I was taken aback by "one of us." That's a phrase I don't generally associate with, well, with us, but rather with the form of reactionary tribalism that seeks to exclude others whose only sin is having a different religion, citizenship, or skin color than whoever is uttering those words.
But my problem with Robinson's column goes beyond semantics. It's his insistence on ideological purity and his failure to recognize just how highly individual and subjective voting decisions are that I find so profoundly unhelpful.
A few months ago, I attended an Elizabeth Warren house party in Dorchester. Michael, our genial host, is a man in his 50s. The streets around his newly renovated triple-decker are dotted with Catholic churches, Celtic cultural centers, and Vietnamese restaurants and nail salons.
It feels like a neighborhood that, like the Patriots' defense, has flexed but not yielded the long yardage, a place where lifelong residents are co-existing with newcomers, but are hanging on to the institutions that they feel define and support them.
While all were white, my fellow guests were an otherwise diverse group comprising one cashmere-sweatered man in his 60s who described himself as a "serial entrepreneur," a young Russian immigrant couple, a pedantic male academic who included at least one book recommendation and/or history lesson in every one of his frequent monologues, two social workers, a graduate student, a young lawyer, Michael's silent, frizzy-haired, MAGA-hat-wearing son, and his very vocal ex-wife (who for purposes of this column, I will call Mindy).
The gathering began with Michael holding up his phone to show a pre-recorded video of Warren welcoming us, thanking us for our support, and reminding us that it was through the activism of ordinary people that we'd effect big structural change.
Then came the first of two startling discoveries.
"Why do you support Warren?" Michael asked.
For each person in the room, the galvanizing issue was deeply personal, informed not just by convictions, but by life circumstances and current challenges.
The Russian immigrants said that her office had helped them get their visas. The entrepreneur approved of her determination to enforce anti-trust laws, the social workers felt she understood the needs of working mothers, the lawyer believed she'd take on the corrupting influence of money in politics, the graduate student heartily endorsed student loan forgiveness, and the pontificator liked her because she was smart — possibly even as smart as him. For Mindy, the potential Trump voter, what set Warren apart was her willingness to do combat with big business, especially in the financial services industry. "My mortgage payment went up by almost $200," she announced. "Someone's gotta take on the banks, and I think she's the one to do it."
Nobody answered Michael's question by saying "She's a progressive and so am I," not even "She's a populist and so am I." Nathan Robinson might respond that this proves his point, that it illustrates that Warren is not the candidate of savvy progressives. But I think it illustrates something else, a phenomenon that movement aficionados like myself or Robinson tend to lose sight of.
For each person in the room, the galvanizing issue was deeply personal, informed not just by convictions, but by life circumstances and current challenges.
Nobody there — not even me, though I was probably the most predictable and orthodox leftist there — could have passed the "one of us" test that Robinson imposed in his column.
The individual and group inconsistencies in our hot buttons and beliefs became even more apparent when Michael asked who each of us would support if Warren didn't get the Democratic nomination. Bernie, Buttigieg, and Castro all won some fallback votes in our straw poll, but so did Biden and, from Mindy, we heard a "maybe Trump."
I was momentarily shocked that the same person could even consider supporting both Warren and Biden, or heaven help us, Warren and Trump. Then I remembered all those Trump voters who said they would have cast their ballots for Bernie in 2016 had he been the candidate, and some of those Bernie supporters who voted for Jill Stein or not at all rather than cast a vote for Hillary Clinton.
And why was Mindy considering Trump as an alternative?
"Because this whole Russia thing is a hoax, and impeachment is a waste of time. And some of these Democrats want women to have abortions in their ninth month!"
I think Mindy's criteria are foolish. In fact, I still think that anyone who is willing to look past Trump's bigotry and misogyny can only do so if they harbor a heavy dose of both themselves.
If we leap to labeling people as "one of us" or the opposite, how many doubts and contradictions will we prematurely dismiss?
But am I prepared to say to Mindy, "If you're even a potential Trump voter, get lost! We don't want your lousy vote"? Of course not. I feel too much urgency to get rid of Trump and the Republican sycophants who have enabled his dangerous agenda.
In his op-ed, Robinson serves up a list of reasons to disqualify Warren from the ranks of "progressives." Some of the statements and positions he cites trouble me as well. Others — such as the claim that she's accepted donations from billionaires, or that she doesn't really support Medicare for All — are disingenuous at best. (After all, Warren has managed to lead the fight against Facebook despite a senatorial campaign contribution from Sheryl Sandberg. And her proposal to phase in Medicare for All over the course of four years is a concession to reality, not to the pharmaceutical industry.)
I'm not so naive as to think that anyone who is still a Trump supporter will defect now. I believe that the way for Democrats to win is not to shift rightward, but to energize the previously unengaged.
Still, in reading Robinson's op-ed and in listening to Mindy and the others at Michael's house party, I've been forced to reckon with the dangers of orthodoxy. If we leap to labeling people as "one of us" or the opposite, how many doubts and contradictions will we prematurely dismiss?
How many voices won't we hear?