Harry And Meghan Want To Go Their Own Way. How Millennial Of Them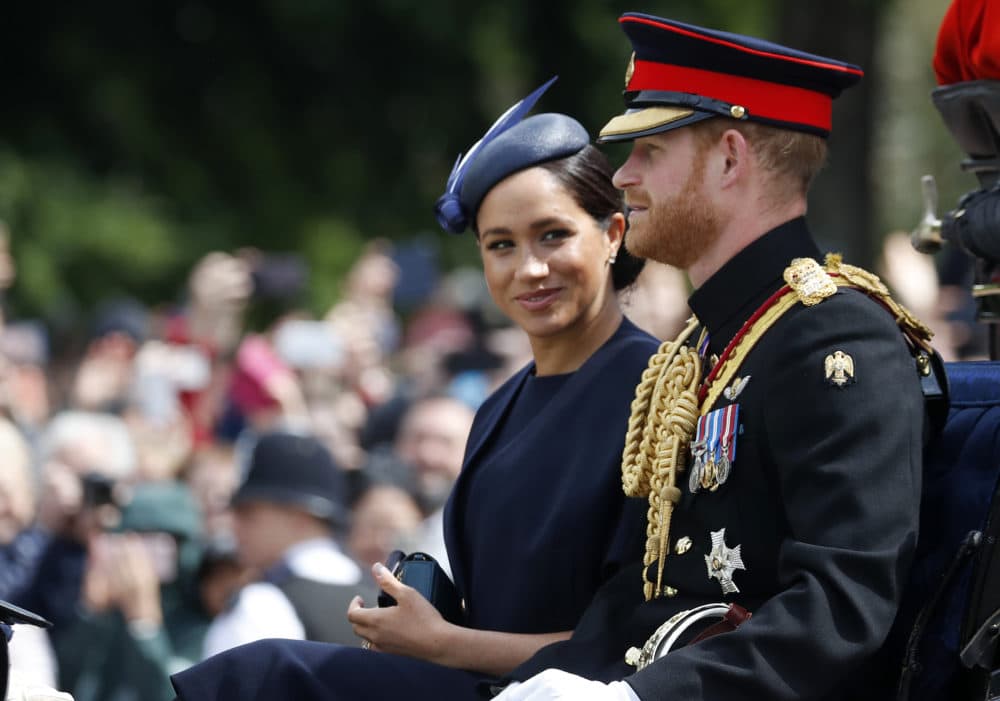 This article is more than 3 years old.
When my friend Neil announced that he was forsaking the chance to eventually replace his father, then mother, then uncle, then two older siblings in his family's import retail operation, Fine Mediterranean Tile, the outcry was immediate and furious.
"Why would you want to desert the family business — in the family for generations, mind you — to become a computer programmer?!" his mother wailed. "Besides, tile is forever, but computers?"
But Neil was impervious to the family's exhortations, roiling them still more when he decided to leave the ancestral home in New York and go to college in the distant exurb of Boston.
"What have they got in Boston besides baseball?" his father demanded. "Oh, hospitals maybe. But you don't see people lining the streets for a glimpse of some doctors and nurses, do you? And computer code is not like a 12" by 12" Italian marble or even a 20" by 20" fine Tangier red Merola Tile that you can stand on and say 'This used to be in someone else's ground, on the floor of some foreigner's temple, and now it's mine!'"
Neil was unpersuaded. After all, fancy tiles fell in and out of favor with the housing booms and busts, but a programmer could always make a good living.
"I'll be home for Christmas vacation and every summer," he gently reminded them. "Even spring break if necessary."
But they were not mollified. And when Neil informed them during senior year that he was going to spend Thanksgiving with his curly haired girlfriend Rosa's family, everyone in the family was apoplectic. At least everyone but Neil's older brother, Stewie, who taunted "More tile money for me," then went back to hanging out with his hot girlfriend who shared his love of Abba and Vanilla Ice.
I tell you my apocryphal friend Neil's story because he's a prince of a guy. But lucky for him, he's not a Prince, and the scandal generated by his behavior never spread beyond his cousins and his father's accountant.
But maybe, just maybe, they don't want to live lives whose only substance is ceremony.
The same can't be said of poor Harry and Meghan. And I use the word "poor" a tad ironically given that the Duke and Duchess are not exactly hurting in the wallet. (Prince Harry's net worth is estimated to be $40 million, a far cry from the royal family's $88 billion fortune, but still. Meghan's net worth is estimated at $5 million.)
Harry and Meghan's decision to "step back" from their roles as senior members of the royal family and to divide their time between his ancestral home and hers (though we don't know whether the latter will be Toronto, Los Angeles or some other city to be named later), has generated howls of outrage from some corners of the British press. According to the Daily Mail, they are "quitting the Royal Family" and "pressing the nuclear button."
So what are their crimes? On the surface, they would appear to be:
1. Sharing some big news on Instagram before telling their immediate family (like nobody's ever done that before);
2. Disappointing Harry's grandmother, Queen Elizabeth II (ditto);
3. Moving away from home for half the year (leaving unanswered the question of who will tend to the "cottage" cats);
4. Declaring a desire to be financially self-sufficient (a term wildly open to interpretation);
5. Taking steps to fend off constant scrutiny and harassment by the tabloid press.
Who among us hasn't engaged in items 1 to 4 above (and who wouldn't do the 5th if we were in a similar spot)? These actions are generally considered to be typical, developmentally appropriate young adult behavior. And millennial for sure.
But not if you're a royal.
Admittedly, anything I know about the monarchy is based on my avid consumption of Netflix series, "The Crown." But if it's to be believed, the overarching role of a monarch is to express no opinions, take no sides — indeed to do nothing but maintain tradition. It is to be frozen in the finest amber, financed by the tax-paying subjects of the Kingdom.
Perhaps young Harry has learned from his grandmother's petrification and doesn't want to emulate it.
The almost tragic power of Claire Foy's depiction of the young Queen Elizabeth lay in witnessing the education and suppression of a young woman trying to assert herself. Every time she tried to take even the most innocuous of stands, to exert even the slightest influence, her mother and advisors shut her down, reminding her that her God-given job was to be simply, impartially present.
Perhaps Harry and Meghan have shrewdly assessed that the supply of royals greatly exceeds the demand for them, and figure that they can compensate for relinquishing the Sovereign Grant that funds 5% of their lavish living expenses by selling Sussex-branded paraphernalia like socks, hoodies and bookmarks.
But maybe, just maybe, they don't want to live lives whose only substance is ceremony.
In announcing their ambition to create a new charitable entity, one that will combat bias, promote community and "… advance the solutions the world needs most," they seem to be aiming higher. Perhaps young Harry has learned from his grandmother's petrification and doesn't want to emulate it. Perhaps he wants to live as an effectual human being.
Neil does. He earns a salary, pays his taxes, votes in every election, loves his wife, and has yet to be chased by paparazzi. And as his mother-in-law would say, "Worse things could happen."