Alan Dershowitz Used To Be An Icon For Civil Libertarians. What Happened?
From the beginning, Alan Dershowitz, a member of Donald Trump's legal team, tried to distance himself from the rest of the president's White House lawyers. He didn't sign onto the brief because his mandate was "to determine what is constitutionally authorized criteria for impeachment."
They may be partisan defenders of the president but he was in this as a matter of principle: "I've always taken positions that are principled and often unpopular and often in defense of people I don't particularly support," Dershowitz told the Associated Press, citing his defense of Neo-Nazis who wanted the right to march through Skokie, Illinois.
It was an odd position for a lawyer from the outset and on Monday night, after listening to Dershowitz's Senate presentation, it didn't last long.
No one is saying that Dershowitz — as the president's lawyer — should be tarred with Trump's politics. Dershowitz represented OJ Simpson, whatever he thought of Simpson's guilt. Representing Jeffrey Epstein has given rise to a host of allegations against Dershowitz personally, which he has vehemently denied.
Does he think that by walking this fine line he can salvage his reputation?
But it surely is fair to question why Dershowitz has chosen to represent Trump at this critical point in history and his long career. Trump is hardly without resources. In her column, "What Alan Dershowitz Taught Me About Morality," the Washington Post's Molly Roberts observes that, "[p]rinciples are important, but ... they can allow us to absolve ourselves for our actions by claiming they're in service of some metaphysical lodestar that supersedes an effect on real people in real life."
And it is fair to scrutinize what Dershowitz has said on Fox News when he was effectively auditioning for the Trump counsel role. Maybe it is history that motivated Dershowitz to parse his representation; I am the civil liberties advocate here, not a garden variety lawyer. Does he think that by walking this fine line he can salvage his reputation?
It is too little too late.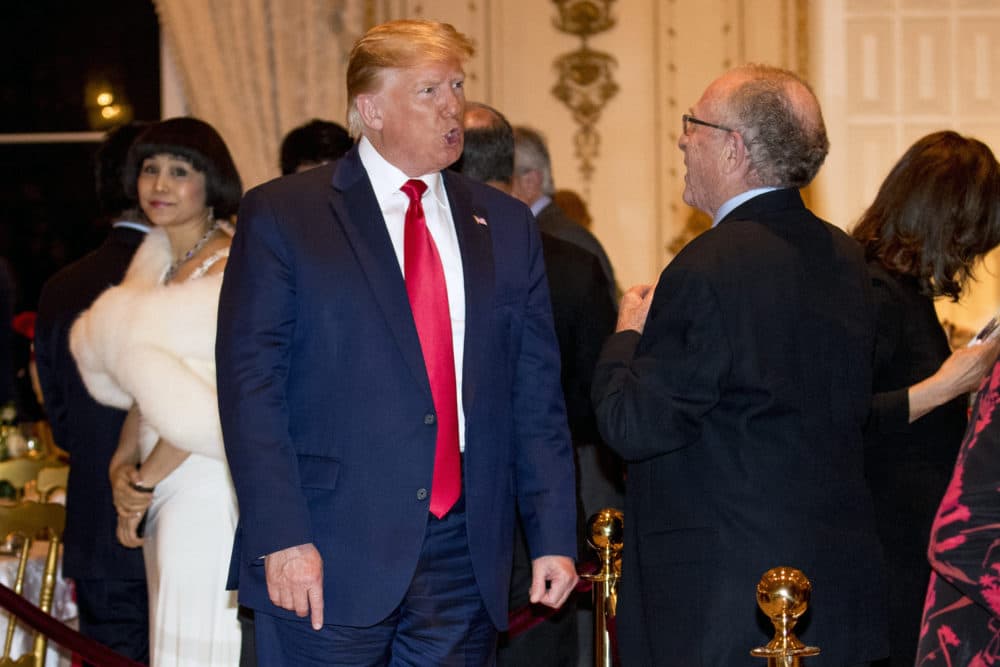 For the past three years, many of the positions Dershowitz has taken — long before becoming Trump's lawyer — mirror those of Trump's most ardent defenders. Not one of these positions reflects the perspective of a civil libertarian.
For example:
It is not consistent with being a civil libertarian to claim Robert Mueller, the former special counsel and director of the FBI, was complicit in the Boston case against the Bureau for the wrongful imprisonment of four men. In a 2018 interview, Dershowitz claimed that Mueller, was "right at the center of it," that he was "the guy who kept four innocent people in prison for many years in order to protect the cover of Whitey Bulger as an FBI informer."
I was the judge on the case, issuing a 105-page decision about who was responsible for their imprisonment. Mueller wasn't involved, as I wrote in the New York Times in 2018. This was not a principled position; it was false, and it had an impact. With Dershowitz's legitimacy, a Boston resident, a Harvard Law Professor, Fox News deployed the accusation to discredit Mueller. The president, of course, retweeted it.
It was not the position of a civil libertarian to say, as Dershowitz did in 2017, that Mueller decided to bring charges against Trump's associates in the District of Columbia because Washington "has an ethnic and racial composition that might be very unfavorable to the Trump administration." Mueller brought the charges before a District of Columbia grand jury because that was where the alleged crimes occurred.
It was not the position of a civil libertarian to claim that the judge in the prosecution of Michael Flynn for lying to FBI agents in the Russia investigation crossed some constitutional boundary when he sought to impose a sentence on Flynn higher than the one the parties had agreed to. It was simply wrong, as Harvard Law Professor Laurence H. Tribe and I noted in a 2018 piece for the Boston Globe. In fact, it was an astonishing comment coming from a criminal procedure expert.
It was not remotely the position of a civil libertarian to claim that a president is more powerful than a king. Just the opposite. Founding father Alexander Hamilton, who was a proponent of a strong president, believed impeachment was a "crucial instrument to curb possible abuses arising from the enlarged powers he otherwise championed," as his biographer, Ron Chernow wrote.
While no one should conflate Dershowitz's views with the dangerous positions of his client, he is surely accountable for his own when he was currying favor with Trump, saying what his future boss wanted to hear, on the platforms he was likely to hear it. He can't dial those comments back now, pretending that his representation of Trump is limited to scholarly constitutional issues.
It was not remotely the position of a civil libertarian to claim that a president is more powerful than a king.
But that mask didn't stay on long. Dershowitz rejected the overwhelming and bipartisan consensus of constitutional scholars that abuse of power and obstruction of Congress were impeachable offenses. (Even Jonathan Turley who testified for House Republicans, agreed.)
By the end of his presentation on Monday, he was in full-throated defense of the White House on all fronts, summing up his version of the facts, no fancy civil libertarian disclaimer there. "If a president, any president, were to have done what the [New York] Times reported about the content of the Bolton manuscript, that would not constitute an impeachable offense," he said.
Saturday Night Live had it right this past week when Dershowitz, played by Jon Lovitz, was praised by the devil for what he — not his client – said.