22% Of College Students Are Also Parents. We Should Support Them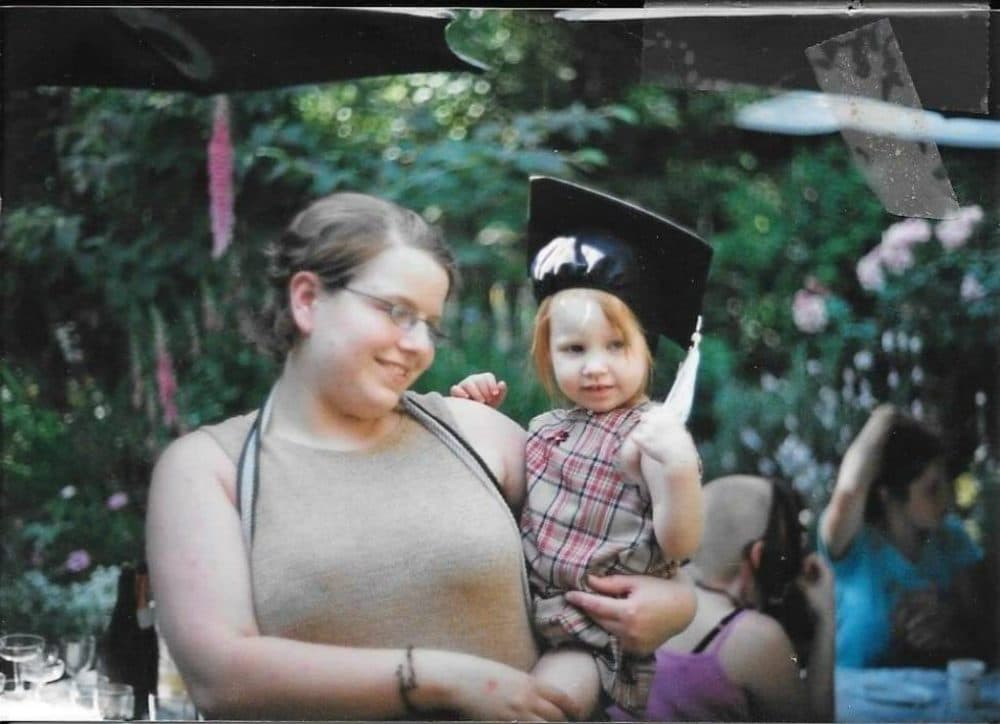 This article is more than 2 years old.
When I enrolled as an undergraduate at the University of Oregon, I was 20 years old and had two kids at home — a 2-year-old and a 3-month-old. To complete my sociology degree, I knew I'd need access to certain resources, particularly on-campus childcare and family housing. I chose the University of Oregon because it offered both.
Living on campus, and enrolling my children in the college's childcare center, I only had to walk across the parking lot to drop off and pick up my kids each day. I connected with other sociology major moms who lived in the family housing community, and we held study groups at each other's apartments, while our kids played together in the next room. I always knew my rent was paid, because it was deducted from my financial aid each term, and my electricity, telephone and internet bills were included. All those things made it possible for me to be a successful student and a good mom.
Being a student parent isn't unique in this country, but the support I received is.
There are nearly 4 million undergraduate student parents in the U.S., about 22% of all undergrads. In New England, nearly 18% of undergraduates are parents.
Though it's a gigantic population, these students are largely invisible, because they're not who most of us picture when we imagine college students. As a result, they often don't get the resources they need — and struggle to graduate. Only 17% of student parents starting their bachelor's degrees in a full-time, four-year program get their degrees within six years, as compared to nearly 60% of college students overall.
In New England, nearly 18% of undergraduates are parents.
Student parents have unique needs. They need a place to live with their children — preferably somewhere affordable, on or close to campus. (A recent study found that 77% of student parents experience housing insecurity and/or homelessness during their studies.) According to my research, only 21 of the 229 accredited colleges and universities in New England — seven of them in Massachusetts — offer student housing options that allow children, even though many guarantee on-campus housing for traditional undergrads. And this includes institutions where available family housing units may be extremely limited and/or unaffordable.
Access to childcare is also critical for student parents. But less than one third of New England colleges and universities offer on-site childcare centers, and if they do, they may not be affordable to student parents (if they can even secure a spot). Congress tripled funding for the CCAMPIS grant supporting on-campus childcare in 2018, and there are two schools in Massachusetts that offer subsidized childcare through CCAMPIS (UMass Amherst and Mt. Wachusett Community College). But safe, reliable, convenient and affordable childcare remains a critical and unmet need.
Beyond the basics of housing and childcare, student parents need help balancing work and family. They need opportunities to engage with other students on campus, and ways to share the college experience with their children.
If the candidates believe college should be accessible to everyone, then student parents and their unique needs should be included in the conversation
Many of the 2020 Democratic candidates have proposed policies that would benefit student parents, especially in the areas of student debt, affordable housing and childcare. Some of them have been student parents themselves, or are married to someone who was. Senator Elizabeth Warren enrolled in law school when her daughter was 2 years old, and became pregnant with her son shortly before graduating. Dr. Jill Biden received her first master's degree while pregnant and her second master's degree the year her daughter turned 6. And Dr. Jane Sanders earned her bachelor's degree while raising children under the age of 10.
But rarely do the candidates mention student parents by name, with the possible exception of Warren, who recently became a cosponsor of a bill introduced by Sen. Cory Booker that would help community colleges and minority-serving institutions create free childcare options for student parents.
If the candidates believe college should be accessible to everyone, then student parents and their unique needs should be included in the conversation.
After getting my college degree, I went on to get two master's degrees and a doctoral degree, which allowed me to pursue a career I'm passionate about. I want all student parents to have the opportunities I've had; to know what's possible. Just as importantly, I want them to hear from our next president that they matter.