I've Been In Coronavirus Quarantine In China Since January. Here's How I Spend My Days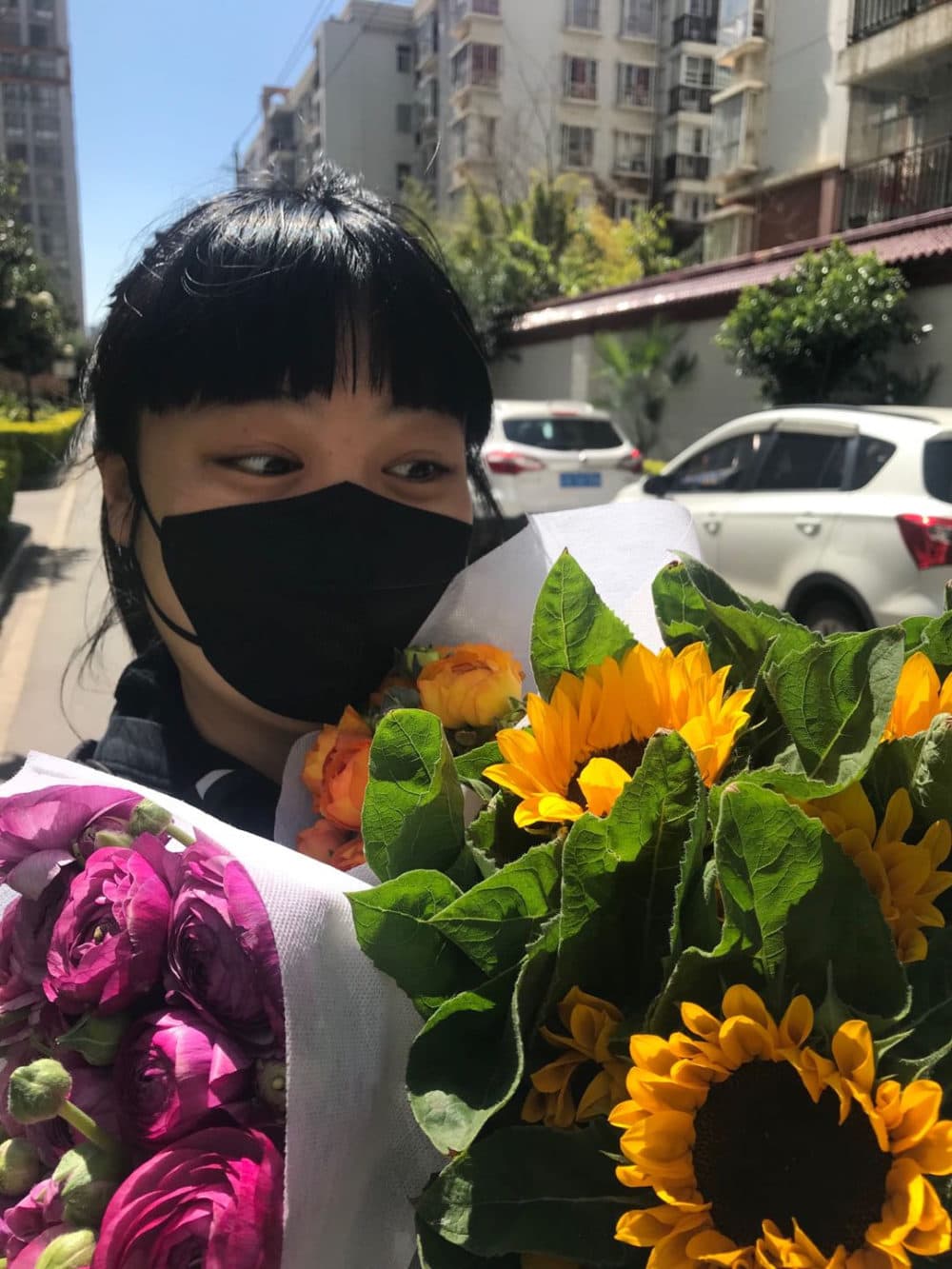 This article is more than 2 years old.
Editors' note: Emily He, 31 years old, is a Chinese-American from Brookline, Mass. and a current resident of Cambridge. She has been self-quarantined with her mother in Kunming, China, the capital of Yunnan province, since January 25.
Emily arrived in China in December, to celebrate Chinese New Year with her family. In January, unaware of the novel coronavirus, she traveled to Vietnam for a wedding. The day after she returned to China from that wedding, on January 23, Wuhan, the city of 11 million where the current coronavirus outbreak began, went on lockdown.
Kunming is about 950 miles, or a 19-hour drive from Wuhan, and Emily says she considers herself lucky. She and her mother are not sick. They are able to go outside, for short walks or to pick up essential items, a couple of times a week. She's also been writing about her experiences, including a post about how Americans should prepare, mentally and emotionally, for coronavirus. "Yes, washing your hands is a major part of it," she writes, "but so is managing your fear and frenzy."
Here's how Emily has been spending her time.
January 25
Just this morning my mom and I were in Chongqing celebrating Chinese New Year with my grandmother. But COVID-19 is spreading quickly there so we flew back to my mom's home in Kunming, where there is only one confirmed case.
January 26
We went to the wet market first thing this morning to stock up on produce and meat. For a head of cabbage that normally costs 4RMB, we paid 20RMB ($3). The price of pork is inflated, too, at 100RMB ($14) per kilo, normally just 70RMB.
The supermarket was out of disinfectant and frozen foods, and all four pharmacies in our neighborhood were sold out of facemasks, thermometers and disinfectants.
January 29
My mom and I watched four Hollywood classics today. After all these years, I finally saw "Casablanca."
January 30
Kunming city officials announced two confirmed cases of COVID-19 in our district. The apartment building where the two people live has been put under lockdown.
Meanwhile, my cousin, quarantined alone on the other side of town, took a photo of every single page in "Who Moved My Cheese" and texted them to me, so I could read the book and discuss it with her on the phone.
February 2
Today is a particularly boring day. I have zero energy to read or exercise or even watch TV, but I helped my mom clean our apartment. Carrying a boiling pot of diluted vinegar, she walked around steaming each room with a stench of dirty socks to kill germs and hopefully, the coronavirus.
February 3
I started exercising a few days ago and already notice a difference in how I feel. Even just 30 minutes of cardio gives me the energy to get through the day without feeling like a complete sloth.
And to give my brain some activity, I borrow e-books from the Cambridge Public Library and am writing more. I Instagram and blog about my daily life to share with friends back home wondering what the general mood is in China, if I am able to get food and how I fill my days. They also check in on me and offer to send me things I might need from the States.
February 4
I've had reoccurring headaches since our return from Chongqing. We are worried I have COVID-19 but I am too scared to get my temperature checked at the community center. If I do have a fever, they will send me to be quarantined at a hospital where exposure to the virus is much more likely. This is the most terrified I've been.
To my resounding relief, my temperature is normal.
February 6
I got a call from Chongqing municipality today. My grandmother lives in Jiangbei, a district of Chongqing. A neighbor in my grandmother's building has COVID-19. Of the 24 confirmed cases of the disease, in a district of 880,000 people, in a municipality of over 30 million, one just happens to be her neighbor who celebrated Chinese New Year in Wuhan with his family and lives three floors down. Thankfully, we are all fine.

February 10
My cousin dropped off braised chicken wings she cooked today. I had complained that I was tired of pork, which is all we've been able to buy since butchering live animals, usually chicken, was banned.
Outside, children were riding bicycles and elderly people were chatting in the gazebo like they normally do. All of them are wearing facemasks. Someone had even laid out vegetables to dry in the sun.
February 14
Tired of pajamas, I put on a dress for Valentine's Day. My mom and I walked to the park nearby, but it was sealed off. There are more vehicles on the road now that some people have gone back to work. Gypsy cabs have returned to their usual spot outside the elementary school and people are getting haircuts at the salon!
February 19
My mom had a sudden inspiration to make dumplings. She rolled out the dough, mixed the filling, and together we wrapped over a hundred dumplings. On the bright side of this quarantine, my mom and I, who see each other just once or twice a year, are spending lots of quality time together.
February 22
I accompanied my cousin to pick up her golf clubs at the golf range, and to my great surprise, it was full of people. On our way back, we stopped by Pizza Hut to answer our cheese cravings. Life almost feels normal.

March 1
February has somehow passed swiftly into March. I emailed in my voting ballot for the presidential primaries, and my mom started teaching her university classes online, and will continue doing so through the end of April.
Without the internet, quarantine would be infinitely more difficult to endure. But I also wonder, how much longer can I endure this?
March 8
With only two confirmed cases remaining in Kunming, my mom and I felt safe enough to go for a three-hour walk today. Everyone still wears facemasks, parks are still closed, most businesses are closed and restaurants are still not allowed to seat people (though they are open for delivery and takeout). But, public buses have passengers, markets are full of people, produce prices are back to normal and people are generally out and about. Today was the most normal it has felt since January!
I don't know when quarantine will officially end, but we are assuming the end of April in Kunming, which is when schools plan to reopen.
I have the option to leave, even to return to the U.S., but I don't want to. Not yet. I want to be here for my mother, at least until life gets back to normal. And from what we saw on our walk this afternoon, I think it's moving in that direction.
Years from now, after the coronavirus pandemic is over, I will look back on this period of my life and remember how quarantine brought me and my mom closer. I will also remember how proud I felt to be one of the 1.39 billion people in China standing together against COVID-19.
Most fondly, though, I will remember how the entire world came together to fight this virus. And won.