Joe Biden Lives In The Real World. Bernie Sanders? Not So Much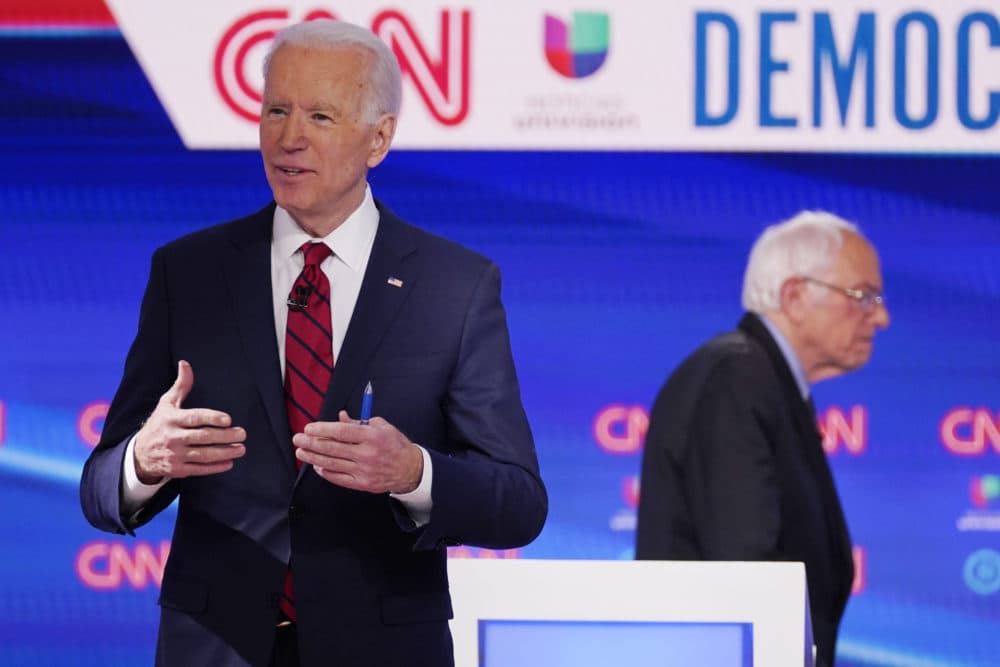 Give Bernie Sanders credit for being, as ever, himself. At a moment of extraordinary crisis, when Americans are trying to figure out whether it's safe to go to the park, or whether to touch the box that the pizza delivery person just brought, or how to survive three weeks of social distancing with a houseful of kids, Sanders mainly wants to talk about upending the nation's economy.
That was the message he sent at Sunday night's Democratic debate, down to two candidates — Sanders and Joe Biden — and held on a pandemic-friendly soundstage at CNN's Washington studios. For two hours, as the contenders stood a visibly-awkward six feet apart, Sanders repeated his campaign mantras: the health care system is irreparably broken; the pharmaceutical companies, banks, and oil companies are inescapably corrupt; billionaires have overtaken politics. Everything he said will resonate with his die-hard supporters.
But who else?
Joe Biden isn't an eloquent speaker; he won't make Churchillian addresses to rouse people into quarantine-readiness, and he wasn't as glib as Sanders, who can be snappy on demand. But Biden did, more than Sanders, answer direct questions about his proposed Covid-19 response, without diverting the conversation to questions about the future, and an upheaval of entire sectors of the economy. His pitch was consistent, too: He's been here before, shepherded bills through the Senate, sherpa'd Obama Administration policies, gotten things done.
Everything [Sanders] said will resonate with his die-hard supporters. But who else?
In short, he's betting that what the nation wants now — besides a president who doesn't actively spread misinformation about the virus — is someone unexciting but well-meaning, who can corral the experts and tell them what to do and stick to the present tense. "People are looking for results, not a revolution," he said, in a bumper-sticker-length encapsulation of his message at this phase of the campaign.
Sanders isn't wrong that economic inequality has exacerbated the coronavirus crisis. Social distancing would be easier if fewer people were locked in a gig economy or struggling with child care. Insecurity about health care costs could discourage people from getting tests or treatment.
But Biden doesn't disagree on any of those points. He just took the more politically viable approach of blaming the troubled initial Covid-19 response on Donald Trump, while Sanders pivoted quickly to his standard bogeymen.
Sanders also doubled down on some other campaign tropes, griping that billionaires are contributing to Biden's campaign, repeating his praise for some of Fidel Castro's domestic policies, even insisting, more than once, that it was fitting to praise China for reducing poverty. (In one of his quicker moments, Biden pointed out China's human rights abuses against the Uighurs.)
Perhaps there's a nuanced argument to be made, in a safe academic setting, about the benefits and disadvantages of Chinese domestic policy. But in the real-world arena of American politics, certain statements are general election suicide. And Biden resides in the real world, which is why he had to answer Sanders' attacks on certain legislative votes. (His overarching response, delivered more awkwardly than it needed to be: legislation is a messy process, and sometimes you have to compromise.)
Biden presented himself as a cozy, familiar blanket in a time of trouble.
Throughout the debate, Biden seemed acutely aware of how his statements would play politically. He even made news, declaring — as conventional wisdom had held — that he'll choose a female running mate. Let the virtual office pools begin.
And let's get on with it. If Sanders loses the nomination — and Sunday's debate didn't seem poised to turn his trajectory around — he should exit the race with pride, and the knowledge that he has moved the Democratic party to the left. Biden embraced or approached many of his policies, advocating free public college for some families, a public option for healthcare, a moratorium on new fracking (which could give him some trouble in a general election), a halt to deportations of anyone who isn't a felon (ditto).
Sanders' passionate supporters should feel good about that, too. But they should also understand the size of the country, the breadth of perspectives, the terrifying moment we're in. Biden presented himself as a cozy, familiar blanket in a time of trouble. Sanders was more like a heartfelt manifesto about why blankets should be made of carbon-neutral hemp. And yes, maybe someday, that hemp will come. But first, we need to get warm.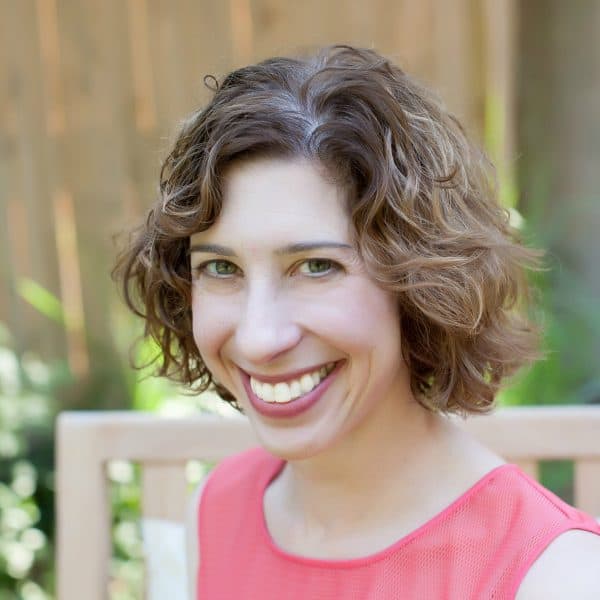 Joanna Weiss Cognoscenti contributor
Joanna Weiss is the editor of Experience Magazine, published by Northeastern University.