Trump Could Be Helpful. He Could Invoke The Defense Production Act Today
This article is more than 3 years old.
Doctors, nurses, paramedics and first responders are making surgical masks out of bandanas and eye protectors out of ski goggles. But President Donald Trump does not think it is time to invoke the Defense Production Act to mandate immediate production of critically needed personal protection equipment for frontline medical workers.
We are in trouble when the producers of the TV show "Grey's Anatomy" have a greater sense of urgency about protecting medical personnel than the president of the United States. That television drama and several like it are donating the surgical masks and gowns that they usually use as props to Emergency Room doctors, nurses and ambulance drivers who are trying to combat the worst global public health pandemic in modern history.
The president, by contrast, is counting on voluntary efforts by corporate America to address the shortage and holding the Defense Production Act in reserve "in case we need it." In doing so, he is ignoring the reality of the critical need now in especially hard-hit places that will spread soon enough nationwide.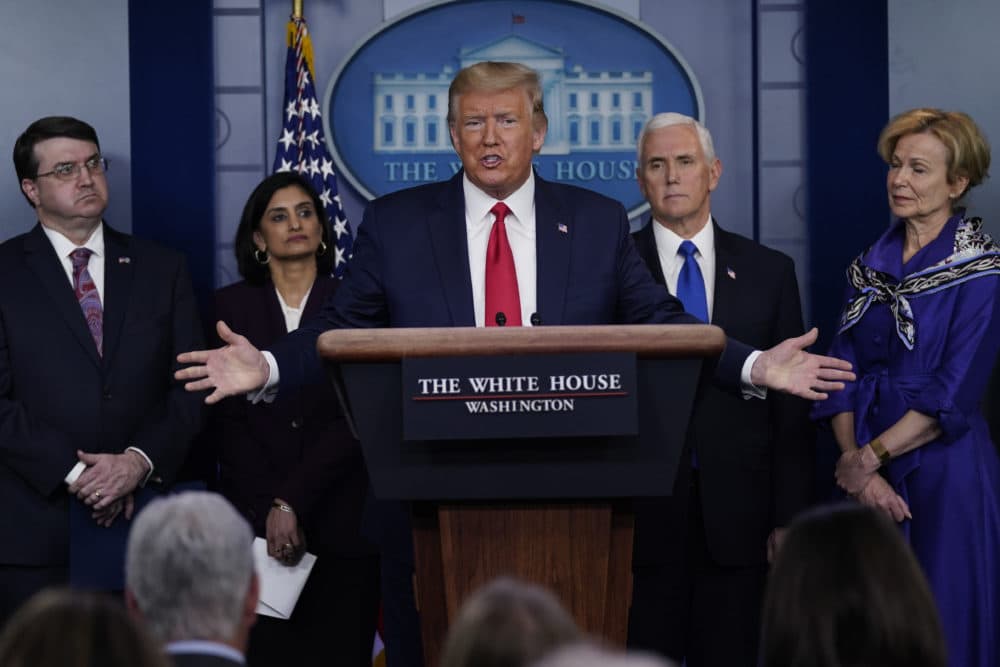 "We are literally scouring the globe looking for medical supplies," New York Governor Andrew Cuomo said on Saturday in announcing that the state is sending one million N95 respirator masks to New York City as confirmed cases of COVID-19 topped 10,300 across that state. (At press time, less than two days later, confirmed cases are up to 15,168.) "One million masks won't get us through the crisis, but it will make a significant contribution to New York City's mask issue," Cuomo said.
Why are we still scrambling for masks, gowns and hand sanitizers for medical workers and ventilators for critically ill patients when the president has at his disposal a Korean-War-era-law that empowers him to compel companies to produce the supplies that are urgently needed? Congress approved the act in 1950 to facilitate the production of aluminum and copper during the Korean conflict and subsequent presidents also used it to bolster defense supplies during the Cold War.
Trump's deference to the sovereignty of corporations is obscene...
Instead of federal action, Trump kicked the responsibility to the states, telling governors to find medical supplies on their own. "The federal government's not supposed to be out there buying vast amounts of items and then shipping," Trump said. "You know, we're not a shipping clerk."
Trump's deference to the sovereignty of corporations is obscene at a moment when Americans, and millions of people around the world, are surrendering their individual autonomy to government orders that they stay home from work, shutter their schools and shelter-in-place.
"Let's be clear — there is no evidence President Trump has invoked the Defense Production Act and ordered a single manufacturer to start producing masks and protective gear," Senator Chris Murphy, a Connecticut Democrat, tweeted Saturday night. "This decision is unconscionable. It will allow the virus to spread. It will get people killed."
Those people are our friends and neighbors.
Dr. Chris Kabrhel, an emergency room doctor at Massachusetts General Hospital, told me he's been buying up construction masks at his local hardware store to supplement the hospital's diminishing supplies of surgical masks. Kate Walsh, the chief executive officer at Boston Medical Center, says she has been working around the clock to find protective gear for her staff. (She won big points when she scored a cache of welders masks from Home Depot.) The Deaconess Health System in Evansville, Indiana has been asking the public to sew masks at home. New York Presbyterian Hospital has been disinfecting used masks in order to extend their use.
The American Hospital Association, American Medical Association and American Nurses Association wrote to Trump on Saturday, appealing to the president to use the Defense Production Act to spur immediate production of personal protection equipment to let medical workers do their jobs without jeopardizing their own lives and imperiling the health of their families.
Trump, himself, has compared the fight against COVID-19 to a war. Isn't it time for him to begin acting as this country's commander in chief?
For three years, Trump has chosen to use his executive power to demonize Muslims, to build walls, to put immigrant children in cages and to skirt environmental protection laws. Now, when his presidential powers are critically important, he ignores important precedent.
In 1944, President Franklin D. Roosevelt, born the aristocrat that Trump aspires to be, ordered Secretary of War Henry Stimson to seize Montgomery Ward after the Chicago-based department store chain refused to comply with labor agreements, slowing the supply of auto parts and work clothes to the Allies.
Trump, himself, has compared the fight against COVID-19 to a war. Isn't it time for him to begin acting as this country's commander in chief?