It's Time For All 50 States To Allow Voting by Mail
This article is more than 3 years old.
We are sailing into a perfect storm for American democracy.
By the end of 2019, amidst fraying constitutional norms and foreign attacks on our elections, American satisfaction with Democracy had already fallen to an all-time low. And then came coronavirus. Now, everywhere you look, dark clouds are threatening Americans' very right to vote. Georgia and Ohio have postponed their presidential primaries due to the pandemic. States that have held scheduled elections in the past week have seen voter turnout plummet on Election Day.
With a critically important presidential election less than eight months away, we must take a foolproof approach now to protect our democracy from catastrophic harm: all 50 states should move immediately on legislation allowing every American to vote by mail. Public health demands it, and the health of our democracy depends on it.
Our current 50-state patchwork of vote-by-mail rules roughly breaks down into four categories. A handful of states, like Colorado and Washington, conduct virtually all their elections by mail; as a voter, you receive a ballot in the mail and then return it to a designated drop box or through the postal service. Other states, such as Arizona, still have in-person elections but allow anyone to register permanently to vote by mail. If you live in a state like Florida, however, you can only get a mail-in ballot by proactively applying anew every two general elections. Then, there's the large number of states that do not permit any voting by mail, unless you apply for an absentee ballot and sign an affidavit swearing to your legitimate excuse for not voting on Election Day.
We are sailing into a perfect storm for American democracy.
This all must change, and now.
The Trump administration is already warning that the coronavirus crisis might not abate until July or August. If this estimate is off, or the virus surges again in the fall as with the 1918 flu, a November election could put hundreds of millions of Americans in an impossible position: (a) jeopardize your health (and the health of others) by congregating at polling places where everybody breathes the same air and touches the same voting machines or (b) jeopardize the legitimacy of the election by staying at home and not voting. Even worse, the federal government could consider postponing the entire election, jeopardizing the foundation of our entire democracy. Voting by mail would eliminate all of these pandemic-related risks.
Even beyond the pandemic, vote-by-mail would have the additional benefit of making our currently vulnerable election systems more secure. As former Oregon Secretary of State Phil Kiesling has written, vote-by-mail systems are "far less risky" because they "distribute ballots (and electoral risk) in such a decentralized way." One software hack could theoretically impact thousands of polling place votes, whereas any attempts to defraud or hack a mail-based election would require thousands of felons altering paper ballots or intercepting the mail without going undetected.
Finally, even if foreign governments weren't trying to hack our elections and coronavirus disappeared forever, it would still make sense to enable every American to vote by mail for one simple reason: it makes it much, much easier for people to vote.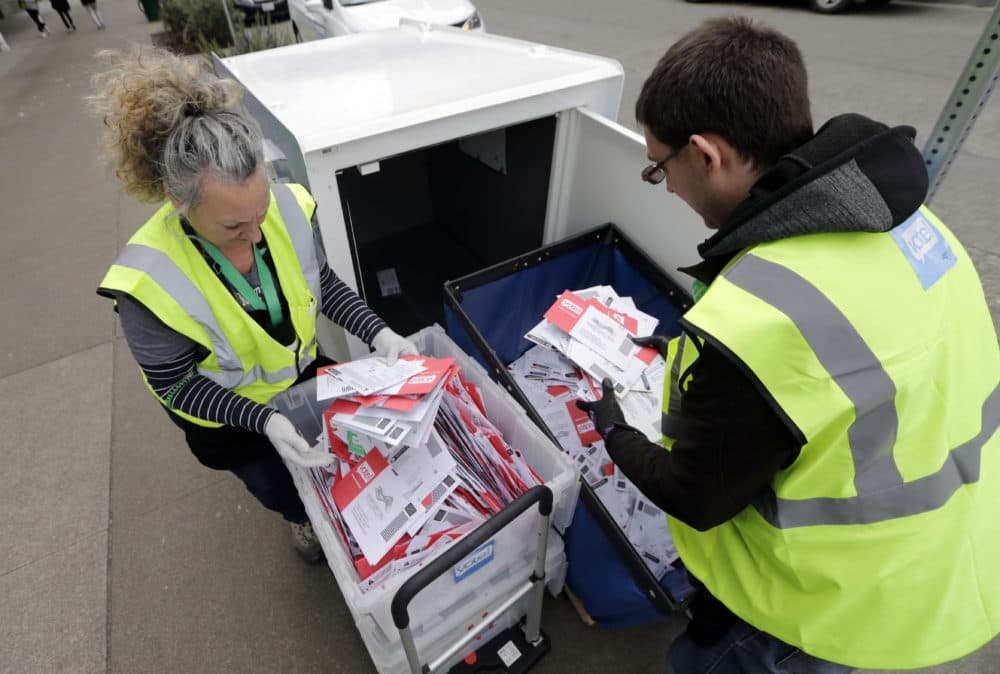 Although it is notoriously difficult to measure the impact of voting laws across different states, a few recent studies have revealed the tremendous potential that vote-by-mail programs could have to reinvigorate our Democracy. Recent research conducted by the Environmental Voter Project shows that people living in vote-by-mail states are 17 percentage points more likely to report that voting is "very easy" than people living in non-vote-by-mail states. In a 2016 Pantheon Analytics study, Utah's vote-by-mail program saw a 5 to 7 percentage point increase in voter turnout in counties that used vote-by-mail over counties that did not. And a 2018 National Vote At Home Coalition analysis revealed that vote-by-mail jurisdictions had more than double the turnout of non-vote-by-mail jurisdictions in low-turnout primary elections.
In short, voting by mail is safer, more secure, easier, and more democratic than our current approach.
Winston Churchill once said "never let a good crisis go to waste." As tragic and frightening as the coronavirus pandemic is, it is also a once-in-a-generation opportunity to strengthen American democracy and dramatically increase voter participation by harnessing the power of vote-by-mail nationwide.