What Cancer Taught Me About Navigating A Pandemic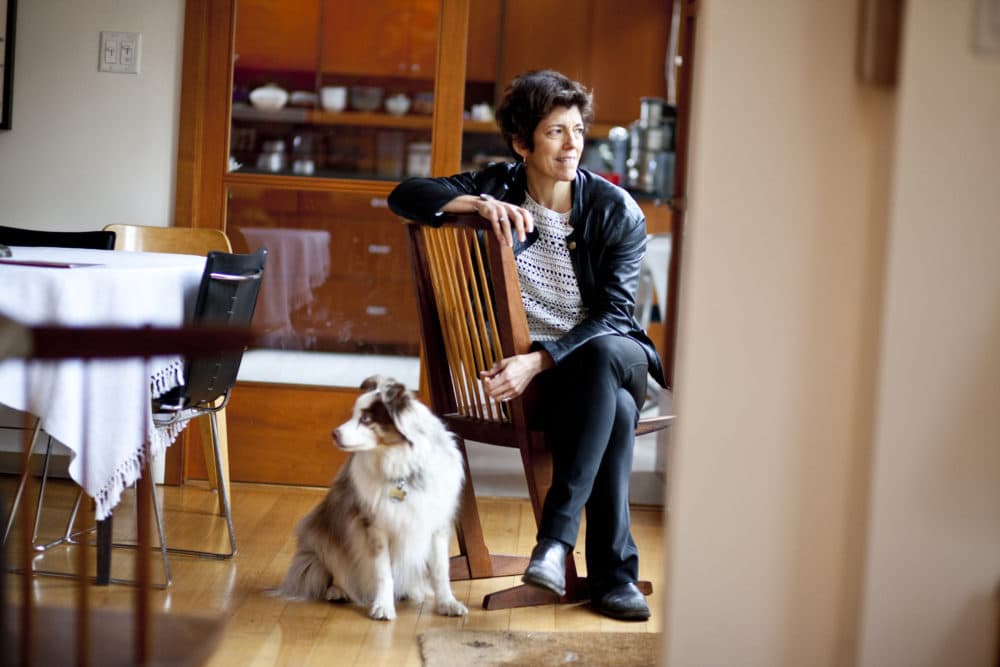 This article is more than 2 years old.
I've worked as a psychiatrist in public schools for more than 25 years. It's a job that requires me to deal with all manner of crises, including suicide and mass violence. Perhaps for this reason, most people classify me as unstoppable — some even accuse me of never sleeping. But a few years ago, I was diagnosed with breast cancer.
The disease forced me to slow down, just like COVID-19 is forcing us all to slow down right now.
During my cancer fight, I focused on what humans have done since dawn of time: trying to make meaning of it all. Of potential death. Of losing control. I wrote a one-woman play that ended up as an off-Broadway production. I studied Portuguese, a language I'd always dreamt of learning. And I took slow walks in a local cemetery. After my mastectomy, and during my recovery, my challenge became resetting my somewhat frantic pace of life and learning to prioritize what was within my control.
COVID-19 has affected every single person on the planet, or close to it. After cancer and helping families navigate difficult times of their own, I've come away with a few lessons and tips for coping when it seems like things just can't get any worse.
Accept what's happening — and just do your best. It's unbearable to think about the millions of Americans losing their jobs or watching their life savings dwindle as the stock market crumbles, unable to pay mortgages, access medical care or even buy food. One of the hardest parts of facing this pandemic is dealing with scary stressors on top of the bills and burdens we already shoulder. Embracing what we're going through while picking our battles and creating stability for each other is a delicate balance. Now is not the time for making impulsive decisions. It is the time to focus on maintaining your health and finding ways to stay positive. Do your best to exercise compassion and kindness. The priority right now is to support your family, friends and loved ones. Take a deep breath and do the best you can.
The best we can do is ask each other what works and self-correct and apologize when we make a mistake. There is no script for this.
Find comfort in connections. How often do you get the chance to be around your loved ones this much? Sure, this time will test your patience, but try to enjoy it while you can. Take inventory of how your family has supported and cared for each other during other bad times. Harness those adaptive strategies — you have more resources than you know.
I love to ask families, "How do you comfort each other?" My daughter is an intern at an inpatient medical ward; she's working nights during this pandemic. I recently texted her during her shift about two doctors testing positive, and she quickly set a personal boundary with me: No bad news while working, Mom. I accepted it and we moved on. The best we can do is ask each other what works and self-correct and apologize when we make a mistake. There is no script for this.
Whether you're quarantining with roommates, a partner, and/or kids, try playing games together, doing puzzles or baking. Communal activities provide a sense of belonging and will strengthen bonds. If you're living alone and you're an introvert who enjoys solitude, then you're in luck. If you're single and living alone and growing lonely, reach out to friends and neighbors however you can. We need to be in physical isolation, but maintain social connection.

Take care of your family — including yourself. Living 24/7 with kids is challenging at any time. But right now, every child knows the world is turned upside down — they aren't going to school and can't see their friends. Parents need to reassure their kids that by staying home they're minimizing the chance of getting sick and that most kids won't get that sick even if they do get the virus. They can also explain that kids can spread the virus to older people even if they (the kids) are asymptomatic.
As our routines are shattered, families can redefine and claim new values, norms, and rituals. As much as is developmentally appropriate, try to let your kids exercise their own voice and agency — whether that's giving them alone time, allowing them time for questions and even time to express frustrations. Here's a guided activity workbook for navigating the pandemic, with lots of activities and ideas for kids, families and teachers.
Family members with problems including substance abuse or mental illness are of special concern. I encourage anyone struggling with alcohol or drug addiction to attend virtual support groups, including AA. The Substance Abuse and Mental Health Services Administration has a list of resources and a helpline.
Manage your anxiety and get some perspective. Yoga and meditation are simple activities you can do to find a measure of peace and calm your mind. If you're new to them — or you think they sound too out there — I can assure you that these activities have stood the test of time for one reason: they work. If you need to see a doctor for mental health support, most doctors, including your primary care physician, are now practicing telemedicine. All you need to do is pick up the phone.
Finding some perspective can also help you maintain a healthy mind. As bad as we all think we have it right now, stuck in our homes, sequestered from everything, healthcare workers are putting themselves at risk every day to battle this virus. Migrants at our southern border do not have secure places to live. I hope we can all look after these vulnerable people as our community right now. Having secure housing is a luxury to so many.

Stay positive, and think about the future. What if you woke up and the problem was gone? This is a solution-focused therapy strategy that helps provide some calmness and hope. We are heading into a prolonged waiting period while the pandemic plays out. But I'm reminding myself to daydream about backcountry hiking with my family, and that soothes me. I'm dreaming of the privilege of again having face-to-face contact with my patients. Remembering these small freedoms, these miracles of social connection, can help keep us afloat.
What can you be grateful for right now? What will you do when this is over?