John Prine Made Me Want To Be A Songwriter
Make me an angel that flies from Montgomery
Make me a poster of an old rodeo
Just give me one thing that I can hold on to
To believe in this living is just a hard way to go
No one ever did it better than John Prine.
A language magician –– honey-tongued surrealist with his boots in the sand and a twinkle in his eye.
I was nearly two decades late to his first album, but it was all brand new to me when I first heard it in high school.
A bowl of oatmeal tried to stare me down / And won.
I didn't know you could do that with words. Be funny and sad and mystical all at the same time.
A couple of years later, "The Missing Years" came out. It was an apt, and not coincidental, title. I missed most of John's wilderness period –– the decade or so when his career faltered, and he struggled to find consistency in his writing and recordings. He re-discovered his voice with this one, and Howie Epstein's production gave the songs a spit and shine they'd never had before. It resurrected Prine's career. And it made me want to learn how to write songs.
... when you're truly great at what you do, people don't realize how hard it is.
I was a freshman in college when the album was released and had just started playing around with my own first originals. Needless to say, they were very, very bad –– but I was suddenly paying attention to language in a new way. I remember writing down and circling these lyrics:
I wish you love and happiness
I guess I wish you all the best
I wish you don't do like I do
And ever fall in love with someone like you
Cuz if you fell just like I did
You'd probably walk around the block like a little kid
But kids don't know, they can only guess
How hard it is to wish you happiness
In between all the layered wordplay, something remarkable happens in these lines. John leads us to a simile that collapses in on itself like a black hole, sucking us in and somehow depositing us back where we began. It's the linguistic equivalent of an Escher drawing.
The thing is, we barely notice we've been tricked. That's the problem with mastering your craft: When you're truly great at what you do, people don't realize how hard it is.
It wasn't just the skill though. It was all that rugged sweetness that pulled me in. The smile you could hear in his voice when he sang. There are a handful of writers who move me as deeply, but none make me as happy.
My second year in college, I met a girl. I wooed her with John Prine. It's not a move I'd recommend for your average 19-year-old but, in this case, it worked. (When we got married nine years later, we wanted "All the Best" to be our first dance but got stuck on the unavoidable fact that it's a breakup song).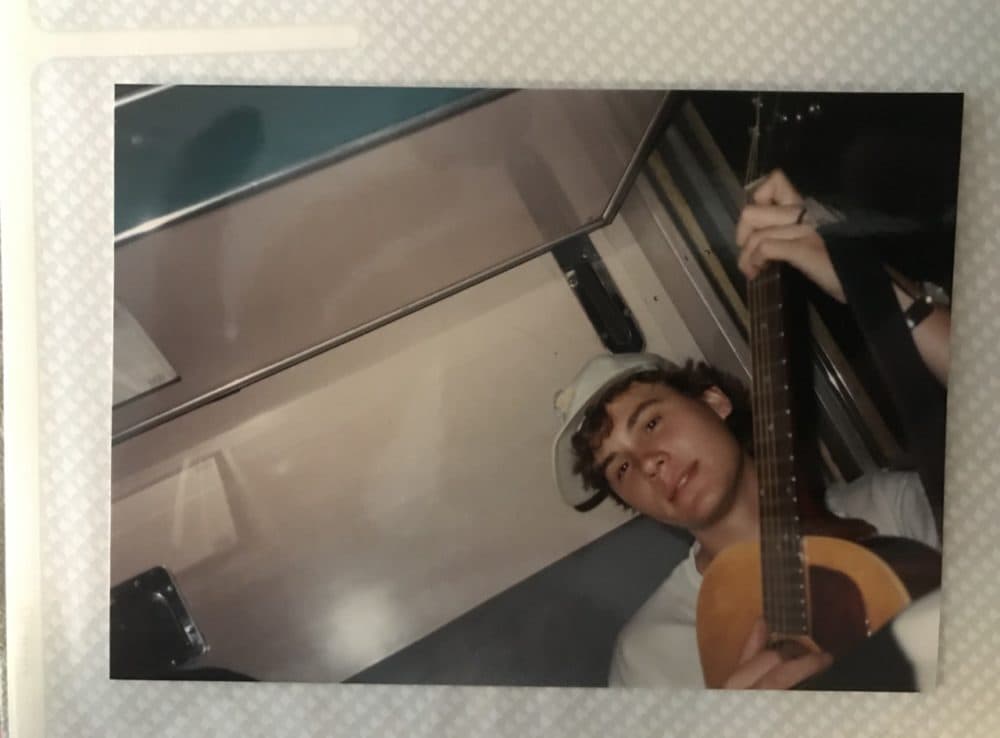 I was reminded this morning, as I reminisced with friends online, just how much I talked about John Prine back then. Also, Woody Guthrie, Dylan, Lead Belly and Garrison Keillor. It's an odd and anachronistic list, but this was my canon. I was equally excited about Taj Mahal, Dave Van Ronk, Elizabeth Cotten and Mississippi John Hurt, whom I studied for performance and technique. I was in college, but most of the education happened outside of class.
Apparently, our brains don't fully develop until we're about 25 –– which accounts for a lot of the bad decisions we make up until that age, but also for all our sponging up of inspiration. Everything is new. The songs, books, movies and ideas we inhale in our teens and 20s, and all the memories that comes with them, become the fabric of our lives. We spend the rest of our years folding and re-folding that material until we wear it out.
Hamburgers, cheeseburgers
Wilbur and Orville Wright
John Garfield in the afternoon
Montgomery Clift at night
It's a dangerous thing meeting your heroes. I only met John once. I had just arrived in Boston and was starting my life in music at local open mics. I bought a ticket one night to see him at The Berklee Performance Center and somehow got myself into a backstage greeting line. I waited and seized my opportunity to say something profoundly stupid –– I don't remember exactly what, but it wasn't good.
He was awfully kind about it. Somehow, I walked away feeling not nearly as embarrassed as I should have… Another magic trick. Maybe he was just having a good day, but it squares with everything I've ever heard from other musicians who knew him.
As much as anyone, John Prine made me want to be a songwriter. He had a great big talent and a great big heart. Like many, I'll carry him with me.