I Live Alone. But This Is A 'Master Class In Solitude' I Didn't Ask For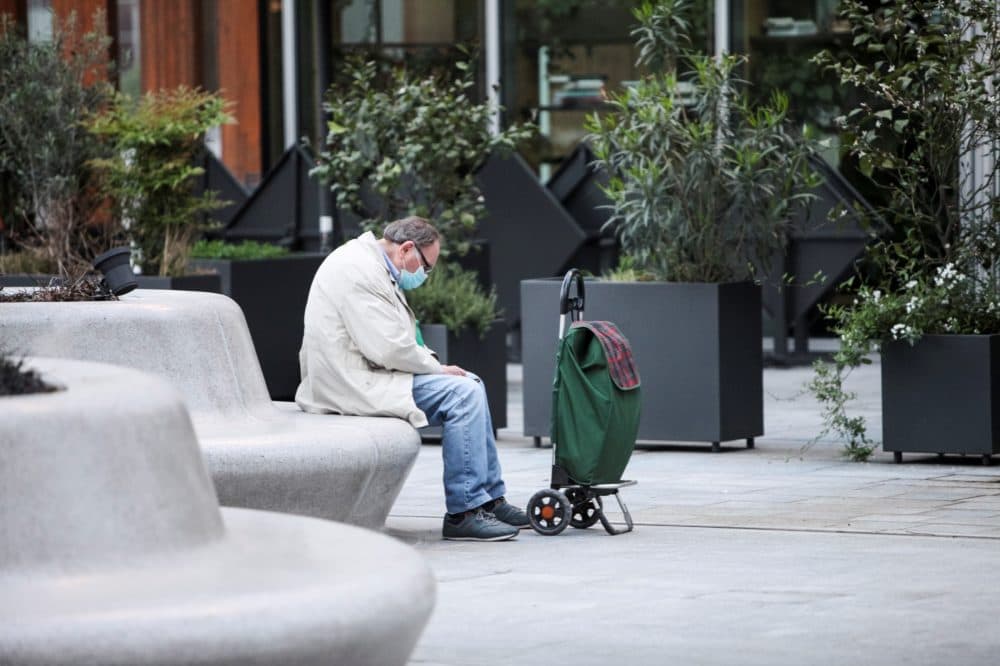 This article is more than 2 years old.
"Alone Together" the public service announcement crows on my TV. Various celebrities remind me to stay home, to maintain physical distance, to clear the way for essential workers and front-line health care personnel who are risking their health for the common good.
I grasp the seriousness of the pandemic and admire the people who are showing up while the rest of us shelter in place. My struggle against isolation — my cabin fever, my growing desire to climb the walls of my three-room abode — doesn't compare to working in a COVID ward or even to bagging groceries at Whole Foods.
Still, I am alone alone. I'm 63 and single. And I live by myself, as I have for the past 20 years.
When I read vignettes about life in the pandemic or listen to the voices of the coupled on the radio, I feel invisible, voiceless, mute. The conversation of life today seems to revolve around those who've won the relationship derby. But I came in out of the money — didn't win, place or show.
My struggle is not heroic. And I have lots of company: according to the U.S. Census almost 36 million American adults (28% of all households) live alone. Yet, people in my situation seem to be remarkably absent from the media's coverage of this experience.
[T]his is a dry run for the natural winnowing of life, a kind of dress rehearsal for my golden years.
Perhaps singletons are not newsworthy; we were living alone before the pandemic and if we dodge COVID-19, most of us will live alone afterwards. But living solo, without touch, without contact, without sharing physical space with another human being, ever, is a whole new level — it's a master class in solitude. Pre-pandemic, I had more of a balance; teaching classes at GrubStreet writing center and at my local library provided enough social contact. Back at my Medford Square apartment, I was content to enjoy my quiet time and hunker down with a good book or a few hours of Netflix.
Now my days collapse one into another. Sunday morphs into Tuesday and on into Friday, the dividing lines vanish like invisible ink.
Sometimes, when I slow down enough to feel whatever is bubbling up from within, I'm struck dumb like the guy in one of those 1970s era commercials for Skin Bracer aftershave (though Thanks, I needed that, is not what comes to mind). That ice-cold slap is a body-level realization that I will (eventually) die alone, and that this is a dry run for the natural winnowing of life, a kind of dress rehearsal for my golden years.
A sense of my own mortality — along with the knowledge that each of us has a term limit — is not a revelation for me. But the pandemic has made me feel it on a different level, since in lockdown there is literally nowhere to go. It reminds me of the Buddhist expression I first heard in my 30s, when I spent a year focusing on my navel at a yoga ashram: "Wherever you go, there you are."
On the news, I watch the protests against the shelter in place orders in Columbus, Lansing and Austin. I'm not about to join them, to place re-opening the economy over human life. Still, I chafe against the restrictions. I do my own cost/benefit analysis to calculate the psychological toll of isolation versus the benefit of protecting my physical health.
I do my own cost/benefit analysis to calculate the psychological toll of isolation versus the benefit of protecting my physical health.
About a week before the lockdown I had a date with a younger man whom I have not seen since. My next opportunity for physical affection may not arrive until sometime in 2021, a timeline to be determined by fate, luck or desperation.
Twice a week, I teach a writing class on Zoom. For those three hours, I am juiced, jazzed, filled with the excitement of sharing other people's stories. I tell my students, who are writing their memoirs, that they must find a theme or thread that will run through their book — something to keep their prospective readers interested. Over the course of the next several weeks, I see their gears turning and one student says, "My book is really about forgiveness" while another realizes he is the main character, not a bystander in his life story. When they make those connections, I feel this is what I am meant to do. Then I go back to silence and emptiness, the reality of my life today.
Sometimes, late at night, I lie on my couch and dream about life after the pandemic.
Those waking dreams are vague, amorphous and hopeful. Going to a café, embracing a friend, jetting back to Cleveland to visit my 91-year-old mother who is locked down in an assisted living home.
They feel like fantasies, possible only in the time before all this. If they come again, I won't take them for granted.