There Is No Pandemic In 'Flavortown'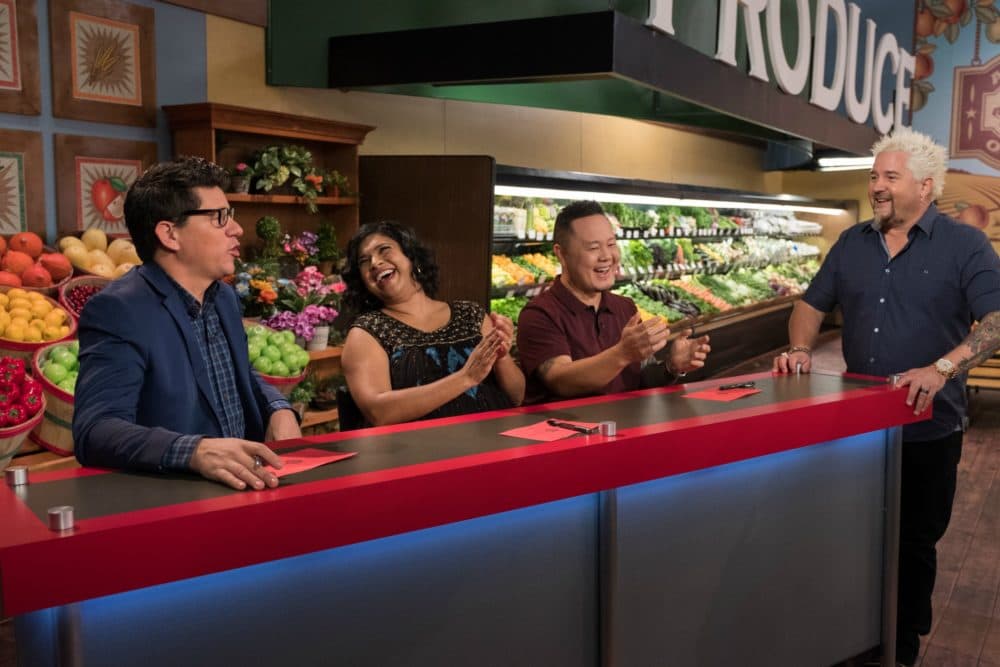 This article is more than 2 years old.
These days, you take comfort where you can find it. Since the pandemic began, people have been practicing yoga at home or diving into books. Others are recreating works of art, experimenting with sourdough or sewing masks.
Me? I'm watching every episode of "Guy's Grocery Games."
My fiancé and I began watching Guy Fieri's cooking competition show this past year while dealing with some hard family stuff. On nights when one or both of us were sad, we would throw on an episode of GGG. It never failed to cheer us up. Then, in early March, we began watching GGG several times a week. Now it is May, the pandemic is in full force and Richie and I are watching at least one, often two or three, episodes of GGG per day. Thank god there are more than 250 episodes. It's the only thing getting me through.
You always know what you are going to get with GGG. Four chefs battle in a cooking competition for the chance to win $20,000 on a shopping spree through Guy's grocery store, Flavortown Market. The chefs are presented with a challenge, seemingly straightforward — cook a decadent dessert, a steak dinner — but then Guy adds a twist. Even the unexpected is expected in Guy's show: Oh, you think you have to make a lasagna with this list of classic lasagna ingredients? Just kidding, these are the ingredients you can't use! Or you thought you were going to use a shopping cart to gather ingredients? Just kidding, fit everything you need in this tiny bag! The contestants groan, sigh and roll their eyes, but they laugh in the end. It is weird and challenging but everyone is doing their best under the circumstances. If that's not a metaphor for quarantine, I don't know what is.

GGG keeps things in perspective. The show is done with a wink — Guy knows there are bigger issues out there than cooking lobster tail. The stakes are low, everyone knows it and that's why I love GGG: It's pure escapism, 42 minutes in an alternate reality.
In "The Witches Are Coming," Lindy West wrote, "Donald Trump is not the president of Flavortown." Similarly, COVID-19 does not exist in Flavortown. It helps we've been watching old episodes on Hulu, dating back to 2015. I time-travel every time I watch GGG (Trump was not our president, coronavirus didn't exist, my family was healthier), and I immerse myself in a world where the highest stakes are whether a piece of salmon has crispy skin. Will the pasta cook in time? Does that burger have too much char? Will a sprig of basil elevate the dish?
Watching GGG, I tamp down the things weighing on me — whether my grandmother, who had a stroke, will get coronavirus in rehab; whether I will lose my job; how to reschedule our June 13 wedding — and enjoy. Can chefs combine sardines and chocolate into one dish? Let's find out!
The show's setting — a supermarket — is especially escapist. These days, grocery shopping is a monumental task. It requires masks and gloves, waiting in line to get inside, and then, once in, staying as far from other customers as possible, while remembering every item you need for the next two weeks, trying not to hoard, and only touching things you will definitely purchase. (That avocado doesn't feel ripe? Sorry, you're stuck with it now.)
Meanwhile, on GGG, the chefs gleefully race the aisles. They bump into each other and laugh, pick up and put down items without a thought, pile pounds of protein into their carts. It's joyful and naïve. You'd think a show set up as a competition would get ugly, but the contestants admire each other, the judges are kind and encouraging. The jokes fly, everyone lovingly teases Guy, there is more laughter than any other cooking show. There is a sense of camaraderie -- everyone is in it together, trying to create under crazy circumstances. They're just happy to be together, doing this thing they love. This feels like magic, when everyone is dealing with so much.
That avocado doesn't feel ripe? Sorry, you're stuck with it now.
On GGG, chefs share their stories and struggles. GGG is an escape but not removed from reality: Contestants regularly play to win money for cancer research, food banks, strapped relatives, scholarship funds or to get out of debt. Even the judges tell their stories -- Aarti Sequeira talks about her battle with postpartum depression and Carl Ruiz, who passed away last Sept., admits Guy's influence helped him leave a wild lifestyle. These moments are so earnest, I regularly cry when someone announces they'll give their $20,000 to their elderly mother or to people who are homeless in their city. The show is a reminder of the ways we can and should help each other.
Of course, this is the message behind GGG, because no one supports others in times of crisis like Guy himself. He cooked for first responders during the California fires, he has a foundation to inspire kids to learn cooking, and, recently, he has raised over $20 million to help restaurant employees affected by the pandemic. Guy looks at hard situations straight on and tries to make things better. In a time when our elected leaders have failed us, we need to find leaders in other places. I turn to Guy Fieri.