We Need To Talk About Boston's Police Budget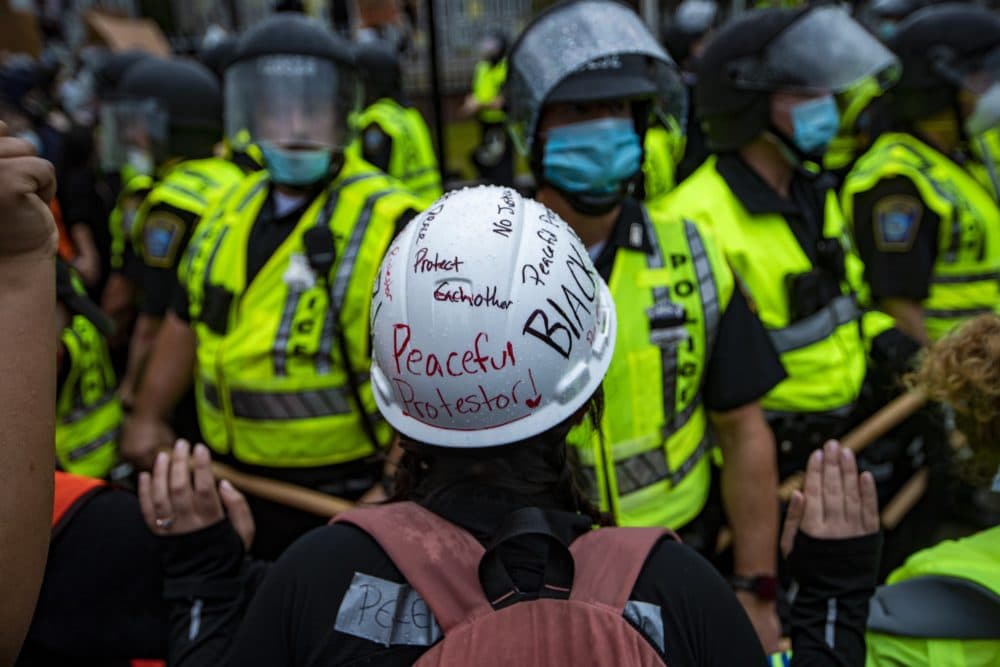 This article is more than 2 years old.
Two weeks ago, the nation was shocked into action after witnessing the brutal killing of George Floyd by a Minneapolis police officer. In virtually every major city, including Boston, protestors have taken to the streets to denounce police brutality and demand justice for Floyd and countless other Black people killed by the police.
Although the violence that provoked it is nothing new, the national outcry is notable for at least two reasons: First, its unprecedented scale; and second, the growing calls — not just for reform — but for the defunding and even disbanding and reimagining of police departments.
Divesting from police may be a novel or even outlandish idea to some, but it has a long history, and has gained mainstream currency. Black Americans have endured centuries of injustice at the hands of police. And not because of "a few bad apples" — because policing itself was built on a foundation of racial violence.
The ACLU has been fighting police brutality for 100 years. Now, with the municipal budget season in full swing and massive popular momentum nationwide, the ACLU is advocating for a fundamental rethinking of the role police play in our society. That role has to be smaller, more circumscribed and less funded with tax-payer dollars.
Last week, the ACLU of Massachusetts' "Data for Justice Project" published an in-depth analysis of how the Boston Police Department (BPD) consumes its outsized share of taxpayer dollars.
... policing itself was built on a foundation of racial violence.
Here's what we found:
The current police budget is enormous — period. At $414 million per year, BPD is second only to Boston Public Schools in overall funding, dwarfing all other departments. As our analysis shows, that's almost three times the size of the Cabinet of Health and Human Services and four times the size of the Public Health Commission. That's worrying at the best of times, but during a global pandemic, it's outrageous.
Second, the way that money is being reallocated within BPD from year to year is troubling. This year's proposed budget would see increases for salaries, bonuses and new hires while slashing funding for BPD's anti-corruption division, internal affairs division and firearms training programs. Simply put, at a time when there is renewed outrage about police abuse and impunity, BPD is decimating programs that are supposed to ensure professionalism and accountability.
Finally, despite frequent reports of overtime fraud, the Boston Police Department estimates its employees will use over 1.2 million hours of overtime in 2020. Last year, BPD overtime alone accounted for 15% of the entire city budget. Exorbitant overtime pay is in part due to a number of city and state policies, including an effective monopoly on police operating details at construction sites and a required four-hour minimum pay for any appearance in court.
Does any of this actually make communities safer? Black and brown people in Boston have for decades been subjected to, and even terrorized by, over-policing, while programs that would address the root causes of violence have been neglected. Even when police commit clear abuses, they refuse to hold themselves accountable. Rather than continue to funnel money into a system rife with racism and impunity, it's time to set our priorities straight.
Money saved from reducing the size and scope of police departments must be reinvested into community-based services that are better suited to respond to actual community needs.
Rather than continue to funnel money into a system rife with racism and impunity, it's time to set our priorities straight.
That includes redirecting money to public health and welfare programs like harm reduction, substance use treatment, mental health services and domestic violence support. Instead of rounding up people experiencing homelessness and destroying their belongings, we should fund housing programs that keep people safe, healthy and off the streets.
Instead of putting police in our schools to disproportionately punish Black and brown students and funnel them into the criminal legal system, we should increase youth intervention programs that promote diversion, restorative justice and provide jobs to marginalized young people. Our youth need more social workers and guidance counselors — jobs that police officers are not trained to perform.
Ongoing budget discussions show some promising signs. The City Council is considering a ban on wasteful, dangerous new acquisitions like face surveillance technology, and reportedly received an unprecedented number of comments from the public, many of which were about defunding BPD.
We should capitalize on this watershed moment. We can attend vigils, post hashtags, and share thoughts and prayers, but to truly address the racism at the root of police brutality and confront the wider inequities in our society, we need to make smart investments with our scarce public dollars.
It's time to put our money where our mouth is.