Navigating Cancer, A Pandemic And Come What May
This article is more than 2 years old.
On the second day of a heatwave, I awaken near dawn to the chirrclicktrill of bird symphony. One sound repeats from the tree outside my open window, sweetie sweetie sweetie. Sun shimmer on the pond sends light ripples across the ceiling. A fine, new day.
As the birdsong moves down the shoreline, I remember the surgeon's assistant called. Limited operating rooms opened and I must decide to have surgery next week, before a new phase of the pandemic brings more people into close contact, or at the end of the month when another phase begins and we see if a new spike in cases occurs.
The steady hum of the ceiling fan will not lull me back to sleep. Two months earlier, my surgery was canceled due to the coronavirus lockdown. At first I was relieved. No one wants to have surgery. No one wants to risk their well-being after undergoing an 18-month treatment trifecta to survive stage III breast cancer.
Yet, the surgery has been on my mind for two years, since the FDA forced breast implant manufacturer, Allergan, to take their texturized implants off the market. In January, my surgeon had received new statistics: what was originally a lymphoma risk for 1 in 30,000 patients was now 1 in 350. Even without symptoms, the implants would have to go, and the surgical protocol would not allow for new implants.
I don't want a third surgery. I don't want my body to be further deformed.
Despite the heat, I make tea, longing for the comfort of ritual. I sip while gazing at water, sky, trees. In this mindful moment, I can just be. Six years ago, in a radiation oncology waiting room every day for eight weeks, several women revealed they could not afford some of the treatments that sustained me. The inequities felt like another wound. When I shared the meditation that got me through my time on the cold metal table, patients and caregivers asked to learn more.
These connections inspired me. Every day for a year, I taught the meditative practices that have helped me cope and thrive for more than three decades. And not just in waiting rooms, but everywhere people agreed to try: in grocery lines, at libraries, getting gas, on sidewalks. In 2018, I established a non-profit mindful wellness educational collaborative with trauma-informed teachers who compassionately share embodied practices to enhance well-being. Our community grew. With coronavirus, we shifted to online programming. While opportunities expanded, sensations flared in my chest.
On the pond, two blue herons attempt to catch perch congregating near the shore, but miss and fly to a nearby cove where they stand in the shadows. My friend who's a radiation oncologist recommended surgery sooner rather than later, while coronavirus numbers are lower and operating rooms are less busy. My gut tells me: nownownow. My mind whimpers nonono.
When I return here to recover from surgery, I will have another chance to observe the wonders of nature.
I don't want a third surgery. I don't want my body to be further deformed. I don't want to have a long procedure all alone in the middle of a pandemic. I don't want new scars, pain, restriction, a chest so flat my sternum rises above skin over ribcage. I don't want my children to again be triggered by suffering cancer-mom. I don't want to be stuck recovering at home for weeks with uncomfortable drains beneath my arms while others protest the racism that plagues our nation.
I want to scream across the water, NOOOOO, and let my echo rage around me.
It's early morning, sweetie sweetie sweetie. I exhale a screech through my nose. Inhale deeply and constrict my throat to feel the long, smooth ujjayi breath learned through yoga pranayama training. Ujjayi, meaning victorious breath, the sound of ocean waves rising and falling inside the body. My hands meet my heart. Frustration and aversion subside.
Painted turtles gather on the narrow wooden ramp my husband attached to our dock. Yesterday, sitting there with my grown children, I put my feet in the water and a young turtle swam over to rest his toes on mine. I honed in on the near weightlessness of this body supported by mine, the whispery scratch of claws before the spotted shell dipped then rose between my feet. The turtle looked up at me. I took off my sunglasses so we could see each other's eyes. The yellow speckled head tilted. Do I trust you? Can you understand?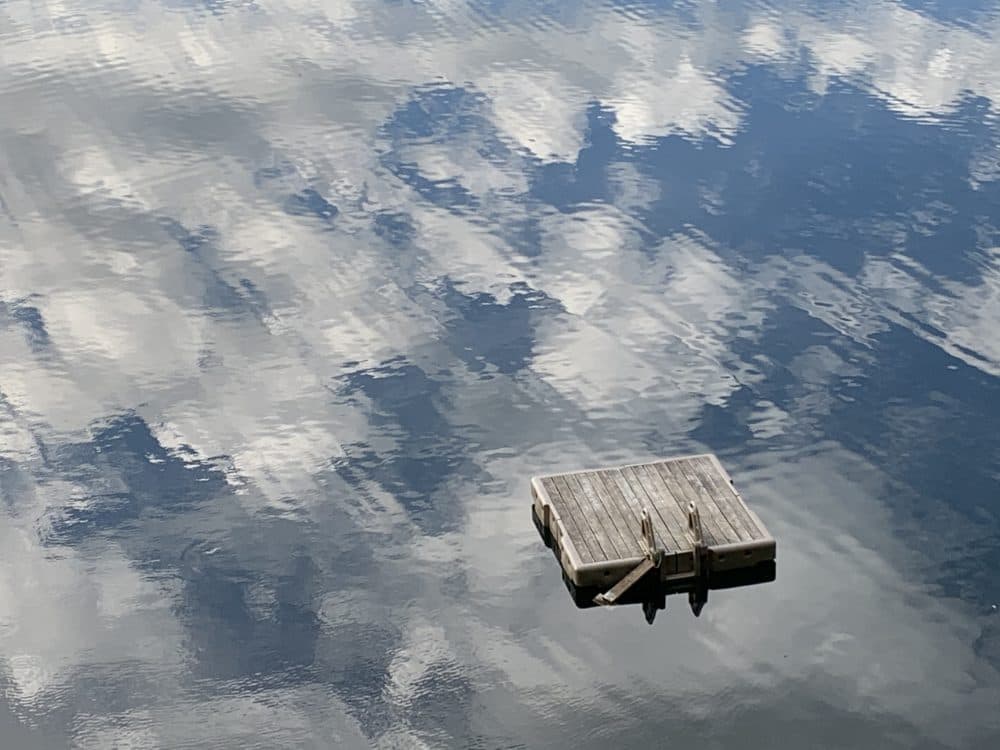 Wouldn't it be nice to simply be near this water, listen to birdsong, commune with turtles, observe the natural world around the pond where Henry David Thoreau once walked?
I consider people struggling to afford food and rent. I think of those who fought COVID-19, who died, who didn't get to say goodbye to family members. I recall my mother dying of breast cancer at 56 in a Vermont hospital, grateful for the six years she had beside a blue lake with two of her grandchildren (after doctors told her she might have none). The deep water that had been her solace now marks her grave. She visits me through song lyrics or passages in books, with rainbows like the three that aligned over the lake after her memorial service. Had she been calling earlier to reassure me on this body of water -- sweetie sweetie sweetie?
Children splash and squeal in the distance. When I return here to recover from surgery, I will have another chance to observe the wonders of nature. I will breathe air that whispered past the magic out my window. I will feel the gentle touch of a turtle resting with me. There will be another moment to feel part of it all, however painful or rewarding, and yet another that rises then disappears like the rings left by all who reach the surface, leaving ripples to invite the beginning of a new story.