3 Steps Mass. Officials Can Take To Ensure Every Mail-In Vote Is Counted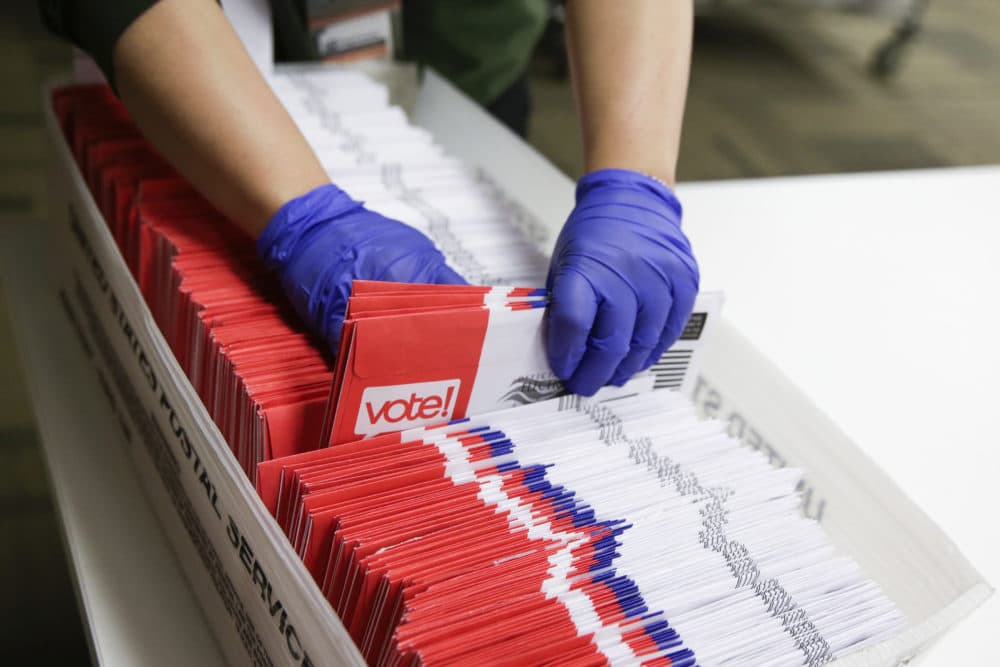 This article is more than 2 years old.
Legislators and election officials have scrambled to increase mail-in voting options to help residents vote safely during the pandemic. Notwithstanding President Trump's dishonest protestations, the experience in states that have broadly implemented mail-in voting, including Arizona, Colorado, Oregon and Utah, has shown that it works and is remarkably free of fraud. States that expanded to vote by mail during recent primaries also experienced record participation and clear evidence shows that voting fraud, already extremely rare in the United States, is even rarer with mail-in voting.
States like Massachusetts, that are now undertaking expanded voting by mail for the first time, must learn from states with more experience to avoid disenfranchising voters. Secretary of State Bill Galvin should give immediate guidance to local elections officials, so a significant number of ballots aren't rejected in the upcoming state primaries, or in the general election in November.
New York's June 23 primary election is a cautionary tale. According to The Intercept, nearly 1 in every 5 mail-in ballots cast in the 12th Congressional District were rejected. In the Brooklyn portion of the district, a staggering 28% of mail-in ballots were disqualified, a rate that threatens the legitimacy of the election itself. Thousands of ballots were rejected for arriving without a postmark and other technical flaws. The message is clear: managing a tenfold increase in mail-in balloting requires special steps to ensure votes are counted.
[V]oting fraud, already extremely rare in the United States, is even rarer with mail-in voting.
The central tenet of American election administration is to honor the "intent of the voter," rather than disqualify otherwise valid ballots with technical deficiencies. This voter-centered approach has governed the practices of states that have successfully implemented mail-in voting, and nearly 99% of all mail-in ballots received in 2016 were counted. For example, in Florida, more than 2.5 million votes were cast by mail and just 0.64 percent of those ballots were rejected. In Arizona, with 2 million absentee voters, the rejection rate was only 0.43 percent. These two states share robust participation in mail-in voting and experience at the state and local level.
It's not just New York that's having problems. In Fayette County, Kentucky, 8% of mail-in ballots were rejected in its June Primary. New Jersey rejected nearly 10% of mailed-in ballots during its May special elections.

These alarming trends demand a response in Massachusetts and around the country. There are a few concrete steps that election officials should immediately pursue.
When voter intent is clear, don't reject ballots for technical flaws. Election officials should adopt voter-intent based standards for processing mail-in ballots to guarantee that ballots are never disqualified for simple errors. In various states, ballots can be disqualified if a voter misses one of multiple signature lines, seals their ballot envelope with tape, writes only two digits of their birth year, or returns their ballot in the same envelope as their spouse. Election officials and legislatures that refuse to prioritize voter intent are elevating bureaucratic rules over the constitutional right to vote and should face legal challenges. Here in Massachusetts, officials should issue updated guidance for election workers and require training for any workers reviewing signatures to ensure that eligible votes get counted.
Give voters a chance to correct problems. Tens of millions of Americans who plan to vote by mail for the first time deserve the opportunity to correct any mistake that would otherwise disqualify their ballots. Nineteen states require local election officials to notify voters if their ballots fail a preliminary review due to errors like extraneous marks, missing signatures or signatures that do not match an image on record and provide voters the opportunity to "cure" any deficiencies. This should include contacting impacted voters by phone, text, or email where available, which takes staff and supplies. Locally, the law requires clerks to mail out substitute ballots in the event of problems but provides little guidance on how to notify voters if time is running short. With more than half of voters expected to vote by mail, Secretary of State William Galvin should set clear expectations for clerks.
Accept ballots postmarked by Election Day. States ramping up mail-in balloting should accept ballots postmarked by Election Day even if they're received days later. Such a rule ensures that ballots aren't rejected due to delays outside the voter's control. In Massachusetts, the Legislature implemented such a rule for the General Election, instructing the clerks to count ballots received by November 6, three days after Election Day, provided they were mailed in time. However, the postal service is now warning states that ballots should be allotted a week or more to arrive through the mail. Secretary Galvin should report to the Legislature on whether the November 6 rule is sufficient to protect voters and be prepared to offer guidance to clerks and lawmakers on how to adjust this rule if necessary.
With millions of Americans participating in mail-in voting for the first time, the burden is on state and local officials to get it right. Massachusetts officials are now projecting half or more of all votes to be cast by mail, perhaps 1.5 million to 2 million votes, up from just 156,000 votes in 2016. Those undertaking widespread mail-in voting for the first time need to follow the example of states with established track records. Evidence from the past months shows that voting by mail can increase participation, a bright spot amid so much darkness, but we must act now to ensure that those votes are properly counted. Our democracy is counting on it.
You can learn more about the Voter Protection Corps here and follow the organization's work at @ProtectTheVote.