Don't Be Shocked Trump Lied About COVID On Tape. Be Horrified That It Won't Matter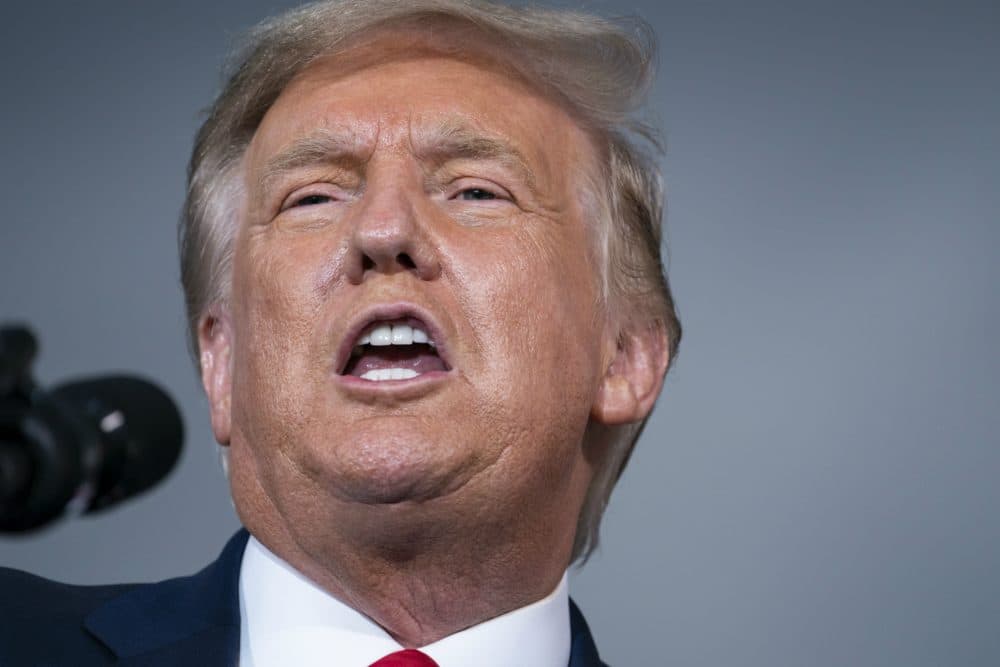 This article is more than 2 years old.
Wednesday confirmed something that most of us already suspected: Donald Trump knew all along exactly how deadly COVID-19 was.
"You just breathe the air and that's how it's passed," Trump explained to reporter Bob Woodward on February 7. "And so that's a very tricky one. That's a very delicate one. It's also more deadly than even your strenuous flu … This is deadly stuff."
In public, Trump was saying just the opposite.
"We only have five people," he told Sean Hannity. "We pretty much shut it down coming in from China."
On February 11, he promised folks at a campaign rally that COVID "miraculously goes away." Three days later, he assured Geraldo Rivera that "we only have, basically, 12 cases and most of those people are recovering and some cases fully recovered."
On February 24, he panic-tweeted, "The Coronavirus is very much under control in the USA. We are in contact with everyone and all relevant countries. CDC & World Health have been working hard and very smart. Stock Market starting to look very good to me!"
Two days later, he told reporters, "When you have 15 people, and the 15 within a couple of days is going to be down to close to zero, that's a pretty good job we've done."
Two days after that, to the delight of his supporters, he was branding COVID as a "new hoax" peddled by the Democrats.
"I wanted always to play it down," we now know he confessed to Woodward on March 19. "I still like playing it down."
The shock here isn't that Trump was lying. Nor that Woodward refused to disclose the truth in real-time. Nor even that the president's lies contributed to the spread of COVID, which has now killed nearly 200,000 Americans, infected more than six million, and sent the nation spiraling into economic and social chaos.
The shock is that Trump's support will barely budge.
This story will rage for a few days, as did the news that our commander in chief calls our troops as "losers" and "suckers." As did the news that he attempted to extort Ukraine for dirt on Joe Biden. As did the news that he considers white supremacists "very fine people." And so on.
Every week — sometimes every day — new revelations emerge that affirm what we already know: Trump is a lazy, inept, bigot with a wounded ego where his heart should be, and a cash register for a conscience.
What matters isn't this reality, but the fact that a rabid minority of our citizens have become inoculated against it. They live in a cultish bubble of partisan propaganda filled with protective buzz words and talking points, a hivemind fueled by rage, paranoia and shame. For decades, right-wing media demagogues have made billions of dollars exploiting their anguish.
Trump didn't lead a movement in 2016. He merely inherited an audience that had been vaccinated against unwelcome truths years ago.
This is why the president of the United States can lie — without consequence — to Sean Hannity and Tucker Carlson and Geraldo Rivera, even about a virus that could kill their viewers. Trump didn't lead a movement in 2016. He merely inherited an audience that had been vaccinated against unwelcome truths years ago.
On days like this, when we come face to face (yet again) with the catastrophic iniquity of Trump, my mind turns to the description of Kurtz that Joseph Conrad offers in "Heart of Darkness": "I saw the inconceivable mystery of a soul that knew no restraint, no faith, and no fear, yet struggling blindly with itself."
More than that, I think about the forces that led us to award so much power to such an empty man, and have induced so many of our public servants to ignore his abuses, and sanction his lethal efforts to set us against one another.
Conrad was wise to that peril as well. "Your strength," he observed, "is just an accident arising from the weakness of others."
Every citizen of good faith will have to stand against that weakness in the weeks to come, or America will become something far more savage and dangerous than a democracy.