Joe Biden And The Power Of Breaking The Fourth Wall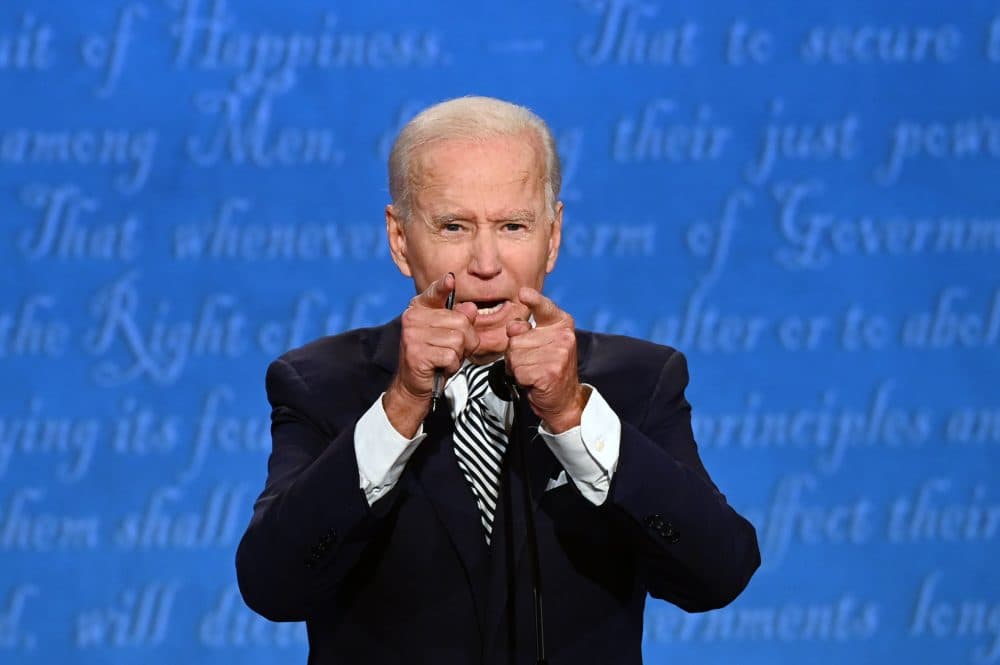 This article is more than 2 years old.
Be honest: Over the past six months, you've occasionally wanted to break the fourth wall — to step out of your daily life, gaze into the universe, and say, to whoever might be listening, "Do you see what I'm dealing with here?"
That was Joe Biden, from time to time, during Tuesday night's collective national migraine disguised as a presidential debate.
At its most frustrating, this alleged civic event amounted to three men in suits, yelling over each other, completely unintelligible.
At its most absurd, it was moderator Chris Wallace, imploring the president of the United States to please be quiet, or he was going to turn this car around right now.
At its most disturbing, it was President Donald Trump, predicting chaos after the election — "This is not going to end well" — and effectively egging on voter intimidation.
And at its calmest, it was Biden breaking from the noise, looking into the camera, and speaking directly to viewers who hadn't yet turned off the TV in frustration. Trump would make a boast about his record or a dig at Biden's past; Biden would offer a reality check, relatively calm and understated.
Those weren't just cries in the dark. They were asides that felt strategic, a way for Biden to separate himself from Trump...
On the economy: "You folks living at home, how well are you doing?"
On the white supremacist rally in Charlottesville: "Close your eyes, remember what those folks looked like coming out of the fields, carrying torches."
On his son Hunter's discharge from the Navy Reserves after failing a drug test in 2014: "'My son, like a lot of people we know at home, had a drug problem…He's worked on it and I'm proud of him."
On the pandemic: "You folks at home, how many of you got up this morning and had an empty chair at the kitchen table because somebody died of COVID?"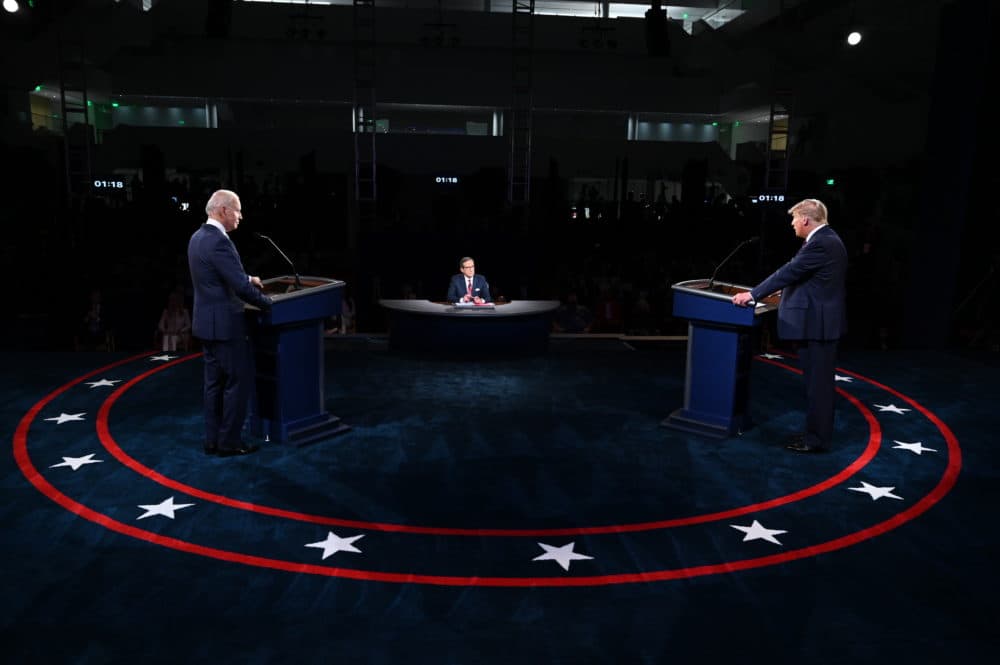 Those weren't just cries in the dark. They were asides that felt strategic, a way for Biden to separate himself from Trump — not just in terms of decibels or even life experience, but in his approach to the election itself. Biden, like Trump, needs to bring out his base. But in swing states, he could also prevail by winning over independents and Republican defectors who have decided they can't handle any more chaos.
That means, in part, walking a tightrope between progressive ideals and moderate policies — hence, Biden wants to reform the police, but not defund them; wants to take broad action against climate change but doesn't endorse the Green New Deal. But it also means presenting himself as an agent of sanity, a calm presence, a steady hand. The adult in the room.
Biden isn't, and never has been, an eloquent orator. His policies won't please everyone. But empathy is his strength.
As the debate showed, Trump can be a kind of kryptonite to calm. Chris Wallace, a rock-solid interviewer, repeatedly lost his anchor gloss — alternately, he sounded angry, snide and resigned to his impotence in the face of Trump's filibustering. Biden lapsed a few times, too, losing his composure and treating Trump the way he might a schoolyard bully. ("Will you shut up, man?...Keep yapping.") At one point, he hurled out an insult, then tried to check himself: "It's hard to get any word in with this clown. This person." At another point, he snarled, "You are the worst president America has ever had, come on."
Those moments might have won him fans on Twitter, but they likely didn't help his cause. Still, Biden mostly held his own over the night. At the least, he provided an answer to those who wondered if he could speak coherently for 90 minutes straight.
But the power of breaking that fourth wall didn't come from the rhetoric; it came from the emotion. Biden isn't, and never has been, an eloquent orator. His policies won't please everyone. But empathy is his strength. And every one of those direct-to-voters moments, if received the way he hoped, was like a little closing statement: "I know what you're dealing with. Let's try something different."