Question 1 Is About Much More Than Car Repair. It's A Civil And Consumer Rights Issue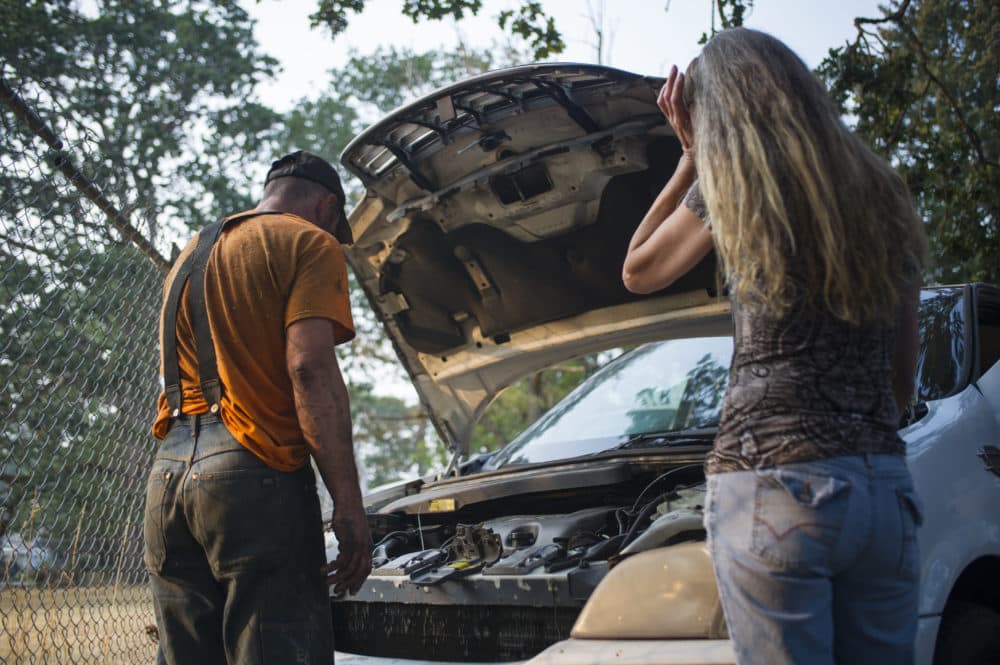 This article is more than 2 years old.
Imagine this scene from a not-distant future: you're driving in your new car and hear a loud "bang." Immediately your vehicle starts pulling sharply to the right and you hear a distinctive "flapping" sound of rubber hitting pavement. You've blown a tire!
Fortunately, you have a spare. You pull over, put the car up on a jack and safely install the tire. But when you get behind the wheel to drive away, your car won't start. A flashing light on the car's digital display tells you that it can't "recognize" the tire you've installed. Your vehicle informs you that you are required to use dealer approved tires installed by a licensed "roadside technician." You're instructed to call your dealer's premium roadside service, where you learn that you need to "upgrade" to premium support and that the soonest a roadside service technician can get to you is in two hours.
Creepy, right? But what should really scare you is knowing that the technology to make this dystopian future real already exists and is already installed on modern vehicles.
Digital rights management (DRM) of the kind Microsoft and Sony use to keep pirated games from running on their gaming consoles is part and parcel of modern vehicles, as well. Today, it isn't used to prevent owners from putting non-manufacturer approved parts on their vehicles — but it easily could be.
If you're thinking to yourself "no way," I'd advise you to visit farm country, where small family farms are engaged at this moment in a struggle for their economic survival with multi-billion dollar equipment makers like John Deere and Caterpillar.
Question 1 is a pro-consumer ballot measure that will give car owners and independent repair shops access to wireless maintenance data needed to service and repair modern vehicles.
Absent an equivalent right to repair law covering farm equipment, those companies have engineered their tractors, combine harvesters and other equipment to work in just this way. Today, many farmers are locked out of their own equipment. Software forces them to pay exorbitant costs for repair and servicing of their own property by exclusively dealer "authorized" service technicians.
Or, consider "smart" home appliances. As this story by VICE indicates: GE's newer refrigerators have RFID sensors that monitor whether owners have installed GE branded replacement water filters. The GE filters, which sell for two- to three times the price of generic filters, contain an RFID tag that makes sure they're accepted by the fridge. Non-GE filters aren't recognized, disabling the refrigerator's water filtration or degrading the refrigerator's operation by disabling "filter health" monitoring or displaying warning messages.
These examples bring us back to why Question 1 and why the "right to repair" measure may be the most consequential issue you're asked to vote on this year.
Question 1 is a pro-consumer ballot measure that will give car owners and independent repair shops access to wireless maintenance data needed to service and repair modern vehicles. If passed, it will close a loophole in an existing state law that requires automakers to make data "needed for purposes of maintenance, diagnostics and repair" available in a standard format to vehicle owners. That law, passed in 2013, included an exception for so-called "telematics" data that is transmitted wirelessly, rather than via a wired connection to a data port located under the dashboard.
Seven years later, many new vehicles use the wireless telematics systems to transmit maintenance and repair data. The car's cellular internet connection bypasses the repair shop computers, talking directly to cloud-based servers operated by the automakers. Question 1 simply requires automakers to provide vehicle owners with a standard web-based platform to access those maintenance clouds.
No big deal, right? There's nothing extreme or dangerous about the idea that mechanical data shared via a wired connection to a computer in a repair shop should also be accessible wirelessly. That's why automakers are anxious to change the subject. The "Coalition for Safe and Secure Data," a group funded by automakers, has blanketed TV and radio in Massachusetts with ads warning that Question 1 will give cyber stalkers and burglars the keys to your car and even your home.
These warnings about cyberstalking are misleading and have little basis in fact.
A group I founded, SecuRepairs, represents close to 200 of the world's top information security experts. We've been vocal in our support of Question 1 and are encouraging voters to look past auto industry scare tactics. In our professional opinions, this simple expansion to the state's right to repair law does not increase the risk of identity theft, cyberstalking or vehicle hacking.
We shouldn't consign ourselves to a future in which we are tenants, rather than the owners of our things.
But Question 1 is about much more than the question of whether you or the corner repair shop can work on your car.
Like farm equipment and home appliance makers: automakers increasingly see their vehicles as 'smartphones on wheels' and their customers (and their data) as the real product. Locking down access to their platform is a prerequisite to locking in the revenue. That's why, as our homes, businesses and public spaces fill with smart, Internet connected "stuff," a "right to repair" like the one spelled out by Question 1 is critical to our well-being and the economic health of our families and communities.
In the years to come, corporations will bring forward all manner of smart and connected products with "gee whiz" features. These products may well deliver convenience. But the price of that convenience can't be software-enforced monopolies that stifle competition and innovation, while bleeding consumers of their money, their data or both.
The right to repair our cars, appliances, phones and other stuff is essential. We shouldn't consign ourselves to a future in which we are tenants, rather than the owners of our things. I urge you to vote 'yes' on Question 1.