If You're Fighting Climate Change, You Must Also Fight Voter Suppression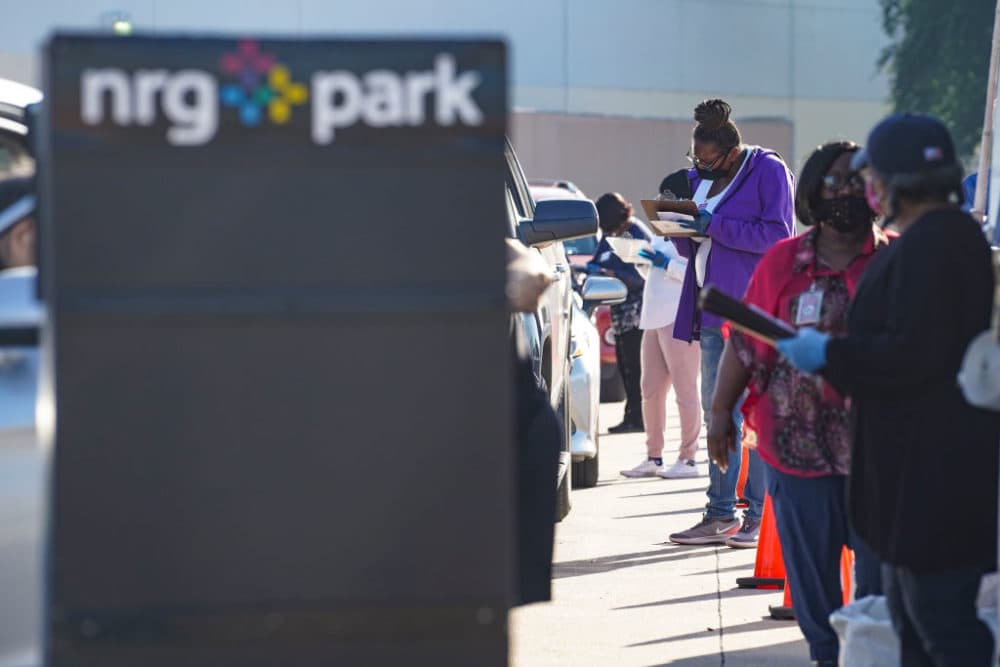 This article is more than 2 years old.
We are witnessing voter suppression in real time.
Black and brown communities in Georgia are being forced to wait up to 11 hours to vote. Voters in Harris County, Texas — home to Houston, the most populous city in Texas — have one location to drop off their absentee ballots. That's 4.7 million people, most of whom are people of color, with one place for ballot drop-off.
The president himself is promoting false claims about election fraud and ominously calling on his supporters to "to go into the polls and watch very carefully."
These suppression efforts of course have direct and devastating impacts on communities of color and on our poorest neighborhoods. What may be less obvious is that voter suppression is also terrible for people who care most about clean air, clean water and climate change. It's devastating for the environmental movement.
Systemic racism and voter suppression are nothing new; they have a centuries-long and sordid history in the U.S. Yet in 2013, when the U.S. Supreme Court gutted the Voting Rights Act of 1965, it was like someone stepped on the gas pedal. Since then, almost 1,700 polling places have closed, disproportionately in communities of color. The Brennan Center for Justice recently released a study showing that Latino voters now wait, on average, 46% longer to vote than white voters. Black voters wait on average 45% longer.

This is voter suppression and racial oppression plain and simple. It's harder to vote if you're Black or brown. This glaring disparity drains power from communities of color.
The resulting damage is straightforward, if not widely appreciated. Our research at the Environmental Voter Project shows that people who care deeply about the environment are more likely to be people of color, people who make less than $50,000 a year and younger voters.
This isn't surprising. These are the same people who are most affected by pollution and the climate crisis. They are also the people most likely to have power plants in their communities and live in communities with the highest asthma rates. Even COVID-19's disproportionate impact on communities of color can be linked to higher rates of exposure to air pollution, as a recent study by Boston University and Massachusetts Attorney General Maura Healey found.
Taken in total, this means that the very same people who care most about the environment — people of color, poor people and young people — not only live with the lion's share of society's pollution, but they are also the most frequent targets of voter-suppression efforts. Thus, whether intentional or not, voter suppression directly undermines the environmental movement's power. When it is harder for historically disenfranchised people to vote, it is harder for environmentalists to vote.
So what does this mean for the environmental movement?
The first and most obvious thing is to understand that environmental justice is racial justice. But we must also understand that the inverse is true too — almost any racial injustice, including voter suppression, depletes the power of the environmental movement. These are not parallel paths, they are inextricably linked.
Any person who cares about our climate must also fight to end the structural racism that exists in our country.
We environmentalists fight daily to protect humanity, but every fight we enter is also a choice about who we work to protect. Will we fight for the privileged or the oppressed, the heard or the unheard, those who bear the brunt of environmental impacts or those who don't?
Any person who cares about our climate must also fight to end the structural racism that exists in our country.
We are waging a long-term battle to end structural racism and oppression. But we're also engaged in a short-term battle with a very real deadline: November 3.
Early voting has begun. Black and brown Americans are being denied their voice and their rights right now. If you care about environmental justice, you must also fight for voting rights. Voter suppression is not only a poisonous assault on civil rights, it's an assault on our collective efforts to protect the planet.
We cannot sit on the sidelines. Help people make a plan to vote. Support voter protection efforts. Volunteer to be a poll watcher.
We need to act. If we do, we'll strengthen not only our democracy, but also our planet's chance for survival.