Trump Lost. So Why Is The Media Still So Fixated On His Supporters?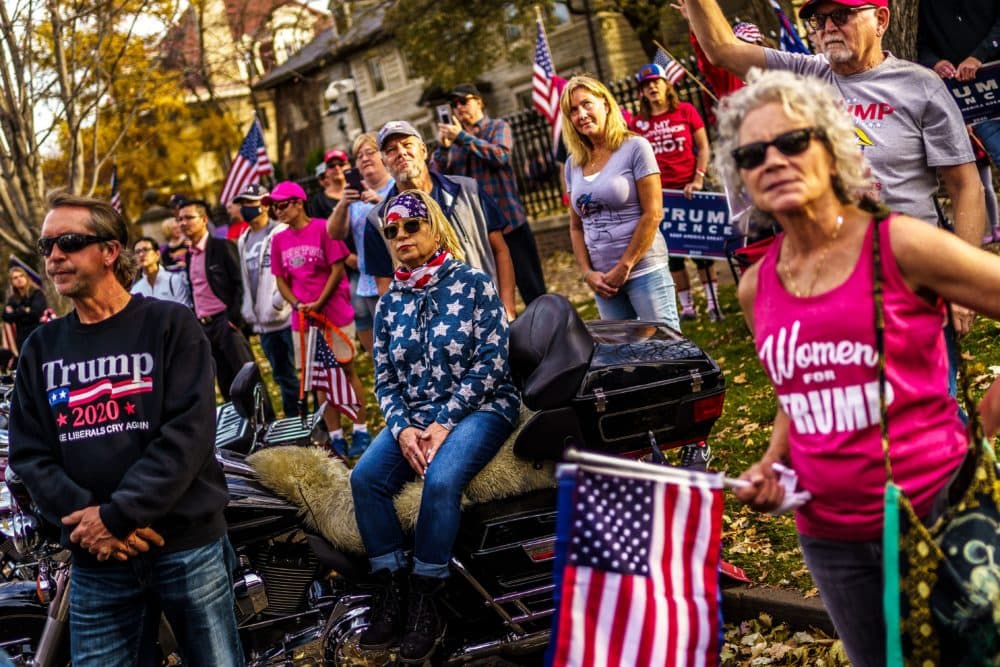 This article is more than 2 years old.
I was 10 years old when my family moved to eastern Washington, exchanging the grey skies and rolling fields near the Ohio River for the wheat fields and early snows of a city near the Spokane River. My father had taken a job as the minister of a Congregational church and in the summer of 1969, our family of six, including my infant brother and our beloved orange tabby cat, loaded into the 1967 turquoise blue Mercury sedan and drove west.
My images of the American west were drawn from books and movies. They did not prepare me for our move to a rural area with its mix of ramshackle houses and trailers next to tidy farms and suburban-aspirational ranch-style houses like ours. Our town consisted of a small farm and feed store, a post office, an elementary school and a diner. A billboard sponsored by the John Birch Society warned of the evils of communism.
Americans were grappling with civil rights, poverty and protest over the Vietnam War. In that public reckoning, whose voices were centered was critical to what could change. Just as important was how to cover those who refused progress, including police who beat and teargassed protestors, those who spat on children integrating public schools and government leaders who fanned the flames of hate.
I think of my childhood in the rural west when the media insists on "our" need to listen and give voice to disaffected white voices.
One day early in our first summer, a friend and I biked to the local diner. The bell on the door jingled as we entered, took up our seats at the counter, and ordered soft serve ice cream cones. The air conditioner hummed. The owners, a husband and wife, were talking with the other customer about a new family. They used the "n" word to convey their contempt. My friend and I shared a steadying look, and I said, "I wish you wouldn't talk that way about our friends." After they threw us out, they called my friend's parents and mine. When she got home, her mom beat her with the same riding crop she used on their horses. My parents never took the call. I told them my story without fear of a beating.

I think of my childhood in the rural west when the media insists on "our" need to listen and give voice to disaffected white voices. I think they are referring to the conservative poor, working- and middle-class white families I grew up around. But those places and the people who live there are not the cartoonish versions the media has become fixated on. Living on land adjacent to reservations, employing migrant labor or working alongside Asian and Latin American laborers and landowners, a racism less exclusively defined by anti-Blackness nonetheless took especial energy from hating Black people. Equal to the racism was a strong authoritarianism that made physical abuse a part of the generational transmission of values. But not all my neighbors shared these values. And as the recent election showed yet again, neither do the majority of Americans. Yes, many supporters of Donald Trump are emboldened by his racism, but they are the minority and the media should stop sentimentalizing their hate.
When the media seized upon a false equivalence narrative to frame the contest between Trump and Hillary Clinton in 2016, it failed American voters. The media vowed to do better in 2020, but it is clear they are making a similar mistake now by centering aggrieved white Trump voters whose feelings of hurt and displacement they insist we as a nation must attend to.
From a story about a farmer in rural Nebraska who asserted, without evidence, that his combine was set on fire by "Antifa" to the trio ABC's Martha Raddatz interviewed who refuted facts as indisputable as the existence of COVID-19, climate change and the results of the 2020 election, the media is seemingly obsessed with white grievance. At a moment of profound consequence for rebuilding norms around civic discourse, why are we asked to listen to the people who are least interested in that project? To be sure, those voices are part of America. In every presidential election since 1968, white voters have favored Republicans. They did so again in 2020. But they are not the majority and that, rather than their sore feelings, should be the story now.
When the media fetishizes stubborn white voters as tragic figures to whom we must listen with compassion, I see something much more familiar. I see a damaging and willful choice to center a version of America that the majority of voters rejected. A focus on their bafflement that the facts no longer support their worldview, and their decision in the face of that disconnect to reject facts, lends their refusal a civic legitimacy it should not have. Who won the election is not a matter of debate. Nor is the existence of climate change, systemic racism or wealth inequality. We need new ways to contextualize this disengagement from facts and responsibility, but we more immediately need a sustained reinvigoration of public discourse centered on messages of responsibility, decency and competence.
Who won the election is not a matter of debate. Nor is the existence of climate change, systemic racism or wealth inequality.
Racism shapes political decision-making by voters in the U.S. But whose voices are centered and how we listen is a choice. The media fascination with white Trump voters gives a platform to the wrong voices at a moment when our nation needs to hear from the majority that elected Joe Biden, a majority is filled with young people, people who marched to protest the police killings of George Floyd and Breonna Taylor, Black voters across the U.S. who organized and turned out the vote, older white voters who have left the Republican party in disgust, and new coalitions that are emerging across region, race and class.
As a white child in a new town, I knew that racism was evil. Certainly, I learned that from my family, but by that age, I could also follow the news. Journalists shape the national message. We know that our information streams are highly polarized. Tech companies and media giants alike exploit division and conflict for profit. Which makes it all the more important for mainstream outlets to give voice to the majority whose will in this election is still denied by Trump. Some of us are appalled by the chaos and hatred that defined his term, and some are tired of him for other reasons, but all of us deserve reporting that rejects false equivalence narratives like there are "very fine people on both sides."