I Can't Be With My Mom This Thanksgiving. At Least We Have Game Shows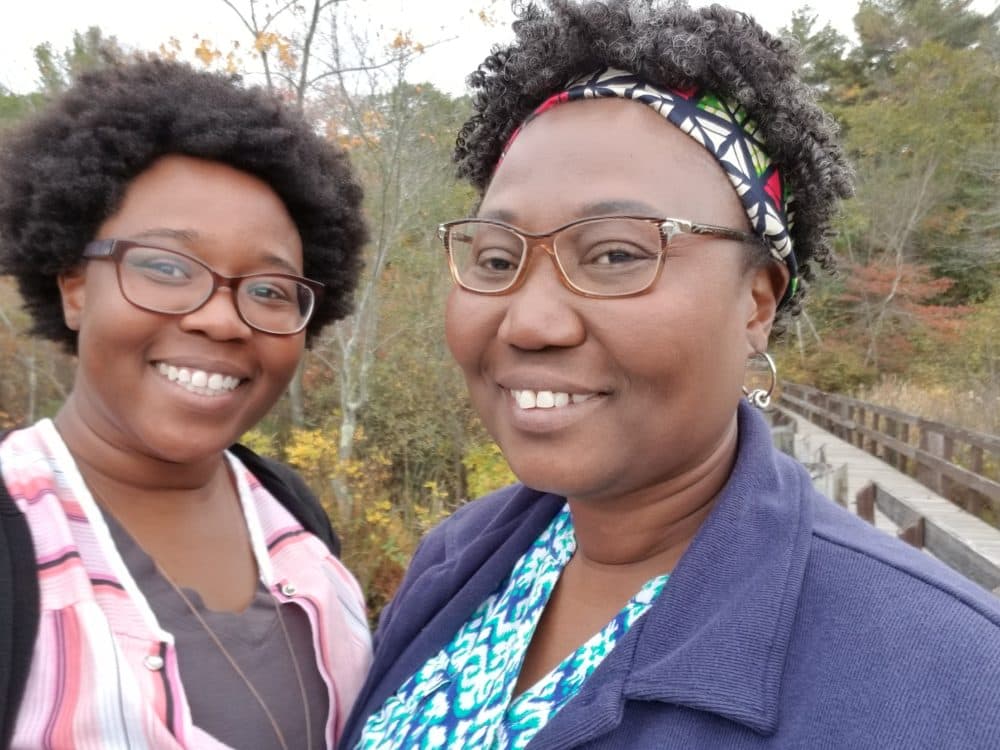 This article is more than 2 years old.
A few weeks ago, I spent 72 consecutive hours doing almost nothing beyond watching a show called "The Masked Singer." On this Fox channel creation, celebrities get dressed up in elaborate, colorful, full-body and larger-than-life costumes, and perform song and dance routines in front of a panel of "expert" judges: Robin Thicke, Jenny McCarthy, Ken Jeong and Nicole Scherzinger. Then, the judges — along with a gigantic studio audience and millions of viewers at home — try to guess who is under the mask based on their voice, performance and a series of weekly cartoon vignettes that sound and feel like a limerick on trippy drugs.
Season four just started, and after the first few episodes, I began to realize I was really missing out on a gem. So I decided to watch season three. And then, I "decided" to binge it. For three days, I stayed bundled up in blankets on my second-hand chaise couch. I interrupted my self-induced hibernation only to make social media posts and to participate in an extended-family Zoom call and a work meeting, each time appropriately pretending like I was a fully functioning adult who had for sure taken a shower that day. Otherwise, I left the chaise only to sleep and cook meals that I'd consume on the couch, my plate balanced on my knees.
I am depressed. A therapist once gave me the diagnosis, but I didn't need it to know who I am. I'm the kind of person who, sometimes, goes three days without showering or talking to anyone face-to-face. I was that person before the pandemic made so many of us into that person. I am even more that person now. One of my self-medication methods is to watch game shows.
I take solace in game shows because my mom loves them. When I watch, I like to pretend I am watching with her. If there's trivia, we yell out the answers "together." We guess who is under the masks "together." We giggle with glee at every reveal.
I take solace in game shows because my mom loves them. When I watch, I like to pretend I am watching with her.
She's the one who first introduced me to "The Masked Singer." I'd flown out to Wisconsin on a one-way ticket because she fainted at work and spent some days in the hospital. I spent that week mopping her floors, cleaning her fridge and cooking all of her meals. In between monitoring her blood pressure and liquid intake, doctors' appointments and acupuncture sessions, we watched a lot of TV. Once, she told me that sometimes she watches "Cash Cab" just waiting to see me on the screen. "Wouldn't it be so cool if one of my kids was on TV?" she'd exclaimed. This was particularly hilarious because A. I am almost never in New York; and B. I host a nationally televised show that she almost never watches.
A few days after I'd dragged myself away from the charming antics of Nick Cannon ("The Masked Singer" host and unsung star of the show), and appropriately guessing who was singing Sir Mix-a-Lot's "Baby Got Back" while dressed as a psychedelic teddy bear, I reached out to my mom. We talk on the phone at least once a week, but we've been avoiding discussing the upcoming holidays. My favorite way to spend them is to have her visit me in Boston, where I'd cook meals pieced together from Martha Stewart recipes and Tasty videos on Facebook. But this year, I just feel sad. Sad about the reality of the changing season in the reality of the NowTimes, and sad I won't get to see my mom.
When I finally texted to ask what her holiday plans were, she responded with a shrugging Bitmoji saying, "I Got Nothing." I smiled and called her, thinking it would be easier to discuss this difficult topic by phone rather than over text. I was sure she'd be just as upset as I was.
"Oh shoot!" she yelled a few minutes into the call, as I tried to offer helpful suggestions on whether she could safely get together with my sister, who lives nearby.
"What's wrong?"
She'd accidentally changed the channel on her TV, and she was right in the middle of a clutch moment on "Deal or No Deal," her favorite show of the moment. The young woman on the show was in a perfect game-show position, poised to go home with several hundred thousand dollars in winnings.
"We should go on this show!" she said, "You should look up how we can get on this show!"
My mother is a pediatrician in Milwaukee, Wisconsin. She spent the early weeks of March going to work, responding to mostly young, Black and brown mothers with increasingly heightened concern for every runny nose and cough from their vulnerable children. For her own health and safety, she stayed home for several weeks before recently returning to work, where she's learning how to connect with her patients via telehealth appointments. She is dedicated to her job, but when she watches a game show, she'll tell me, "We must be doing something wrong with our lives, can you imagine winning all that money in just one instant?" It is all particularly hilarious coming from a woman who A. Does not even play the lottery, and B. Is shy when speaking up on Zoom with our extended family.
We spent the rest of the call talking about the reboots of "Deal or No Deal" and "The Weakest Link." ("Oh, did you see that one where they voted off that professor from California? She was real smart, but that's just how it goes on that show!") Before hanging up, my mom reminded me, again, to look up how to get on "Deal or No Deal." We did not reach any real resolution on what she will do for the holidays. Or what I will do.
Because this pandemic is not a game, and there is no payoff that could outweigh the risk of flying to Wisconsin to see my mom right now. Instead, we will both be doing what many Americans will be doing: Playing it smart, staying safe and staying home. I plan to make dinner for one, and hopefully, I'll have the energy to eat at the table instead of balanced on my knees on the couch. In all likelihood, I'll spend the day watching game shows, and pretending my mom is there with me.