Amanda Gorman's Poetry Opened The Door, And 'Let Everyone In'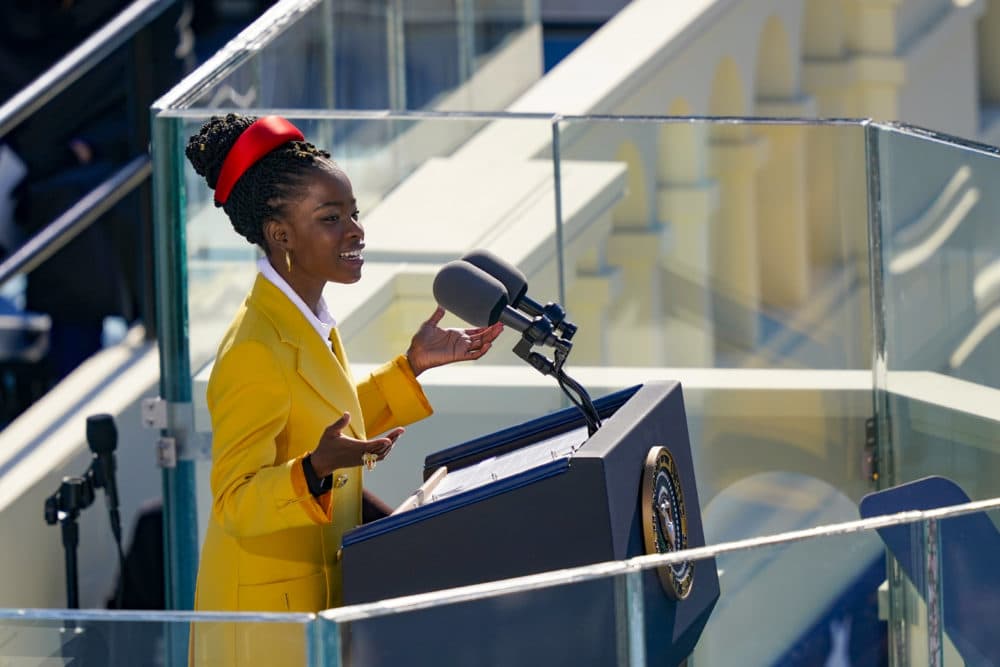 After President Joe Biden and Vice President Kamala Harris were sworn in Wednesday, Amanda Gorman, a 22-year-old poet and Los Angeles native, stepped onto the inaugural stage — maybe the largest stage there is — to deliver her poem "The Hill We Climb." And she delivered a showstopper.
Inaugural poems, by nature, are challenging to write. They are grand, sweeping, occasional poems meant to be all things to all people. They acknowledge where we are as a society but their primary focus harkens to the future, striving to articulate the vision of a more perfect union. Gorman's exhilarating five-minute poem is full of possibilities and plays on subtle rhymes and repetitions that build line after line.
And yet the dawn is ours
before we knew it
Somehow we do it
Somehow we've weathered and witnessed
a nation that isn't broken
but simply unfinished
As the former first National Youth Poet Laureate, Gorman is no stranger to using her pen as an instrument of change. I can see why Dr. Jill Biden, our new First Lady, recommended her for this auspicious occasion. Gorman's clear-eyed recitation and powerful vision make her a strong advocate for literature and the arts. She is the right messenger for this pivotal time in our history. Her very presence underscores the importance of representation — in the classroom, on the page and on the stage:
Where a skinny Black girl
descended from slaves and raised by a single mother
can dream of becoming president
only to find herself reciting for one
In recent interviews, Gorman has shared that she, like President Biden, has a speech impediment and reciting poetry has helped her overcome it. She also turns to this mantra for strength: "I am the daughter of Black writers, who are descended from Freedom Fighters, who broke the chains who changed the world. They call to me."
[Gorman] is the right messenger for this pivotal time in our history. Her very presence underscores the importance of representation -- in the classroom, on the page and on the stage ...
The poem's broad themes of struggle, reconciliation, democracy and unity are quintessentially American; meaning, the listener can envision themselves as part of this country's complicated song. It nods not only to literary luminaries like Langston Hughes ("Would destroy our country if it meant delaying democracy") and Maya Angelou with its incantatory nature ("We will rise from the gold-limbed hills of the west, / we will rise from the windswept northeast") but also gives a hat-tip to Hamilton creator Lin-Manuel Miranda in these lines:
Scripture tells us to envision
that everyone shall sit under their own vine and fig tree
And in these memorable, musical lines:
"history has its eyes on us"
As the youngest inaugural poet in U.S. history, Gorman joins an exclusive list of visionaries who have read poems at presidential inaugurations, including Robert Frost, who famously recited a secondary poem, "The Gift Outright," from memory because the solar glare prevented him from seeing the poem he wrote for the occasion. Other inaugural poets include Maya Angelou, one of Gorman's inspirations, Miller Williams, Elizabeth Alexander and Richard Blanco.
As a nation, we must never forget the power of the arts to bring communities together. Like most industries and organizations reeling from COVID-19, arts budgets have been slashed, stages have gone dark and school arts programs diminished. Words matter. Gorman's inaugural poem illustrates how transformative and essential poetry is. Her extraordinary poem is expansive, inclusive and opens the door to let everyone in. And once you're in, we are reminded, there's work to be done:
For there is always light,
if only we're brave enough to see it
If only we're brave enough to be it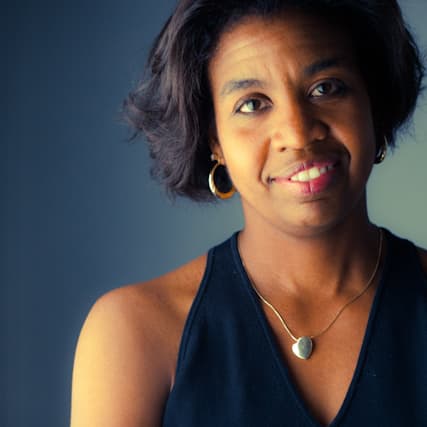 January Gill O'Neil Cognoscenti contributor
January Gill O'Neil is a poet and associate professor at Salem State University, and the former executive director of the Massachusetts Poetry Festival.