Being A Runner Saved Me. Don't Take Sports Away From Other Transgender Kids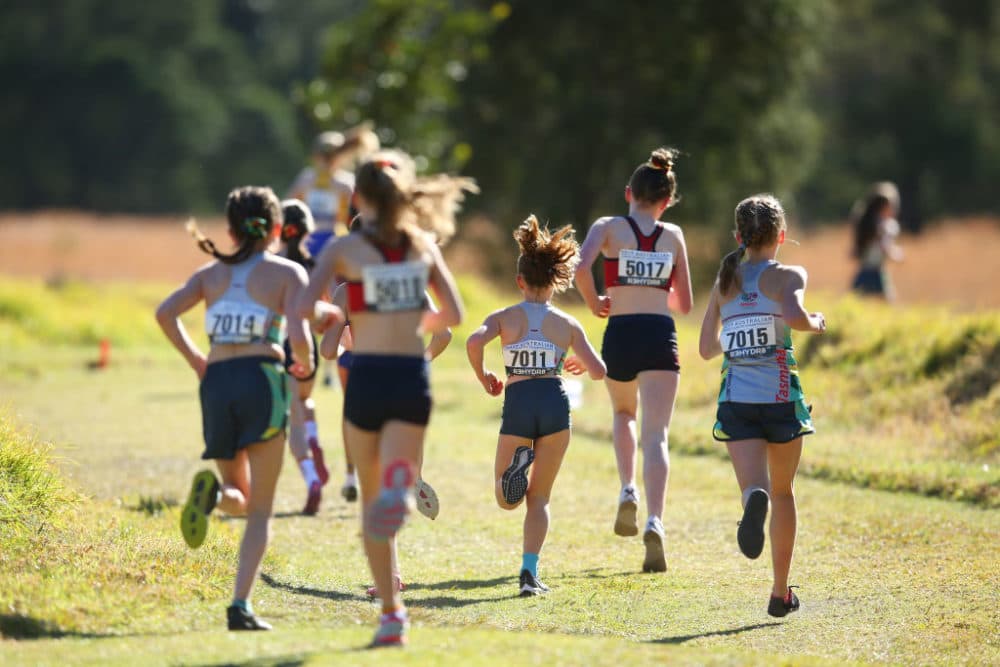 This article is more than 1 year old.
I always listen to NPR when I run. As a closeted trans kid living on Cape Cod, I had never met an openly transgender adult, and I didn't have the tools required for me to accept that part of myself. Listening to the radio made me feel like there was a world beyond what I was experiencing, and running gave me assurance that if I could just get through this next chapter, there would be something good waiting for me on the other side.
This morning, eight years later, I checked the Weather Channel app before layering leggings under my usual long sleeve and crew neck sweatshirt combo. When I first began running in high school, I would wear as many layers as the weather allowed — sometimes more — to cover as much of myself as possible. It was my way of minimizing the parts of myself perceived as feminine. But today I'm being purely practical: my layers don't hide my limbs; they protect them from frostbite.
Growing up, I did not know what it meant to be transgender. In fact, the first time I heard the word out loud was when Rush Limbaugh spent a few shows disparaging Chelsea Manning, specifically her pursuit of gender confirmation surgery. In my devoutly Catholic and conservative home, Rush Limbaugh and Fox News were the only conduits I had to that world.
My middle and high school were no better. A Catholic school run by a strict headmaster, my classmates — and teachers — felt emboldened to say things like "tranny" and "transvestite" and "biological male." Hearing my classmates use those outdated words made me feel petrified. But really, it was hearing them from adults that did it for me. It signaled that they thought these people were less than human, that they were worthless, even disgusting. I couldn't help but wonder, was I disgusting, too?
The year that Chelsea Manning came out as transgender, I joined the cross-country team at my high school. I was terrible. My feet were flat, and my cheap shoes, definitely not made for running, must have added full minutes to my mile time. But I loved it. I loved the feeling of exhaustion and the rhythm and camaraderie and the nerves before a race. I learned proper running technique, how to stretch to improve and recover, and from that point on, whenever I wanted to feel something, or nothing, I ran.
At that point in my life, existing in my body without access to terminology describing gender dysphoria, I would do everything possible to avoid bodily awareness, be it mirrors, trying on new clothes in a dressing room, or changing at home. In contrast, when I ran, all I could think about was the burning sensation, the lactic acid brimming in my glutes and thighs, the feeling that I could go on forever.
As I run this morning, a familiar loop around Boston Children's Hospital, I think about the sports bans popping up across the country, and I wonder if the politicians defending them, and conservative media personalities rattling on about them, know that we remember the things they say. Ten years later, I remember.
In the first few weeks of 2021, more than 15 states have proposed bills aiming to ban transgender kids from playing sports. Some specifically target transgender girls, and others propose a blanket ban on all transgender kids in sports.
I wonder what kinds of conversations are happening between parents and their transgender kids in kitchens across the country right now. After homework is done and plates of spaghetti have been cleared, parents are having to sit down and explain that their child may soon be forced to leave the soccer team they love. How does one explain to a child that a man in a suit in a state house signed some paper, and now, because of who they are, they aren't allowed to play sports?
For many kids, a sport is that safety net, there to catch them when things get tough.
I can't help but think back to my own childhood. Even though I had not yet come to terms with who I was, athletics was a net that caught me every time I felt like giving up.
In a year marred by more national and personal tragedy than this country has experienced in decades, why are we debating who gets to be part of a team and who will be forced to sit on the sidelines and watch? Sports inclusion is by no means a cure-all to the discrimination and stigma transgender youth face, but, for many kids, a sport is that safety net, there to catch them when things get tough.
As the Nike saying goes, "if you have a body, you are an athlete." My athleticism, in all its forms, is as integral to who I am as my transness, my family, my love of primary colors, my wonky eyes, and my passion for advocacy. I don't know what I would have done, as a kid, if an adult told me I had to choose between coming out openly as transgender and being an athlete.
I've always been both.