Biden's Speech Made Progressives Happy. But There's More Work To Do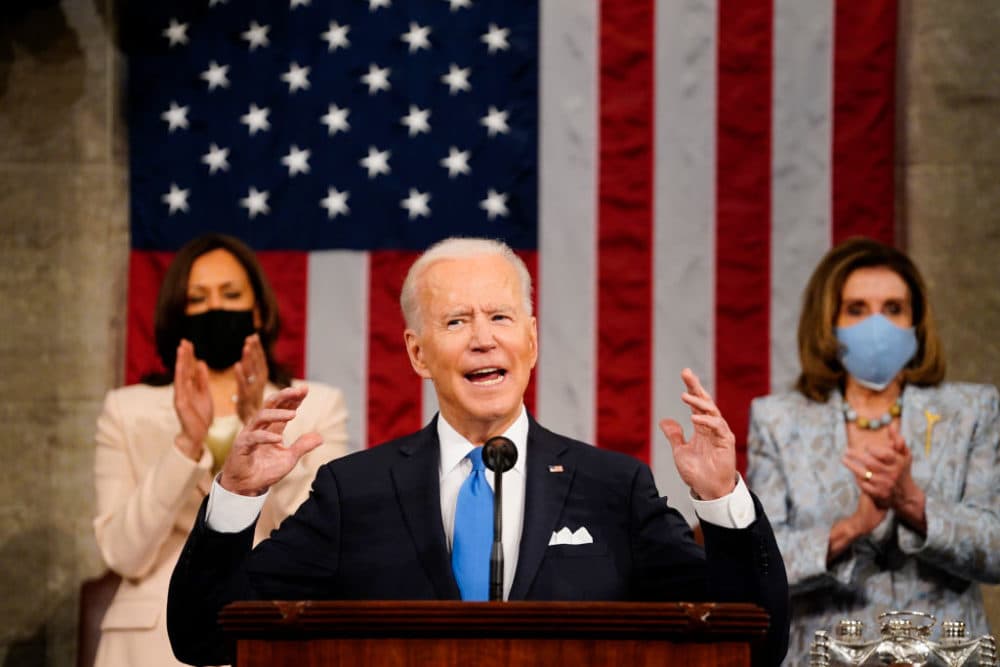 President Joe Biden's first formal address to a joint session of Congress is in the history books, and it suddenly seems a lifetime ago that his predecessor was refusing to shake Speaker Nancy Pelosi's hand at the State of the Union or that a president speaking from that revered podium had been scripted by Stephen Miller.
While the wounds of the past four years are far from healed, the tone and theatrics of this joint session were a clear sign that times have changed.
There was no greater sign of that change than the content of the speech itself. To hear a president acknowledge science, exhibit compassion and aspire to inclusion was a refreshing contrast to the divisive bile spewed by the prior occupant of the White House.
Biden may not have been the first choice of most progressives back in the days of crowded primary debate stages — he wasn't mine — but tonight many on the left were heartened to see the president champion policies that they have been calling for, for years. As President Biden reflected on his first 100 days in the Oval Office and unveiled his American Families Plan, here are my six key takeaways:
1. Progressive advocacy works. Many of the marquis policies rolled out in tonight's speech have their roots in years of progressive advocacy. Free community college, paid family and medical leave, a wealth tax, free preschool, affordable child care and more are products of countless hours of advocacy from boldfaced progressive names, grassroots activists and everyone in between.
The American Families Plan leaves progressives with plenty of work to do — Biden's proposal, for example, only addresses two-year community colleges as opposed to all public two and four-year institutions — but still represents significant victories for the left. Having spent countless hours personally negotiating the Massachusetts paid leave law, hearing the President of the United States speak the words "no one should have to choose between a job and paycheck or taking care of themselves and a loved one — a parent, spouse, or child" made me leap off the couch and cheer. The progressive community should be emboldened by these wins, and redouble their efforts to push the Biden administration and moderate Democrats in Washington to embrace more of their proposals.
2. Big pharma lobbyists won't be happy. While he didn't include this language in the actual American Families Plan as significant numbers of House and Senate Democrats requested him to in recent days, Biden did make clear that he supports an expansion of Medicare and giving Medicare the power to negotiate prescription drug prices — which he called "outrageously expensive." That's a path that falls short of Medicare for All, but still represents the opportunity to get up to 40 million more people covered, depending on how eligibility is expanded. It's also an opportunity to save Medicare more than $450 billion by getting a better deal on the medicines people need to stay healthy — something that has been proposed for years, but has come up short after big pharmaceutical companies flex their muscle on Capitol Hill.
3. It shouldn't have taken until 9:55pm for issues of racial justice to come up. President Biden spent about four minutes discussing issues of race in America, and voicing his support for the George Floyd Justice in Policing Act, the COVID-19 Hate Crimes Act and the John Lewis Voting Rights Act. These bills are crucial and should be sent to the president's desk immediately, but it was disappointing that the Biden spent relatively little time talking about the injustices that BIPOC Americans face every day. Our country is in the throes of a vital conversation about race, and by not going deeper into how he will address the needs and fears of families of color, he failed to meet the moment.
"[N]o one should have to choose between a job and paycheck or taking care of themselves and a loved one – a parent, spouse, or child"

President Joe Biden
4. It took a global pandemic, but Washington may finally be learning that there's no such thing as a women's issue. For ages, advocates for paid leave, expanding the child tax credit, free preschool and other family-friendly policies have been making the case that these programs benefit everyone, not just women. It may have taken the so-called "shecession" to get the light bulb to go off for many of our representatives in Washington, but it seems that current leaders understand that there cannot be a full recovery from the overlapping crises of the past year without addressing the challenges facing women and families, especially BIPOC women. As the president pointed out tonight, "two million women have dropped out of the workforce during this pandemic." More than ever, what politicians have traditionally thought of as "women's issues" are clearly impacting all of us.
5. Symbolism isn't everything, but it sure is powerful. It has been 14 years since Speaker Pelosi sat behind President George W. Bush for the first time at the State of the Union address. Back then I was 27, and running the Massachusetts Women's Political Caucus. I still remember turning on the television and seeing Pelosi up there in a celadon green suit, breaking the mold by virtue of her mere presence. It was a powerful image, and is seared in my brain. The picture of Pelosi side by side with the first female, Black and Asian American and Pacific Islander vice president in Kamala Harris will join that memory as an undeniable sign of progress. Hearing the president say "Madam Speaker, Madam Vice President" was an absolute delight. May it not take another 14 years for the trio to be complete.
6. The House Chamber has been reclaimed. Members of Congress were in the very same gallery where many had barricaded themselves against violent insurrectionists a little more than two months ago. With the violence and hate of the January 6 attack on the Capitol so fresh in our collective memories, the importance of this space being in the national spotlight for the tradition and pageantry of a presidential address felt like not just a milestone, but a cleansing event.
President Biden heads back to 1600 Pennsylvania Avenue tonight buoyed by polling shows that the contents of the American Families Plan are deeply popular. Seventy-one percent of likely voters are in favor of bolstering the care economy.
But the president also knows that the pressure will be on him to do more. As President Biden hits the 100-day mark, this speech has shown progressives that their loud and organized voices can yield results on the issues that matter to the left. To me, that's a call for progressives to put their foot on the gas in the push for what was missing tonight — a broader commitment to racial justice, Medicare for All, eliminating student debt, a civilian climate corps, and more — so that when the president takes that rostrum again for the State of the Union next January, we have even more to cheer.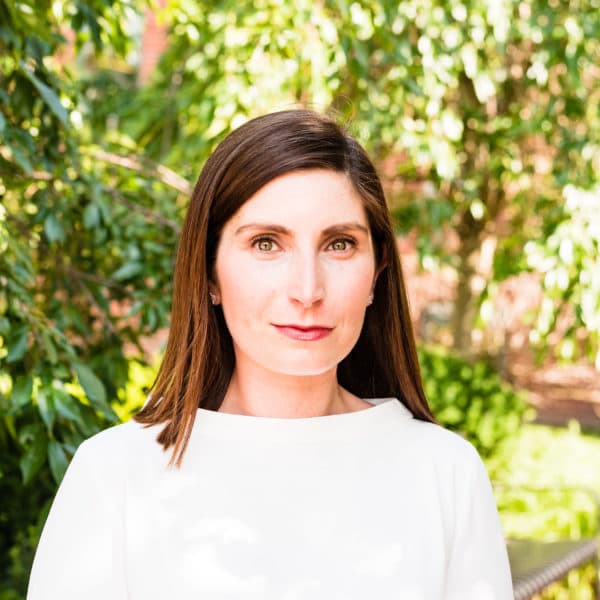 Jesse Mermell Cognoscenti contributor
Jesse Mermell is the former president of the Alliance for Business Leadership and a former candidate for Congress in Massachusetts' 4th Congressional District.