26 Years Ago, John Salvi Killed My Colleague. Now I Volunteer As An Abortion-Clinic Escort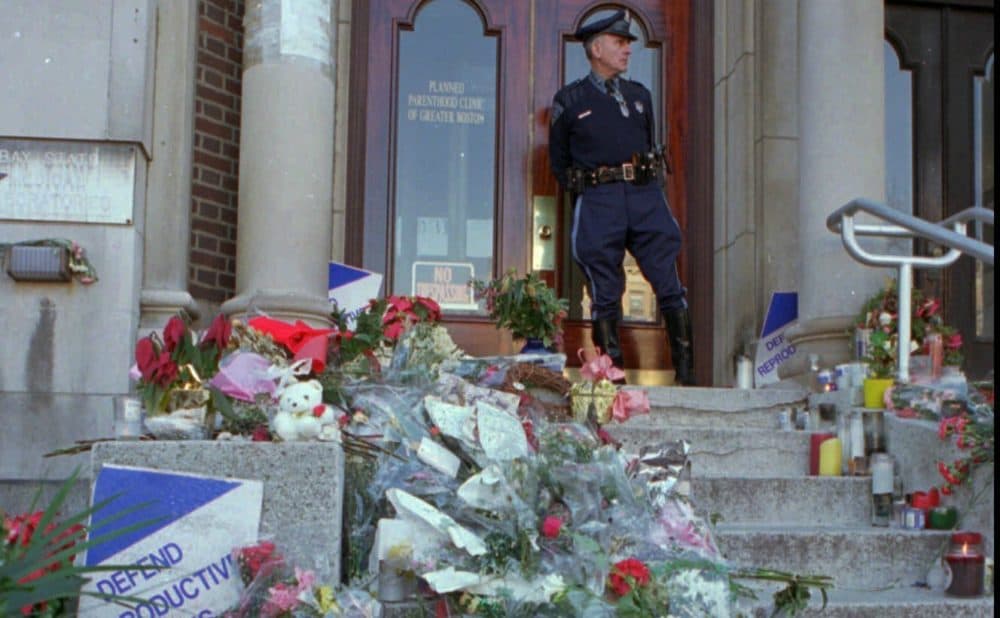 Next term, the Supreme Court will hear a case that could undercut abortion rights or threaten Roe v. Wade, the decision that made abortion legal nearly a half-century ago. After I witnessed a deadly abortion clinic attack 26 years ago, I now volunteer to escort women past protesters into health clinics.
On a morning that's a balmy 23 degrees, beneath a sunny, cloudless sky on Commonwealth Ave., a knife blade of arctic wind slices up from the side street. Seagulls careen above me, searching for scraps. I'm prepared for my shift at 9 a.m., on the dot, dressed in my parka, wool socks, warm shoes and layers underneath.
My colleague, a solid young woman sporting a bright red long winter coat soon joins me. Both of us wear the neon pink-orange vests that identify us to patients and protesters alike. I think they signal, "Don't Mess With Us," but in reality, they say "Clinic Volunteer" in English and in Spanish. My eyes scan metronomically left to right, then right to left, seldom stopping. I peruse every passer-by and those more than a half-block away, looking for clients or men carrying unusually shaped bags.
I've trained myself to notice whenever a car or SUV is parked near the front of the building. I note the license plate number, silently repeating it to myself. If a patient emerges, or someone exits the building to jump into an Uber, I mentally erase the number. I like to think that if I were hypnotized by the authorities, I might remember the plate.
I think they signal, 'Don't Mess With Us,' but in reality, they say 'Clinic Volunteer' in English and in Spanish.
Some things one cannot erase from memory — like Dec. 30, 1994. Anyone who was working at Preterm Health Services that day would tell you the same thing.
We were never this hyper-aware 26 years ago when a dark-haired, deranged man stepped to the front desk of our Brookline, Mass. clinic. He quickly pulled a shotgun from his gym bag, uttered the words, "This is what you get," and murdered our sweet receptionist Leanne at point-blank range.
He shot and injured two others on his way out of the building, continuing a rampage that had begun two miles away at Planned Parenthood. There, he had killed one person and injured three others.
That December afternoon, just 25 feet and one office away, I'd heard the shots. On the phone with a friend, I said, "I gotta go. Something weird is happening …" then dropped the phone onto my desk. Never even hung it up. Months later, when overcome by guilt that I hadn't gone to hold Leanne's hand in those final moments, I'm told by a Brookline fireman that she died instantly. Small comfort.
Most of the people who enter are couples, heads down. But there are single women of all races and ages, too. "Good morning. Welcome," I say as I open the door. I smile gently, but not too broadly. They barely look up. No matter the circumstances, it's never an easy morning.
Today's a quiet day. Not a lot of patients and only 2.5 protesters. Mary always hands out plastic rosaries, offering papers that look like prayer cards, and chanting: "Ask to see your ultrasound. We — are — here — to — help." An older gent holds a small sign but looks like he doesn't know what else to do. I count Martha as the half-protester. She sits in her car — the one emblazoned with posters that say — well, you can imagine. She only goes out onto the street to spell Mary when she needs a coffee or tea break, or just to pee at the Star Market.
Of course, there is little protection from a madman determined to kill or maim.
There is no buffer zone. For years, protesters could only stand 30 feet or so away from the building entrance. Not anymore. Today, they can walk right up to the edge of the sidewalk that borders the entrance. They stand six inches in front of my face and shout into the doorway. There's nothing I can do about it. I can't touch them. Respond. Spit or snarl. It is enough that I am there, signaling that this is a safe place for women and their partners to come. We warmly welcome them in the rain, snow, sleet and sunshine. We will help them walk past the protesters. We never presume that they need help, nor do we infantilize them.
Of course, there is little protection from a madman determined to kill or maim. Yes, the security guards carry guns and they're well trained. But they're inside the building, behind bullet-proof windows, monitoring street cameras. We're on the street. Women and men. College kids and oldsters like me. People who have seen the havoc that ignorance and hatred can reap, and young folks, whose idealism is still tender.
As volunteers, we're admonished never to speak to the protesters. Some younger volunteers say hello. I never do. Here's what I'd say if I could: "Hey Mary, when was the last time you took in an unwed mother, helped her through her pregnancy financially and emotionally, fed, clothed, housed and supported her and her baby, paid for her education and sent her off into the world loved and appreciated?"
Not a shift goes by when someone doesn't walk by me, looks me in the eye and quietly says, "Thank you." That morning it was a youngish guy who hadn't yet shaved. He reached out his hand and engulfed mine in a knuckle-crunching grip that nearly brought me to my knees. "Thank you for everything you're doing out here." Then he walked over to the other escort and did exactly the same.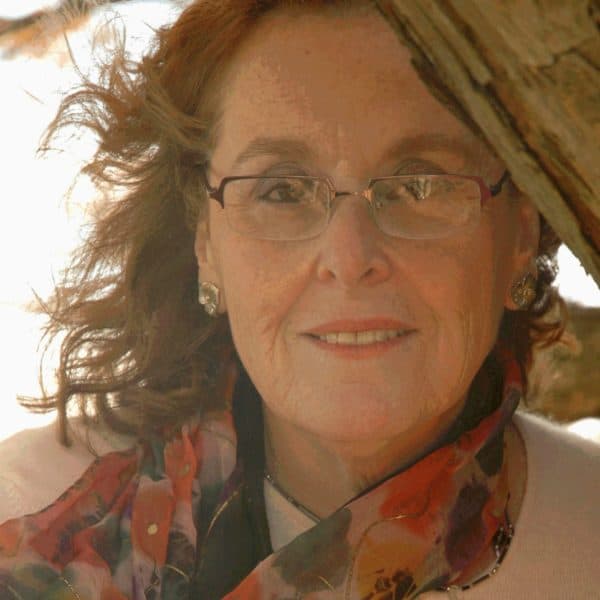 Sue C. Kelman Cognoscenti contributor
Sue C. Kelman is a freelance writer and editor. She's worked in nonprofit healthcare communications throughout her career.