Simone Biles' Competitive Glory Will Fade. But Her Message About Mental Health Will Endure
In June, after winning her seventh national gymnastics championship, Simone Biles tattooed Maya Angelou's words "And Still I Rise," signifying Black pride and self-confidence, across her left collarbone. This tiny cursive message rests just above her heart, hidden from public view unlike the Olympic rings etched into her right forearm, as if to preserve this poem as her private reservoir of strength. When early in her 2021 Olympic competition Biles summoned the courage to pull out of her team's competition and later exited the all-around competition due to mental shakiness, she rose to a new height of inspirational influence.
Already, she had bravely come forward to castigate those who run her sport when gymnastics was beset by rampant sexual abuse that left debilitating trails of trauma inside of her and other gymnasts. Biles described her depression that followed as being "the closest thing to death without harming myself." Then, on the global Olympic stage, she addressed the mental strain of the unbearable pressures resting on her shoulders. In doing this, Biles has energized a conversation about athletes and mental health which world-class competitors like Naomi Osaka and Michael Phelps had lifted boldly out of the shadows.
Long after the cauldron's flame is extinguished in Tokyo, Biles' words will burn brightly. Her Olympic exits – paired with the honest clarity of her explanations – will be in the minds of those who grapple with what it is to feel mentally unhealthy. But given the stigma that still hangs over mental health, Biles' message requires reinforcement from all of us, especially as her critics use social media to falsely accuse her of hiding behind mental illness as an excuse for her poor performance. It's not.
Long after the cauldron's flame is extinguished in Tokyo, Biles' words will burn brightly.
By her actions and with her words, Biles will empower others to share such feelings outwardly, perhaps for the first time, in seeking help towards recovery. Several decades ago, when I was felled by clinical depression, I felt ashamed and embarrassed. I confided my illness only to extremely close friends and begged them to stay silent about it. After absorbing Osaka's revelation at the French Open and Biles' blunt talk at the Olympics, then hearing Phelps in his Olympics commentary say, "It is OK to not be OK … we all need to ask for help sometimes," I knew I could write for the first time what I just did in publicly revealing my mental health struggle a few decades ago from which I recovered – and grew.
For Biles, her mental health condition played out in a surprisingly sub-par performance before she publicly connected her mind's state of being with her body's reaction. When a vault she'd performed hundreds of times went dangerously off track in the first event of the team finals due to what gymnasts call the "twisties," the world's greatest gymnast lost control of her body while spinning in mid-air. "I wasn't here, I wasn't right," she said of the absence of a twist, which frightened her, triggering her withdrawal.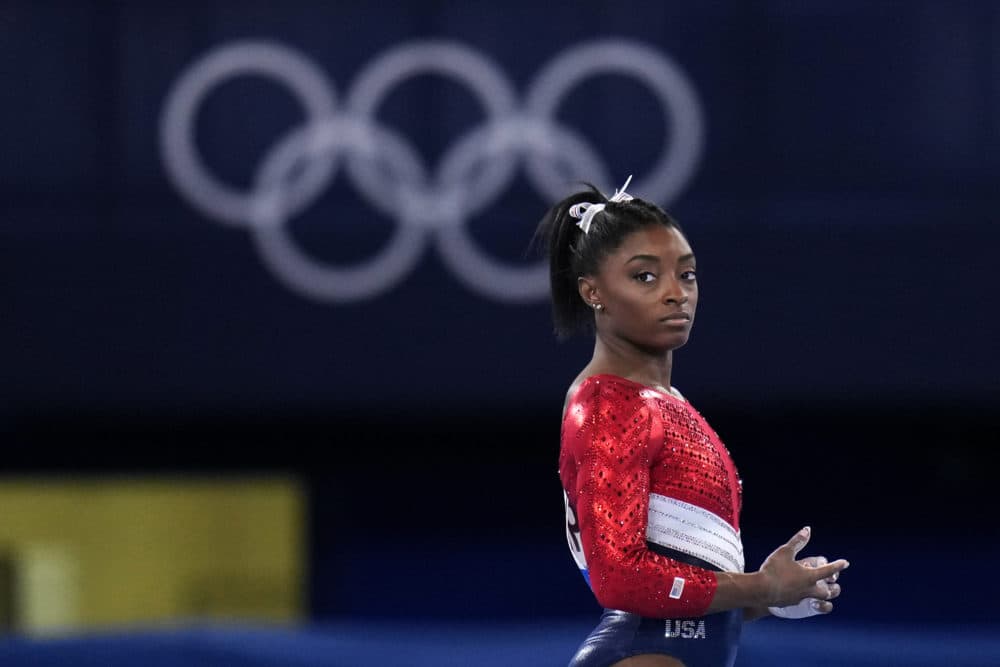 Once the twisties embed inside a gymnast, her trained instincts recede, superseded by thought, which can't keep up with actions. Worry sets in, and stress and anxiety increase. Given the dare-devilish skills Biles performs, a life-threatening spinal injury could occur. "You have to be there, 100% or 120%, because if you're not the slightest bit, you can get hurt," Biles acknowledged. "We have to protect our minds and our bodies, and not just go out and do what the world wants us to do."
We place expectations on athletes starting when they are young. Parents, peers, and coaches prod them to practice longer, compete harder, and winnow their many sports to one, making it their life's focus. News reports spotlight fistfights between parents who are angry about what happened in their kids' games. Verbally abusive coaches smother the joy that kids brought into sports. Emotional abuse includes body shaming and sexualizing young women by dressing them in skimpy uniforms, yet at this Olympics, we witnessed women pushing back.
Before the Tokyo Olympics, Biles, in The New York Times, called "unreal" the high price her body had paid with excruciating pain in her ankles a constant reminder. She felt betrayed by those overseeing her sport and let it be known that if she had a daughter, she would not allow her to train with USA gymnastics. Still, she pushed on, eager not for the games to begin but for them to end, she admitted, acknowledging the heavy weight of the pressures on her to excel beyond what a mortal Biles could do.
Like all athletes who burn bright when the floodlights are on them, Biles knows her competitive glory will fade. Still, by using her global platform to speak up for those whose voices are not so easily and widely heard, Biles joins with other women athletes – WNBA players and the U.S. women's soccer team, to name a prominent few – in pushing hard for gender equity in sports and social justice in our nation.
As Biles told The New York Times, in reflecting on her many roles, "At the end of the day, I'm such a huge athlete, but who am I? If you take off that mask, you know, who will I be? I'm still trying to figure that out." At these Olympic Games, Biles showed her vulnerability, and the world watched her as this 24-year-old woman began to figure out who she is when she is grounded.
I liked what I saw.