Why you should get off the sidelines of the abortion debate
On Wednesday, the U.S. Supreme Court heard Dobbs v. Jackson Women's Health Organization. The case stems from a Mississippi law that in effect bans all abortions after 15 weeks and could well overturn Roe v. Wade and take a sledgehammer to abortion rights in America.
You've been seeing headlines about the future of abortion access in this country and the consequences of the likely end of Roe. If you're like me — someone with more than one feminist t-shirt in your closet and multiple political marches under your belt — you'll click on every single one of those links.
This piece is not for you.
This piece is for the rest of the 60% of Americans who say that Roe should not be overturned, and the approximately 75% who believe that the decision to have an abortion should be made by a patient and their doctor. This is an open letter to voters who support abortion rights, but have never made it a priority.
You agree with us, and that's wonderful. The thing is, we're in a crisis. And we need you to do more than agree. We need you to act.
The evidence about the importance of access to abortion abounds. We've made our case in a clear and compelling manner, through gripping personal stories and through statistics. The loss of access to abortion care in America would hurt people, families and the economy. And it would disproportionately harm Americans who are already facing structural disadvantages.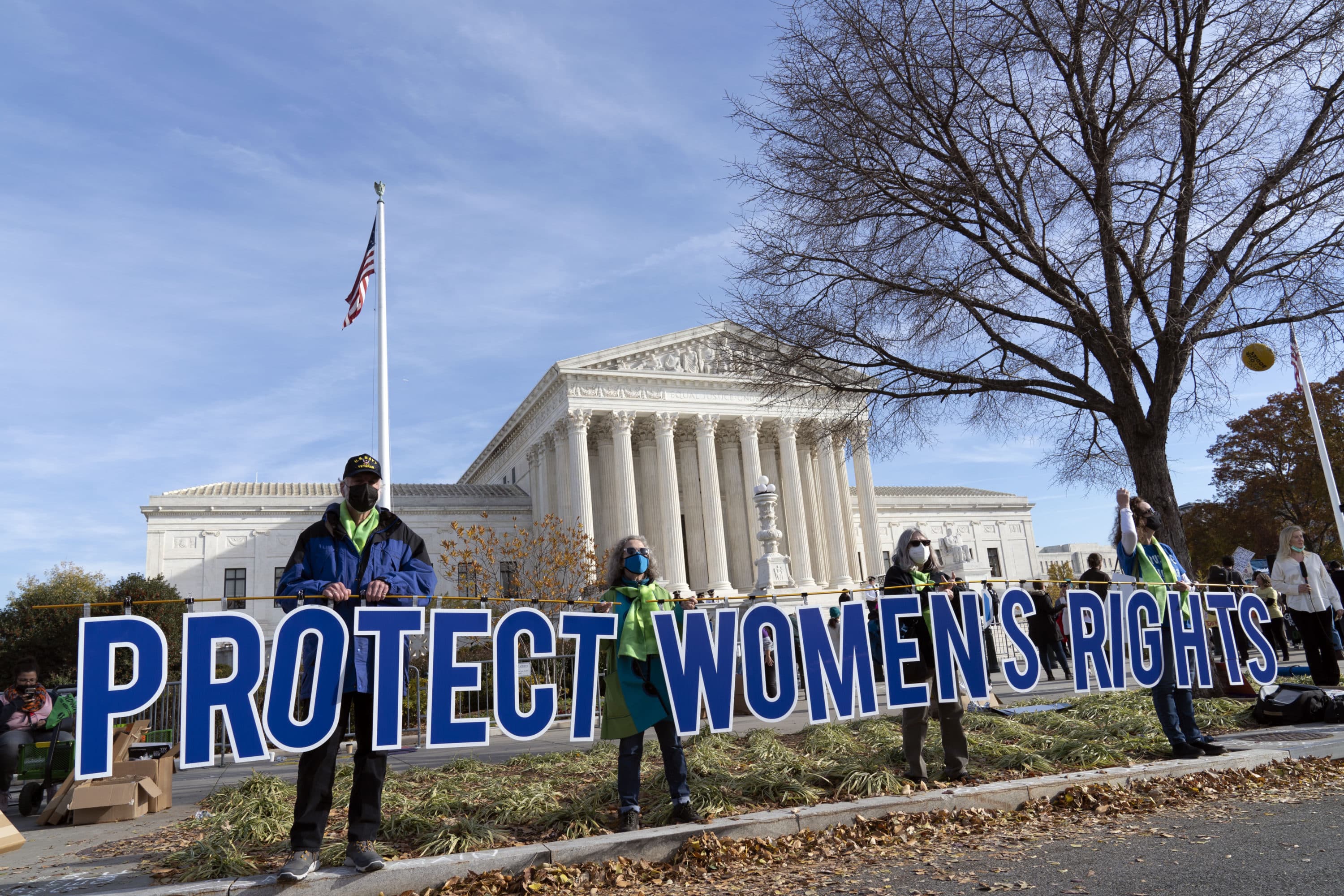 I've been working on this issue in various capacities for nearly 20 years. During that time, I've come across a host of people who support the movement in concept, but almost never in action. There's a good chance you fall into one of these categories.
As the Supreme Court holds the future of abortion rights in our country in the palm of its hand, let me speak directly to you.
You believe that people should be able to access abortion care, but talking about it makes you nervous. I get it. I grew up with a mom who would shake her head and say "yuckers" when she thought Michael Jackson danced too suggestively. My comfort zone is somewhere near the intersection of a Broadway revue, a Talbots store and a used Volvo sedan. And yet I worked for Planned Parenthood League of Massachusetts and testified in legislative hearings discussing topics and using words that I'm quite certain would make my mother faint. When something is important, you find a way to talk about it. With Roe on the chopping block, we don't need you to make your neighbors clutch their pearls. But we do need you to speak out. Just know that you should always use your voice in an inclusive way that feels authentic to you. Feminist t-shirt optional.
You support abortion rights, but you're really busy. Fair. Life is hectic, and to make it worse, we're entering the holiday season. I'm not asking you to quit your job and fight for abortion rights full time. (Though if you want to, great!) I'm asking you to take five minutes to donate any amount to an organization working to protect our freedoms, to share factually accurate information about the importance of abortion access with your networks, to prioritize voting for abortion rights champions when you're at the ballot box, or to contact your senators in Washington and tell them to pass the Women's Health Protection Act. Need help getting started? A list of easy ways to help is included here.
Abortion is important, but you live in a bright blue state so Roe being overturned won't impact you. Respectfully, you're just plain wrong on this one. Access to abortion care is a national issue, and we're already seeing that play out because of a Texas ban on abortions after six weeks of pregnancy (when most people don't even know they're pregnant). The Texas law has only been in place for a few months and early data are showing that people who can afford it are traveling out of state to seek abortions. Clinics in states like California, Maryland and Washington have seen patients from Texas. That means that wait times at those clinics will increase and access in those states will contract. The problem will only get worse if Roe is overturned and the access dominoes start to fall at a larger scale.
Sure, abortion should be legal, but you're a man and isn't this really a "woman's issue?" First of all, transgender and non-binary people get pregnant. Beyond that, access to abortion care is an issue of basic dignity, of racial justice, of democracy and of human rights. Abortion rights intersect with countless issues that have nothing to do with gender. While the voices of people needing to access abortion care must be at the center of the conversation, everyone has a role to play in the fight.
You know access to abortion care matters, but you think the economy is the issue that matters most right now. Then you'll want to read yesterday's report from the Brookings Institution. The report concluded that "overturning Roe v. Wade would diminish women's personal and economic lives, as well as the lives of their families." At a time when women are leaving the workforce in droves, and employers are struggling to hire, you can't care about business and the economy without also fighting for abortion rights.
It's time to get your head out of the sand and face what's happening. And then roll up your sleeves and join the fight.
You get it. Abortion rights are critical, but there is no way Roe will actually be overturned. I have some tough love for you: wrong, wrong, wrong. Some even argue that when the Supreme Court refused to block the Texas ban they effectively overturned Roe back in September. This is real, and is very likely happening. The impacts will be catastrophic. It's time to get your head out of the sand and face what's happening. And then roll up your sleeves and join the fight.
Overwhelmed? That's understandable. This issue is complex and has long been stigmatized. On top of that, there is just so much going on. So many valid causes that need your attention. So many demands of daily life. But the privilege you may have once held to sit out the abortion debate has evaporated. You're part of an overwhelming majority of abortion rights supporters in America. Abortion access is about to be decimated, and the consequences will hit almost every corner of our society.
Whatever has kept you on the sidelines of the fight for abortion rights until today doesn't matter. You're here now, and we need you.
Let's get to work.