Why we should care about Herschel Walker
To hear him tell it, Herschel Walker is a big believer in breaking the silence around mental health issues. Heck, in 2008, the former all-world running back wrote a whole book, "Breaking Free," about his struggle with Dissociative Identity Disorder, a syndrome in which he exhibited a dozen distinct personalities.
In the years since, he has consistently trumpeted this desire to be candid about his mental issues, vowing that "greatest achievement of my life will be to tell the world my truth."
That truth, according to police records, court documents, and Walker's own words, includes the following facts:
*A judge issued a protective order against Walker, and police removed a gun from his possession, after he allegedly made repeated threats to kill his ex-wife. She recalls him saying, "I'm going to blow your f---ing brains out."
*Walker talked about "having a shoot-out with police" after officers were summoned to his home to investigate a domestic disturbance. The cops removed a handgun from his possession.
*Walker routinely played Russian Roulette with guests to his home. "I take a bullet," he told two sports talk radio hosts, "put it in the cylinder, spin it and tell you to pull it. People would say 'Herschel, you're nuts.' I would take that gun, put it to my head, and snap it. That is what it was."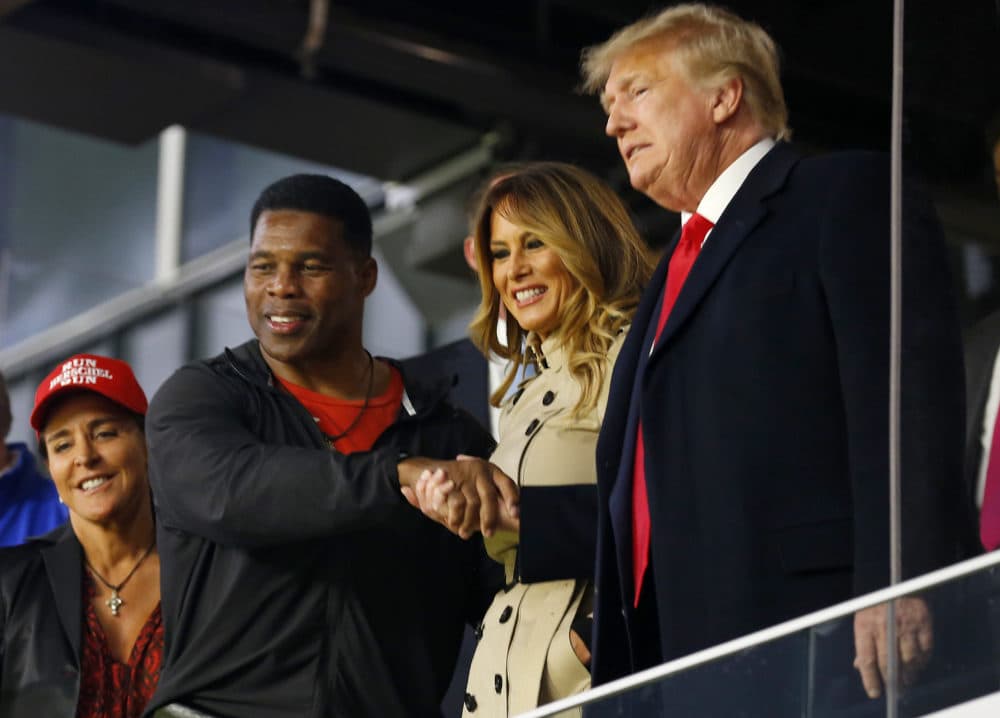 This kind of impulsive aggression is typical of former football players suffering from Chronic Traumatic Encephalopathy, a brain illness caused by repeated hits, which the NFL acknowledges afflicts up to a third of its former players.
To be clear, I am not saying that Walker has CTE. There's no way, at present, to determine that. But it's difficult to watch Walker in his few public appearances and escape the conclusion that he is suffering from some form of cognitive decline. Consider this brief and indecipherable statement, posted on Twitter:
"Build back better. You probably want something written, like law of the land, stating all men are to be treated equal. Oh! We have the Constitution. So you probably want to put people in charge whose gonna fight for the Constitution. Just thinking. God bless you."
Or the way a recent friendly interview on Fox New gradually descends into incoherence. Or his August 2020 appearance on another right-wing platform, which devolves into a completely insane endorsement of an anti-COVID product that does not exist.
Simply put: Walker does not appear able to speak, or think, beyond a set of memorized talking points.
His decision to skip the Republican primary debate last week was utterly predictable. As much as Walker wants to speak his truth, his handlers want him out of public view for as long as possible. If he can secure the Republican nomination, the theory goes, he may win his race against the Democratic incumbent, Sen. Raphael Warnock, simply owing to the hyper-partisan nature of American politics.
There was a time in our political history, not so long ago, when threatening to kill your wife, or having police confiscate a gun from you, or bragging about playing Russian roulette, would have disqualified a person from serving as a public servant. In today's GOP, this kind of violent ideation may be closer to a badge of honor.
Walker has been enlisted as a candidate of color by a party that no longer bothers to hide its sympathy for white supremacists.
But there's something fundamentally tragic about watching a major party enable a candidate who cannot dependably form a coherent sentence. It registers as yet another form of exploitation, with obvious racial overtones. White executives and owners made a fortune off Walker during his career, while his own body and mind paid the price.
Now, Walker has been enlisted as a candidate of color by a party that no longer bothers to hide its sympathy for white supremacists. To remain viable as a Republican candidate, Walker — who grew up in one of the most racist counties in America — has had to stand before predominantly white rally crowds and say things such as, "Don't let the left try to fool you with this racism thing."
He clearly yearns to feel like a winner again, just ask Donald Trump, the man who, years ago, helped bring about the collapse of the football league in which Walker once starred.
But it's the corporate donors who want Walker in the Senate most of all. Behind closed doors, there is little doubt among them that his record of mental instability and erratic behavior is unworthy of higher office. They value him not for his intellect or empathy, but because he'll vote to protect their profits — whether or not his brain can decipher the legislation he might be called to vote upon.