Oh Celtics, take me to the promised land
When I was a young journalism graduate in the late 1970s, newspaper jobs around Boston were scarce and I found myself scrapping for work as a freelancer. I'd tried my hand at waiting tables and my manager at 33 Dunster Street in Harvard Square had not very subtly suggested I try another line of work — after one shift.
I managed to get some reporting assignments from a few publications and on a lark, I called the front office of the Boston Celtics to see if there might be some work for an ambitious young writer who was also a basketball fanatic. As a young kid in New Jersey in the '60s, I'd watched the Celtics dynasty unfold on television. Led by Bill Russell, the team seemed to win every year. Little kids inevitably hitch their wagons to the champions: I became a lifelong Celtics fan and an avid pickup hoops player. 
Howie McHugh, the ancient public relations chief who'd been with the team since its inception in 1946, told me I could interview the players and write up features for Hoop magazine, the NBA publication sold at games. The pay was lousy, but it put me in the gym and got me into press row at the old Garden.
At the time, the Celtics were in a serious trough. It was after their 1976 championship against the Phoenix Suns and a few years before the arrival of one Larry Joe Bird. After John Havlicek, their transcendent all-star retired, the team fell off a cliff.  The roster was a mashup of fading stars like Dave Cowens, Charlie Scott and Jo Jo White and a promising youngster named Cedric Maxwell. Head coach Tom Heinsohn was replaced early in the 1977 season by Satch Sanders and the team would finish 32-50, a record not nearly good enough for Celtics fans used to putting up new banners in the rafters on an annual basis. It was a very long way from the dynastic Celtics of the '50s and '60s who won 11 championships in 13 years.
I interviewed the likes of Jeff Judkins, a second-round draft pick who had showed some early promise and was being called "Little Hondo" as a way to compare him to Havlicek. He lasted two seasons, mostly on the bench. I interviewed Rick Robey, a big man out of Kentucky, who lasted five seasons. His claim to fame was being Larry Bird's best friend on the team. I interviewed Marvin Barnes, a talented but enigmatic former All-American from Providence College. He told me he wanted the Celtics to be his last stop in the NBA. It was. He was cut after just a few games and never played in the league again.
In August 1979, Howie asked me to interview the newly arrived Bird, fresh in from French Lick. I met the reluctant young college star at his agent's home in Brookline. He was clearly uncomfortable answering questions and nervous about the weight of the outsized expectations that had presaged his arrival in Boston. He was being touted as the franchise's savior and he was well aware that he was coming to a city with rabid, some say, loony sports fans who were hungry for a return to glory.
At that moment, it wasn't clear just how he would fare. I remember hearing that he had mowed his agent's lawn and avoided the trappings of stardom.
I watch Jayson Tatum and Jaylen Brown with the same expectations I had for Bird and Havlicek and Garnett.
He would, of course, go on to become one of the game's greatest players and bring three championship banners to be hung in the rafters. My reward was a front-row seat at the Bird era in the 1980s, the remarkable decade-long run when Bird and Magic Johnson remade the NBA into a glittering jewel of the sports world. I witnessed the big three of Bird, McHale and Parish bring the franchise to glory. I was in the house when the Celtics beat the L.A. Lakers in game 7 to win the title in 1984. In 1986, Bird and the Celtics dominated the league with what many think was the greatest team in NBA history. When they unfurled banner #16, it seemed like the next one would inevitably be forthcoming, and soon.
But Bird suffered a debilitating back injury that cut short his career. And as the 1990s began, things turned dark. They tragically lost a budding young star named Len Bias to a cocaine overdose on the night he was drafted by the Celtics in 1986. Impossibly, they also lost Reggie Lewis, who died of cardiac arrest at age 27 in 1993. The franchise would sink back into a trough that put a tarnish on Celtics Pride.  It would be 22 years before the Celtics won championship #17, in 2008.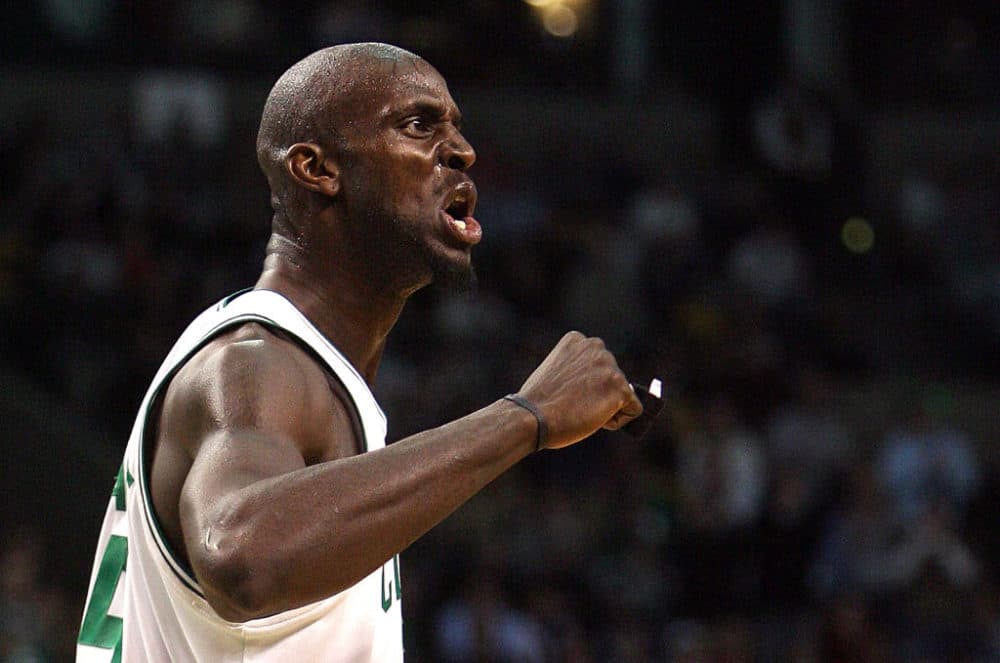 I had stopped writing for the team well before that title season but I remained a die-hard fan, suffering through the long drought and reveling in the new big three: Paul Pierce, Kevin Garnett and Ray Allen. Alas, that squad only managed one championship while the hated Lakers kept adding banners, and eventually caught up to the Celtics in the title standings.
All of which explains why this current Celtics team, now firmly ensconced in the NBA Finals, has been a revelation for this old fan. It's been 14 years since the last banner was raised. Since 2008, I've enrolled in Medicare and require captioning to know what anyone is saying when I watch TV. I've embraced pickleball, for crying out loud.
I watch Jayson Tatum and Jaylen Brown with the same expectations I had for Bird and Havlicek and Garnett. Take me to the promised land, I silently urge this talented young squad. Not so silently, I berate the refs and scare the dog.
As I write this, it isn't clear who will win this title. But if the basketball universe is to be set right once again, there will be duck boats on Boylston Street as the summer solstice arrives.